Ayana Taketatsu, Sakura Tange and Mizuki Hasegawa talk about the series!『Cyber Sentai Last Angels SP STAGE 3 2ND OPERATION』Release Commemorative Online Event Report
---
(Repotama is an online magazine covering news on everything anime, and we have recently started trying out posting articles in English! If you enjoyed this article, we'd really appreciate it if you'd consider sharing it and following us on Twitter!)
"Cyber Sentai Last Angels" is a large-scale mixed media project filled with brilliant voice talent. Following the 25th anniversary of the original Cyber Sentai Voogie's Angel by Aoi Takeuchi, this is a reboot project with a completely new story and new characters set in the same world.
On March 2, 2022 (Wed), the latest voice drama for this series 『Cyber Sentai Last Angels SP STAGE 3 2ND OPERATION』was released and gained a lot of attention.
An event held in commemoration of the voice drama's release was held on March 13 (Sun) at the Sofmap Akihabara Amusement Building, hosted by Nippon Broadcasting System and with Hisanori Yoshida as the announcer. Mizuki Hasegawa (voice of Hotaru), Ayana Taketatsu (voice of Lav) and Sakura Tange (voice of Midi) all took the stage.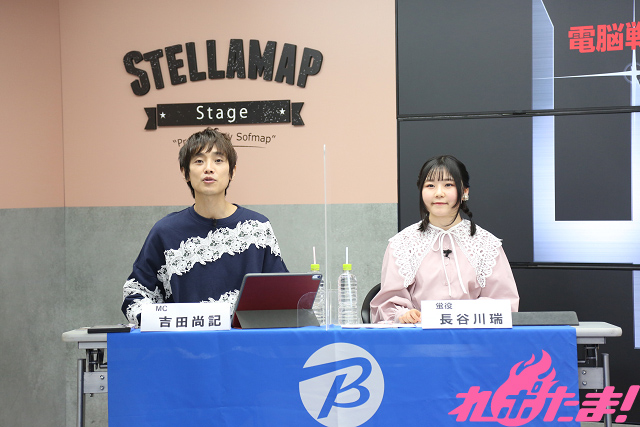 During the talk that was focused on the work itself, the voice actresses gave their overall impressions of playing their roles.
Taketatsu-san said that "I was initially nervous because I was going to be involved in a work that's been continuing on for 25 years, but I was relieved to see all of the accomplished voice talents who I would be co-starring with."
Tange-san said "I've continued the role of Midi from Cyber Sentai Voogie's Angel. She still looks the same because she's an AI, but there's pressure to perform since she's a veteran member of the 'Angels'".
Finally, Hasegawa-san said that "I was worried when I saw the cast and wondered if I'd be able to keep up with everyone. Once the recording was finished, the pressure was relieved and I couldn't stop myself from crying."
And with that, the three voice actresses gave us a good sense of how they've been feeling.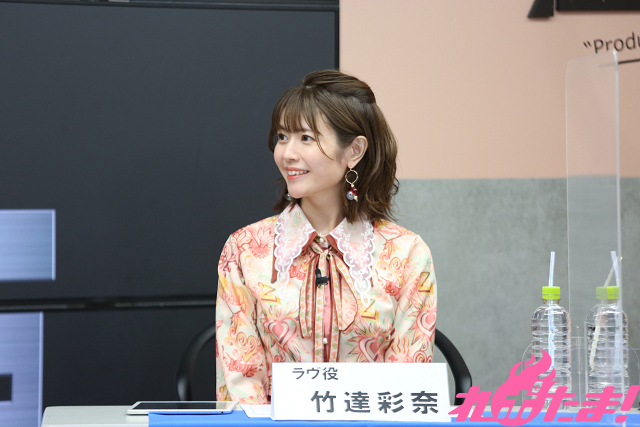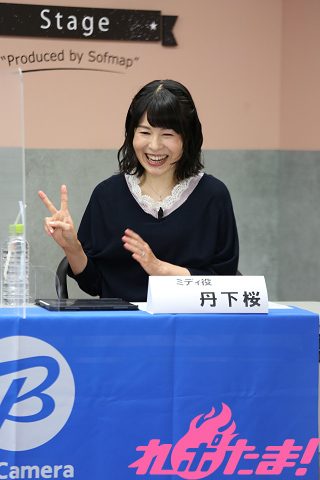 Next, they talked about the ED theme "Invisible Link", which is a duet between Taketatsu-san and Tange-san.
Taketatsu-san spoke up with a smile, saying "At first I worried whether I could pull off a duet with Tange-san. I was really happy when I got to tell my family about it!"
Tange-san, on the other hand, seemed satisfied with the song's quality, saying "I loved the melody line and it got stuck in my head right away!"
Also at the event, the music video for "Invisible Link" was released in Japan for the very first time. The performers were entranced by the screen playing the video, and applauded after it finished.
Next was a segment focused on answering questions from the viewers.
Upon being asked "Speaking of 'Links', is there anything you feel is 'linked' in your day to day life?" Taketatsu-san said "If I lie face-down on my bed and watch something on my tablet, my dog will look at it in the same position. Then, even if I change my position, my dog will follow suit. It's really cute, right?"
Tange-san said in response to the question "I've been participating in radio programs remotely from my house, and despite how my dog takes no interest with other scripts, my dog always sits on my knees seeming to want to participate every time I'm doing something on the radio."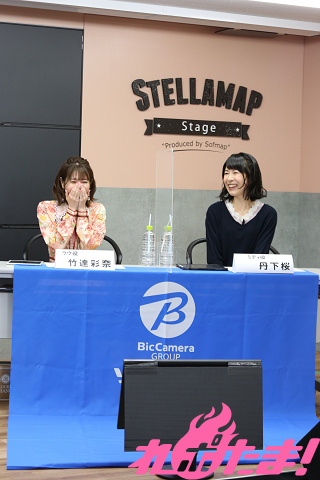 In the second half of the event, Taketatsu-san, Tange-san and Hasegawa-san all got in high spirits over various game-oriented projects.
In the "Synchro-quiz" part, they challenged such topics as "What's an anime that's popular on a national level?" and "Where would you want to go on a date in the spring?"
The three of them weren't able to match up their answers with each other much, but they all answered "Sakura!" to the question "What's a quintessential spring flower?" and ended the segment with smiles on their faces.
Next, Taketatsu-san and Tange-san challenged the "Outer Space Quiz" which is one of the settings within Last Angels". Within it such questions as "What is the distance from the earth to the moon?" (answer: roughly 380,000 kilometers) and "What is the name of the asteroid explored by the probe Hayabusa 2 that returned to earth in December 2020?" (Answer: Ryuuguu) were asked, and Hasegawa-san helped the two others answer the questions with useful hints.
Finally, a "gift raffle" was held giving out a CD jacket signed by the performers, and the first event of the series concluded with a lot of energy.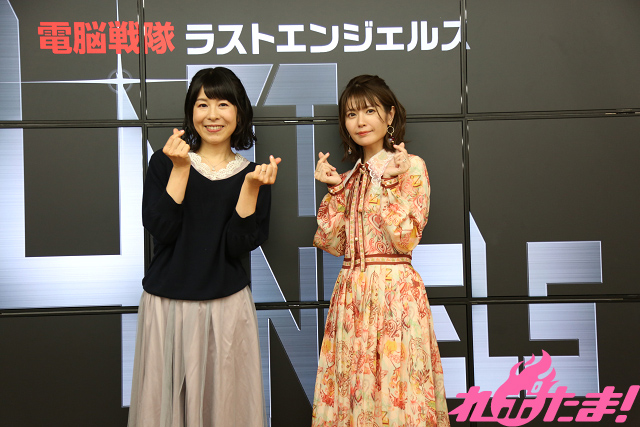 【Post-Performance Interview】
―Please give us your impressions of the event.
Ayana Taketatsu : While it was an online event this time, it's the first event of Last Angels so I was really looking forward to it. I was essentially on my own back when I was doing the recording, so being able to talk with everyone like this was a very valuable experience!
Sakura Tange : I just learned that this is the first event for Last Angels. It's been 25 years since the previous work Cyber Sentai Voogie's Angel, so I was happy to be able to talk in front of the fans again!
Mizuki Hasegawa : I was nervous being the moderator, but it was great to be able to talk about the work with these two that I love!
―At this event, the music video of "Invisible Link" was also shown for the first time.
Taketatsu : The characters moved around in a dramatic way, and I was so happy to see it that I can't put it into words.
Tange : The feel of the song matched the visuals so well and I just loved it. While I was recording, I imagined to myself the warmth that Midi could wrap around the earnest and single-minded Lav-san.
Hasegawa : I downloaded and listened to "Invisible Link" on the first day it was available, so I was looking forward to seeing the video for a long time! Also, the part where Midi and all the Angels' members are lined up was awesome!
―Please give us some of the highlights of Cyber Sentai Last Angels SP STAGE 3 2nd OPERATION.
Taketatsu : It's an extremely engaging development of events from start to finish, so I hope everyone enjoys the whole story.
This is about me specifically, but since I'm singing the ED theme, I hope when people hear the song they know that Lav and Midi are thinking about each other.
Tange : One of the themes of this story is "family ties" which is seen in the relationship between Lav and Midi, but even the enemies Alice and Oz have a similar kind of bond with each other. It's both warm and heartrending at the same time
Hasegawa : The highlight I'd like to draw attention to is that the strength of the bonds between the Angels is even more prominent than in the previous work. As for me, I did my best to use the highly specialized vocabulary that Midi is usually using, so please enjoy what I worked hard on!
―Please give us all a final message.
Hasegawa : If you're new to this series, I would love it if you'd listen to the first voice drama before this one. We've also sung character songs for each member of the Angels, so please give those a listen as well!
Tange : If I say too much I'll spoil you, but the end matches with the lyrics of "Invisible Link". I'm worried about whether the series will continue, so please continue to give us your support!
Taketatsu : I hope everyone can experience this magnificent story and enjoy all the activities of this story's unique characters.
Also, I hope that we can someday do something that involves the "predecessors" who appeared in Cyber Sentai Voogie's Angel!
<Reporter / Photos / Dandy Saeki・Article wording (editing) by Repotama! editorial department>
【CD Overview】
"Cyber Sentai Last Angels SP STAGE 3 -2ND OPERATION-"
On sale March 2, 2022 (Wed)
<Disc1: Voice drama CD>
Cyber Sentai Last Angels 2ND OPERATION
<Disc2: Single & Voice Actress Comment CD>
"Cyber Sentai Last Angels" New ED Theme Song
1. "Invisible Link"
Song: Lav (cv. Ayana Taketatsu) & Midi the Girl (cv. Sakura Tange)
2. Invisible Link (Instrumental)
<Voice actor comments>
3. Lav: Ayana Taketatsu
4. Jiggy: Sumire Uesaka
5. Grace: Kana Hanazawa
6. Nikki: Aya Uchida
7. Hotaru: Mizuki Hasegawa
8. Midi: Sakura Tange
9. Teddy: Yumi Touma
10. Meyer: Nobuyuki Hiyama
11. Alice & Oz: Mao Minamisawa & Haruka Sakurai
【LA (Last Angels) Information】
Based on the original works created by Aoi Takeuchi "Cyber Sentai Voogie's Angel" and "Fushigi Koubou Syndrome" and the character design done by the up-and-coming illustrator RAYVON.
The main cast includes Ayana Taketatsu, Sumire Uesaka, Kana Hanazawa, Aya Uchida, Mizuki Hasegawa, Sakura Tange. The cast for sub characters includes Yumi Touma and Nobuyuki Hiyama, among others. Various forms of content are currently being produced.
【Story and Highlights】
The year is 455 under the Neo-Gregorian calendar, and only two humans remain in the world.
The humans once held the reins as Earth's master, before the Arishia aliens began to move into human society and eventually take it over.
Following a brutal 100-year battle, the two species decided to coexist and signed a nonaggression treaty. It was intended to prevent any foolish behavior that could destroy their own shared star…
However, another 150 years have now passed. Following the resurrection of the strategic system "Teddy the Boy", known for its history in the previous war, mankind is once again on the brink of survival.
Teddy the Boy's cyberattack on the Earth United Military's military supercomputer "Byron" caused it to go on a rampage and deal incalculable damage to humanity, but the Cybernoid Project LA1 Team (Lav, Jiggy, Grace, Nikki, Hotaru, Midi) were successful in overcoming the threat through an intense battle. Once again, fleeting peace returned.
This sequel, with "Family" as its main theme, depicts the bonds between the Angels.
Lav approaches Midi to find out where her parents have gone. Nikki thinks about her younger brother in Aria, and Hotaru thinks of her father, the king of Aria. The complex feelings of Grace and Jiggy are also displayed, two members who don't know their parents…
However, Teddy makes another appearance before humanity, and the countdown to the ultimate destruction of mankind by a supermassive black hole bomb begins. Lav and the others are forced to face off against a new enemy in the form of a humanoid and extremely powerful brother and sister, but there's a secret to their past as well…
In an emotional and climactic battle, the story touches the hearts of listeners with the Angels' teamwork and their unbreakable love for one another.
【"Invisible Link" MV】
https://youtu.be/q0CRHMBLxYY
● Last Angels Official Site
https://last-angels.com/
● Last Angels Official Twitter
@last_angels2020
【Project Team】
Planning: Nichion
Momogre Company
Cosmic Ray
Release: Nichion
Production: Momogre Company
Cosmic Ray
(C) Aoi Takeuchi, Cosmic Ray, Momogre / Nichion
【Present】(please note: applications from outside Japan are not available)
Handwritten autographs from the main cast (Taketatsu-san, Tange-san, Hasegawa-san, Uesaka Sumire-san, Kana Hanazawa-san, and Aya Uchida-san) on special coloured paper will be presented to one person!
Those who wish to apply are asked to please follow the Repotama! Official Twitter @repotama (https://twitter.com/repotama/) and retweet the tweet of this article. We will contact the winner via DM.
Application period: until April 15 (Fri) 2021 at 23:59 JST