TV anime "Love of Kill" official relay interview #6 released, along with the Episode 6 Case File
---
(Repotama is an online magazine covering news on everything anime, and we have recently started trying out posting articles in English! If you enjoyed this article, we'd really appreciate it if you'd consider sharing it and following us on Twitter!)
The popular manga "Love of Kill" (author: Fe) is a warped and suspenseful story interwoven with the lives of professional hitmen.
This series is being serialized in Monthly Comic Gene, has published up to 11 volumes to date and has exceeded 750,000 copies sold in total (as of December 2021, including electronic sales). Also, after the release of the drama CD, an anime adaptation began broadcasting on TV and has quickly garnered attention.
This time, the Official Interview #6 as well as the episode 6 case file have been released.
【Official Interview #6 "I found out that just because I'm a main character, I can't feel at ease"】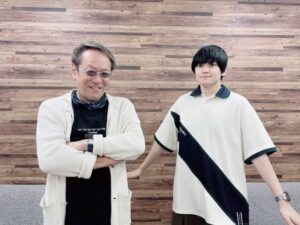 Voice of Euripedes Ritzland: Kenyu Horiuchi
Voice of Jim: Kohei Amasaki
――Episode 6 just aired. The first half was a bright and positive story for the president and Jim.
Kohei Amasaki: The first half, yeah… but anyway (laughs) I was surprised to see the president's wife make an appearance.
Kenyu Horiuchi: Hawk-san sure ended up being an impressive person.
Amasaki: (laughs)
Horiuchi: After Hawk made an appearance, I was able to finally get a sense for what kind of person the president was, and also in the after-drama (#5.5) his character was expanded further. Not just the president either, but the other characters made by sensei (original author Fe) all have highly unique attributes and I find it really engaging how none of them are just plain and ordinary.
Amasaki: Their individuality really shines, and each character indeed feels like a real human being. When the president's wife first came out, he called her "Hawk-san" and I thought right away she must be close to him. Their relationship, the president's kind nature, and what kind of conversation they were having all showed what kind of person he was instantly.
――I wonder what Hawk-san was attracted to in the president initially.
Horiuchi: I don't think it's too great of a mystery. Hawk-san has money for one thing, and surely she can take whatever she wants when she wants it. So, having somebody like the president to go home to and not get tired of being together with is ideal for her I suppose.
Amasaki: It must be nice for them to just be their natural selves with each other.
――The part where Jim was staring through the surveillance camera and watching the president and Hawk-san sleeping next to each other was funny.
Amasaki: It was! Jim was really happy to be able to get onto a luxury liner at the end of the fifth episode, but in the end he gets handed a rough job. Even after doing his best for the night, he sees Chateau and Ryang-ha getting awfully flirty with each other and the president gets to sleep right next to Hawk-san… There's no way he wouldn't be feeling anger towards people that get to be in love like that. (laughs)
――(laughs)
Amasaki: In one particular episode that jealousy kind of showed through, I thought to myself "Ah, Jim doesn't have someone special right now…" and it made me like the guy more.
Horiuchi: It was funny when he threw a slipper at the president.
Amasaki: You can really feel the frustration.
Horiuchi: As mentioned last time, it's nice that the company is run by this president and it doesn't have a strict hierarchical setup, and everyone can work together while being like friends.
Amasaki: I wonder if it's just the president being kind again. I don't think there are many bosses that would keep their cool after an employee threw a slipper at them. (laughs)
――Also, the president finally got to meet Ryang-ha in person for the first time, and it was completely unexpected at the end when he got stabbed in the neck by somebody.
Horiuchi: This is how it appeared, but it's interesting, isn't it. Trying to take a life in a closed space with no escape; that's the story that's unfolding now. Who would dare to stab the president? The suspect looked like Ryang-ha, but… I just got hooked from here onward. Normally, the president isn't the character you would expect to get stabbed (laughs) so, the same could be coming for Jim soon too.
Amasaki: In this situation, it's clear that regardless of who you are in the story, you can't ever feel too safe.
Horiuchi: That's why I'm worrying about how far I want to read in the original story. Some voice actors want to read ahead and find out all of the info about the characters in advance, and others want to play their character with the same amount of information available to them as is available to the characters, and some directors will also say "Please do not play your character as if you already know the answer."
Amasaki: I think both perspectives are right.
Horiuchi: Yeah. I'm the sort of person who likes to read more and more if there's an original work to read from.
Amasaki: Once the president got stabbed, I thought that I should stop reading here. In the end, I did read up to that point… Now that I knew of a future development, I shut the book there. (laughs)
――How do you two see the relationship between Chateau and Ryang-ha?
Horiuchi: I can really feel Ryang-ha's affection for her, but I haven't felt it coming from Chateau yet so I'm looking forward to seeing how the two of them get closer next. A lot of things will spring up in the future, and I think the more they get caught up in those things together, the deeper their relationship will get.
Amasaki: I don't think there's anything yet, but compared to when they were trying to kill each other in the first episode, I think Chateau has gotten pretty used to Ryang-ha now. Ryang-ha got closer to her quite aggressively, and she ended up getting acquainted with him enough to not be jumpy around him anymore. Maybe that's because she found him to not be a real threat, and surely if she were still wary around him, she wouldn't have been able to sleep with him watching her, right?
――That's true, she did fall asleep eventually.
Amasaki: Ryang-ha himself said "You trust me a lot." Perhaps in Chateau's subconscious she thought to herself something like "There's no way he'd kill me."
――Even if you can't call it trust, the hostility from the beginning seems to have gone away somewhat.
Amasaki: I think so, yes. They're also both rational in their thinking, so they might feel that in this situation it wouldn't benefit either of them to harm each other here. Chateau herself isn't the kind of person to get rid of things just because she doesn't need them, and maybe she's starting to trust him a little bit, or at least know how to deal with him as a person.
――That said, from the perspective of the president, I don't think he would mind if the two of them grew closer.
Horiuchi: At the beginning he was calling out to her "Chateau-chan!" and was always fretting over her. He worries a little bit, but more than anything it comes from a genuine concern for Chateau. The reason he visited Anna (Chateau's mother) in episode 4 is probably because he had a feeling that she was struggling with something from her past, and he wanted to help her by understanding what he was able to.
Amasaki: If there's nothing to worry about, then everything's fine right? So I think that's why he had to get to know Ryang-ha and get into direct contact with him.
Horiuchi: But then the closer they get, the more exciting it becomes. Even if it has them knocking on death's door. Once this boundary is overcome though, a very deep love could be born between Chateau and Ryang-ha.
Amasaki: It's scary and fun at the same time. I want to see the distance between the two of them shrink, but I can't help but feel concern over what might actually happen as a result. It makes sense why the president worries.
――What expectations do you have for the 7th episode onward?
Horiuchi: I'm looking forward to seeing how Chateau and Ryang-ha's relationship develops, but I'm also excited to see how the very attractive Donnie, played by Hochu Otsuka, will appear. The theme of love in this work is one interesting thing, but the "bad guys" are also really interesting as well. We hope everyone looks forward to the unique bad guys appearing in future episodes.
Amasaki: Just as Kenyu-san said, the number of characters in the story will continue to grow steadily. The voice actor who plays this next character is wonderful, so I'm really looking forward to seeing what kind of interactions we get to have with each other. Characters from Donnie's organization will also appear, so please look forward to the new episodes each week.
Horiuchi: As we get more and more interesting characters, I hope that the time with Jim and the president doesn't decrease!
Amasaki: Please enjoy!
――I had one other thing I wanted to ask both of you, but taking the word "Love" from the title, is there anything that you two can't help but love these days?
Horiuchi: It's golf for me. Last year, I got to go golfing with Hochu-san. After we wrapped up, Hochu-san accidentally put his driver in my golf bag and then went home. I didn't realize it until a few months later, but when I called him he said "Oh, you finally noticed." I figured I should call as soon as I found out (laughs). I haven't had much time for golf lately, but I'm still practicing in the studio.
Amasaki: That's a nice use of your break.
Horiuchi: Even in the dubbing this time, the sound director said to me "There's a camera here, so don't swing too much in here (laughs)". I guess I got caught.
――What about you, Amasaki-san?
Amasaki: Solo camping is what I'm into right now. I was spending a lot of time at home with the corona situation before I heard about a type of solo-camping that was becoming popular, and something about it seemed fun to me as a guy I haven't done it yet (at the time of the interview) but I definitely want to try it out.
【FILE 06 "DARK DREAM" Case File Update】
Info on each case from the story is summarized here.
Please take a look after watching.
(Note: Website in Japanese)
Case File #06
https://love-of-kill.com/special-inc-files.html?file=6
【Anime Overview】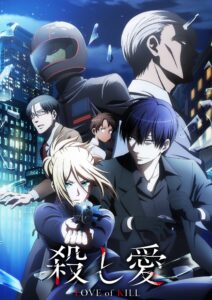 【Broadcasting/Streaming Info】
TV anime broadcasting begins Wednesday, January 12th, 2022
Advanced terrestrial broadcasting and fastest distribution of individual episodes via d Anime Store
<Broadcast information>
TOKYO MX From January 12th, every Wednesday from 24:00
Sun TV From January 13th, every Thursday from 24:00
KBS Kyoto From January 13th, every Thursday from 25:00
BS Nippon Television From January 12th, every Wednesday from 24:00
AT-X From January 13th, every Thursday from 22:30
(Repeat broadcast weekly (Monday) 10: 30- / weekly (Wednesday) 16: 30-)
<Streaming information>
d Anime Store From January 12th, every Wednesday from 23:30
Other sites will release episodes sequentially.
※Note that broadcasting dates and times are subject to change due to broadcasting circumstances.
【INTRODUCTION】
Two hitmen face off against each other at a certain "workplace".
A calm and cool bounty hunter named Chateau meets the mysterious and deadly Ryang-ha.
Chateau and Ryang-ha are supposed to be enemies… but somehow, Ryang-ha takes a liking to Chateau after their encounter and begins to follow her around.
She eventually relents and starts cooperating with Ryang-ha, but is then caught up in a conflict with an organization that's targeting him. This conflict also bears a connection to Chateau's past.
What does Ryang-ha have to gain in approaching Chateau? What is hidden in Chateau's past?
This is a story of twisted suspense around two hitmen that couldn't be a worse match.
A strange and fateful gear is about to turn.
【CAST】
Chateau Dankworth: Saori Onishi
Ryang-ha Song: Hiro Shimono
Euripedes Ritzland: Kenyu Horiuchi
Jim: Kohei Amasaki
Hou: Tomoaki Maeno
Jinon: Ayumu Murase
Nikka: Masakazu Morita
Mifa: Yoko Hikasa
Donny: Hochu Otsuka
【STAFF】
Original: Fe(serialized in "Monthly Comic GENE/KADOKAWA)
Director: Hideaki Oba
Series Composition/Screenplay: Hisao Ayumu
Character Designer: Yoko Sato
Sub Character Designer: Toshimitsu Kobayashi
Chief Animation Director: Yoko Sato/Toshimitsu Kobayashi
Action Animation Director:Yasunori Saiki
3D Prop Design:Tomokazu Sugimura
Art Director:Masaki Mayuzumi
Color Coordination:Aiko Yamagami
Director of Photography:Akane Fushihara
Editing: Kashiko Kimura{
Sound Director: Hajime Takakuwa
Sound Effects: Toshiya Wada
Sound Production: Bit grooove promotion Inc.
Music: Kei Yoshikawa
Music Production: TOY'S FACTORY
Music Production in Cooperation with: Miracle Bus Corporation
Opening Theme: Toshiki Masuda "Midnight Dancer"
Ending Theme: Aika Kobayashi "Makoto Period"
Animation Production: Platinumvision
Production: Love of Kill Project
TV Anime Official Site https://love-of-kill.com
Official Twitter @LoveofKill_info(https://twitter.com/LoveofKill_info)/ #LoveofKill
Official TikTok loveofkill_info(https://www.tiktok.com/@loveofkill_info)
(c)2022 Fe/KADOKAWA/LOVE of KILL Production Committee