Three fresh faces hit the stage! "STATION IDOL LATCH!" Interview with Yuta Hayashi (Kousei Hachiya/Shibuya Station), Tomohiro Iwasaki (Kyuto Tsukeshita/Harajuku Station) and Nayuta Fukuzaki (Aoi Momino/Yoyogi Station)
---
(Repotama is an online magazine covering news on everything anime, and we have recently started trying out posting articles in English! If you enjoyed this article, we'd really appreciate it if you'd consider sharing it and following us on Twitter!)
▲From left to right: Nayuta Fukuzaki (Aoi Momino/Yoyogi Station), Yuta Hayashi (Kousei Hachiya/Shibuya Station), Tomohiro Iwasaki (Kyuto Tsukeshita/Harajuku Station)
In STATION IDOL LATCH! (commonly known as LATCH!), the Yamanote Line's station employees become idols after work. The station staff idols from each of the 30 stations entertain passengers (fans) with songs and talks.
This time, we got to talk to the three members in charge of the stations where a lot of young people hang out in Tokyo: Yuta Hayashi (Kousei Hachiya/Shibuya Station), Tomohiro Iwasaki (Kyuto Tsukeshita/Harajuku Station) and Nayuta Fukuzaki (Aoi Momino/Yoyogi Station).
―Before we start, please introduce yourselves.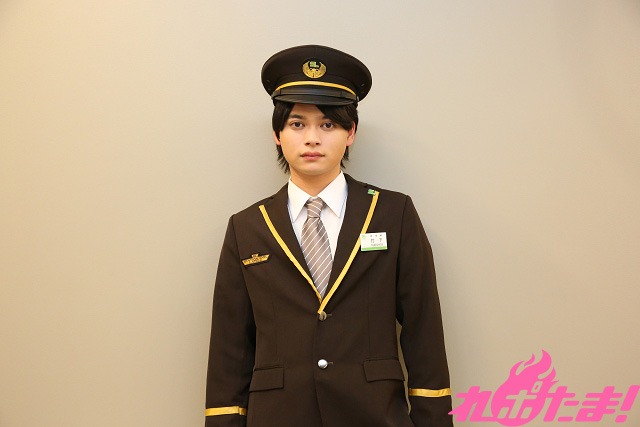 Tomohiro Iwasaki: I have no particular interest in what's known as the "entertainment world". It has become possible to see the various works that each member of the cast of "LATCH!" has made an appearance in. When I saw the anime "Blue Period" starring Hiromu Mineta who plays the role of Miyabi Fudo (Meguro Station), I thought "I should draw a picture like the main character aiming for an art university in the anime," but then I gave up when I realized I didn't have a heart for drawing. (laughs)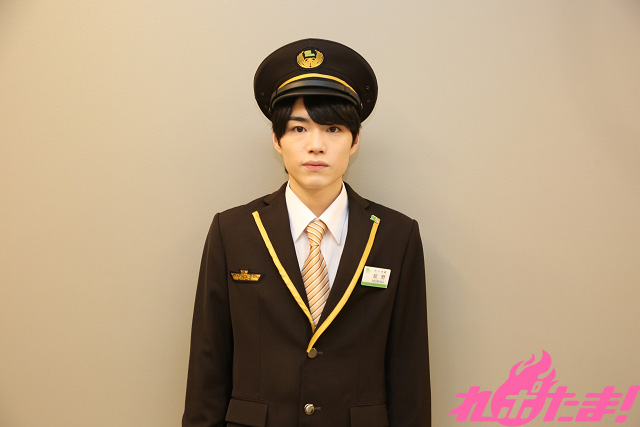 Nayuta Fukuzaki: I've been acting since I was a kid, so I wonder how much influence that has on my characters?
Recently I've been trying to keep a "dream diary" for myself to write down the kinds of dreams I have. But once I started it I began to see dreams about real things only… (laughs)
I want to have more fantastic dreams.
Yuta Hayashi: My hobbies are soccer and weightlifting, and recently I've been doing my best with the bench press. Also, I'm from Kashiwa City in Chiba Prefecture, and I've been a long-time supporter of Kashiwa Reysol!
―What did you think of the "LATCH!" project at first?
Iwasaki: I thought it was a really interesting new idea for station staff to be depicted as idols. I got excited thinking about how I could help make the content even more exciting!
Fukuzaki: I also thought that the setting was really unique when I first heard about the project. It's amazing how you can get a sense for the atmosphere of the station just by looking at the character's unique appearance and tone.
Hayashi: It's my first opportunity to do voice acting, so I felt the pressure of "bringing your character to life."
―What stations do you often get off at on the Yamanote Line?
Fukuzaki: Akihabara station for me. Whenever I was looking around for electric goods and interesting gadgets, I nearly always went there!
Iwasaki: It's Harajuku station in my case. Back when I was a student I had the feeling that getting my hair cut in Harajuku gave me some sort of status.
Hayashi: I've gone to Shibuya station a lot. I had always wanted to go to Tokyo, and when I first visited Shibuya and saw the famous scramble crossing, I was thrilled and thought to myself "Am I finally in Tokyo?!"
―What are your overall impressions of your respective stations of Shibuya, Harajuku and Yoyogi and their surrounding areas?
Iwasaki: Mine makes me think of a lot of fashionable clothing outlets. There are also a lot of places to have fun. I think particularly of Takeshita Street, which is the main street there, and it's a very lively place filled with young people walking around.
Fukuzaki: Yoyogi has a big park, and there are a lot of relaxed places around here so I think it can be properly understood as an "oasis in the city".
Hayashi: Shibuya is charged up day and night, and I get the impression that it's on the cutting edge of fashion.
Whenever a big sporting event is held, the place is also where a lot of people get together to cheer and have fun together.
―Please give us your thoughts on performing "Everybody! Say!!"
Iwasaki: I was the first to record my part. It was my very first recording in my life, so I asked to re-record it many times. I also found it difficult to sing so quickly… But it was a great experience, and I was happy with the end result!
Fukuzaki: The song was made with a lot of cooperation and is filled with excitement, so I hope everyone will get pumped up and listen to it.
Hayashi: First and foremost it's a song with a lot of weight behind it, and I had a great time singing it. I hope everyone who listens will get really energized!
―You talked about your future plans in the voice drama.
Iwasaki: Everyone's individuality really stood out…
Hayashi: The back-and-forth between Aoi and Kyuto was funny because of all the jabs they took at each other. (laughs)
Fukuzaki: Aoi was in a position to be a mediator, but I think they'll all get to know each other more and more as the project goes on so please look forward to seeing more!
―By the way, are you all interested in trains and railways?
Iwasaki: I enjoy watching trains from under bridges. I find it impressive just how many people they're able to move around.
Fukuzaki: I've been playing around with "Plarail" since I was a kid, and the very first word I spoke was "pantograph"… I've always loved railways. I hope I'll be able to talk with the MC about railways at the 1st LIVE in March this year…!
Hayashi: I have a lot of memories from being on the Shinkansen. I remember taking it when I went skiing on a day trip at this time of year.
―What do you want to do with "LATCH!" going forward?
Iwasaki: The first thing I want to do is make sure that the 1st LIVE is a success.
Fukuzaki: I think Japan's railway schedule is the most consistent and accurate in the world, so I will do my best to show the world more about the splendor of the world-class railways here!
Hayashi: I want to get charged up with the passengers (fans) at the train-centered event!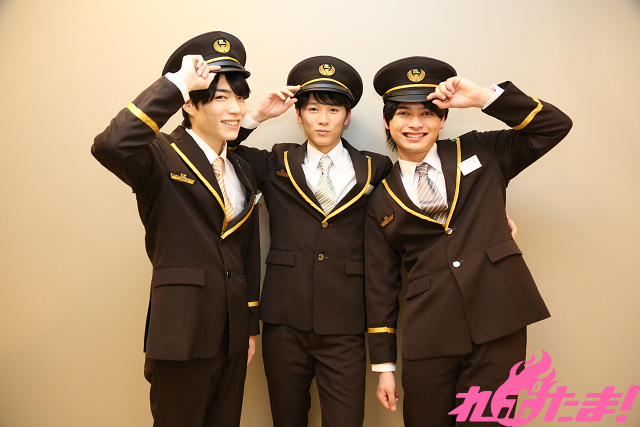 <Interviewer・Photos / Dandy Saeki・Article wording (editing) by Repotama! editorial department>
【Live Overview】
『STATION IDOL LATCH! 1st LIVE "All aboard!!"』
Date: March 6, 2022 (Sun)
【Tokyo】Grand Prince Hotel New Takanawa・Hiten
Time: 【Afternoon Performance】12:45 Open/13:30 Start 【Evening Performance】17:15 Open/18:00 Start
Ticket Price: All seats reserved; Tickets included with limited goods: 9800 yen (tax included) / Standard tickets: 8,000 yen (tax included)
Ticket Sales Period: Beginning February 19, 2022 (Sat) from 12:00~
※Up to four tickets per registration
※Preschoolers cannot enter
【CAST】
JY01 Tokyo/ Rion Shouji (CV: Kensho Ono)
JY02 Kanda/ Rihito Kayama (CV: Yukitoshi Kikuchi)
JY03 Akihabara/ Yusei Raiden (CV: Yuto Suzuki)
JY04 Okachimachi/ Mario Takara (CV: Youhei Azakami)
JY05 Ueno/ You Ameya (CV: Jun Kasama)
JY06 Uguisudani/ Yuta Negishi (CV: Junta Terashima)
JY07 Nippori/ Ryou Tonari (CV: Tomohiro Yamaguchi)
JY08 Nishi-Nippori/ Miharu Suwa (CV: Masahiro Ito)
JY09 Tabata/ Hayate Kita (CV: Shogo Yano)
JY10 Komagome/ Satsuki Hanabusa (CV: Tomohito Takatsuka)
JY11 Sugamo/ Daichi Takaiwa (CV: Yuki Inoue)
JY12 Otsuka/ Rui Utsusemi (CV: Tetsuei Sumiya)
JY13 Ikebukuro/ Aohazuku Mikado (CV: Nobunaga Shimazaki)
JY14 Mejiro/ Rei Soma (CV: Masaki Ota)
JY15 Takadanobaba/ Yuta Taketsune (CV: Ryota Aoyama)
JY16 Shin-Okubo/ Shio Momose (CV: TAKUYA)
JY17 Shinjuku/ Yuki Shindou (CV: Atsushi Tamaru)
JY18 Yoyogi/ Aoi Momino (CV: Nayuta Fukuzaki)
JY19 Harajuku/ Kyuto Tskeshita (CV: Tomohiro Iwasaki)
JY20 Shibuya/ Kousei Hachiya (CV: Yuta Hayashi)
JY21 Ebisu/ Tsumugi Aeba (CV: Hidenori Takahashi)
JY22 Meguro/ Miyabi Fudo (CV: Hiromu Mineta)
JY23 Gotanda/ Akira Godai (CV: Hiroaki Miura)
JY24 Osaki/ Shinichi Osaki (CV: Hisayoshi Suganuma)
JY25 Shinagawa/ Hazime Ichijou (CV: Issei Furuta)
JY26 Takanawa Gateway/ Izumi Orchid Aren (CV: Syuta Morishima)
JY27 Tamachi/ Toshisato Haburi (CV: Tsuyoshi Koyama)
JY28 Hamamatsucho/ Wataru Minato (CV: Syo Karino)
JY29 Shimbashi/ Tetsumichi Udaka (CV: Kazuhiko Inoue)
JY30 Yurakucho/ Yuri Takanashi (CV: Gakuto Kajiwara)
【CD Overview】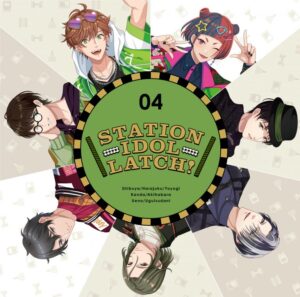 4th CD "STATION IDOL LATCH! 04"
On sale December 8 (Wed) 2021
■ Limited First Edition (CD)
Part Number: LATCH-1007
Price: 2,200 yen (tax included)
■Normal Edition (CD)
Part Number: LATCH-1008
Price: 1,850 yen (tax included)
【Limited First Edition/Normal Edition CD Contents】
1. 「Everybody! Say!!」
Kousei Hachiya / Shibuya (CV: Yuta Hayashi) , Kyuto Tskeshita / Harajuku (CV: Tomohiro Iwasaki) , Aoi Momino / Yoyogi (CV: Nayuta Fukuzaki)
Lyrics: K.J / Tomoki Tamatani Composition: K.J / Tomoki Tamatani / Sora Tansho Arrangement: Sora Tansho
2. 「BUNGAKU×COMPLEX」
Rihito Kayama / Kanda (CV: Yukitoshi Kikuchi) , Yusei Raiden / Akihabara (CV: Yuto Suzuki)
Lyrics: Yuki Tsujimura Composition , Arrangement: Yuki Tsujimura / Ken Ito
3. 「Sekaiichi Yuutsuna Oji」
You Ameya / Ueno (CV: Jun Kasama) , Yuta Negishi / Uguisudani (CV: Junta Terashima)
Lyrics: Yukinojo Mori Composition: Funk Uchino / Toshiya Hosokawa / Gigi Arrangement: Toshiya Hosokawa / Gigi
4. Voice Drama "Our Debut Event's Conference"
Kousei Hachiya / Shibuya (CV: Yuta Hayashi), Kyuto Tskeshita / Harajuku (CV: Tomohiro Iwasaki), Aoi Momino / Yoyogi (CV: Nayuta Fukuzaki)
5. Voice Drama "Our Hahon wo Saku Renodearu"
Rihito Kayama / Kanda (CV: Yukitoshi Kikuchi), Yusei Raiden / Akihabara (CV: Yuto Suzuki)
6. Voice Drama "Yuta Negishi Observation Journal"
You Ameya / Ueno (CV: Jun Kasama), Yuta Negishi / Uguisudani (CV: Junta Terashima)
【Limited First Edition CD Contents】
Bonus Track "Yamanote Line Voice Relay #4"
【Limited First Edition Included Bonus Items】
Other Jacket, 3 types
ーーーーーーーーーーーーーーーーーーーーーーーーーーーーーーーーー
●「STATION IDOL LATCH!」Official Site
https://latch.jp/
●「STATION IDOL LATCH!」Official Twitter
https://twitter.com/latch_info
●「STATION IDOL LATCH!」Official YouTube Channel
https://www.youtube.com/LATCHofficial
●「STATION IDOL LATCH!」Official TikTok
https://www.tiktok.com/@latch_info