A fun talk packed with Lashinbang Love! Interview with Sho Karino starring in "Lashinbang Radio" for December 2021
---
(Repotama is an online magazine covering news on everything anime, and we have recently started trying out posting articles in English! If you enjoyed this article, we'd really appreciate it if you'd consider sharing it and following us on Twitter!)
"Lashinbang" is a retailer that buys and sells used anime goods, figures, DVDs, Blu-rays, etc. across Japan. In store, a radio program featuring popular voice talents is being broadcast in the first and second half of every month. After the in-store broadcasting period is over for each voice actor/actress, the video archive of the show is being made available via YouTube.
Sho Karino is the star of the show for December 2021, and he is a familiar face in the anime world for having played such roles as Chifuyu Matsuno in Tokyo Revengers, Yukihiro Kamiya in The IDOLM@STER SideM, and Fran in Ascendance of a Bookworm: I'll Stop at Nothing to Become a Librarian. Even the staff were really moved by the content recorded by Karino-san, showing a strong love for Lashinbang which he has been visiting for many years. We got a chance to talk to Karino-san after he finished the recording.
―Please give us your impressions of the recording today.
Sho Karino: I've been thankful to Lashinbang for a long time, so I was really looking forward to doing the recording. As a result of trying to cram as much fun into it as possible, I ended up going all over the place in my talk, and then I started to sweat. (laughs)
During the recording, the staff's love of anime was very clearly conveyed to me and I was really happy to see that!
―In the segment "Sho Karino's Torisetsu!" you talked about your own personal otaku history.
Karino: I've been treasuring figures of Yui Hirasawa from K-ON! for a long time. But, actually, I've got a lot of other favorites… I really hope everyone can listen to the program for more about this (laughs)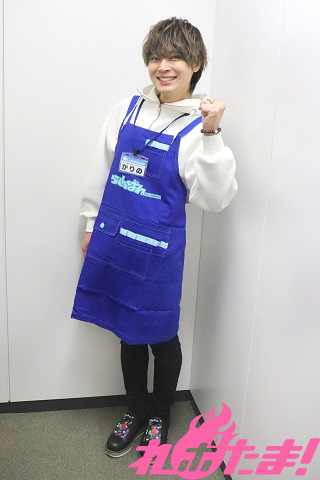 ―What kind of things did you buy at Lashinbang?
Karino: Definitely a lot of figures. I had space at home to line them all up, and I decorated the area by putting them in a case so they wouldn't get covered in dust. Now I'm decorating my house with Yui-chan and Chifuyu Matsuno figures, the latter of which I played in Tokyo Revengers.
―Since you played Chifuyu, you were challenged to the "Yankee Manga Quiz!" segment in the recording.
Karino: There are a lot of works I read, and I challenged the quiz while feeling nostalgic about it all. Please take a listen and see how many questions I got right!
―In the "Arbitrary New Anime Audition" segment of the program, you combined roles and situations written on cards and then created a mock audition, correct? What kind of role did you end up with?
Karino: Quite unlike the role of a yankee character, I performed the role of a hero in a fantasy world. I really hope everyone enjoys it.
―Please give us a final message.
Karino: It's been quite a while since I've performed on the radio by myself, but I was really helped out by the staff and was able to have a lot of fun talking. I think the editors are going to have a bad time though… (laughs)
Aside from the recording, I was also allowed to wear the store's apron, and was able to spend a wonderful time as a Lashinbang enjoyer! Please listen to the recording in-store and on YouTube!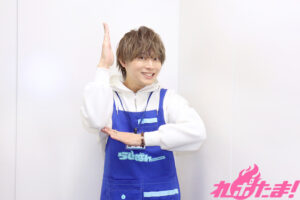 <Interviewer / Dandy Saeki・Article wording (editing) by Repotama! editorial department>
● Lashinbang YouTube channel
https://www.youtube.com/channel/UCD6rv8KsGnrQZFR9Ax6CSmg
【Present】(please note: applications from outside Japan are not available)
Karino-san's autograph on special coloured paper will be presented to one person!
Those who wish to apply are asked to please follow the Repotama! Official Twitter @repotama (https://twitter.com/repotama/) and retweet the tweet of this article. We will contact the winner via DM.
Application period: until December 17 (Fri) 2021 at 23:59 JST