The popular station employee idol project "STATION IDOL LATCH!" holds its first fan meeting! Report from the "STATION IDOL LATCH! 1st Passenger Meeting"
---
(Repotama is an online magazine covering news on everything anime, and we have recently started trying out posting articles in English! If you enjoyed this article, we'd really appreciate it if you'd consider sharing it and following us on Twitter!)
In STATION IDOL LATCH! (commonly known as LATCH!), the Yamanote Line's station employees become idols after work. The first fan meeting of this project was held on October 10, 2021 (Sun) at Shibuya Stream Hall in Tokyo.
First off, Tomohiro Yamaguchi who plays Ryo Tonari (Nippori Station) and Yohei Azakami who plays Mario Takara (Okachimachi Station) performed the song "Two as One". When the two members of the Shitamachi Unit got fired up, Issei Furuta as Hajime Ichijo (Shinagawa Station) and Gakuto Kajiwara as Yuuri Takanashi (Yurakucho Station) joined the stage. "Regret" was played beautifully on piano by the talented Furuta-san.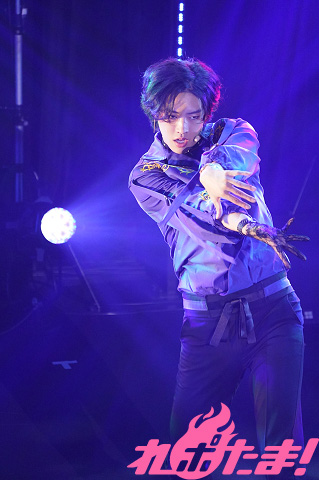 Next, Shio Momose (Shin Okubo Station) was projected onto the screen, and the voice cast member TAKUYA then appeared on-stage. The audience loved "Salt & Sugar", which is reminiscent of K-pop.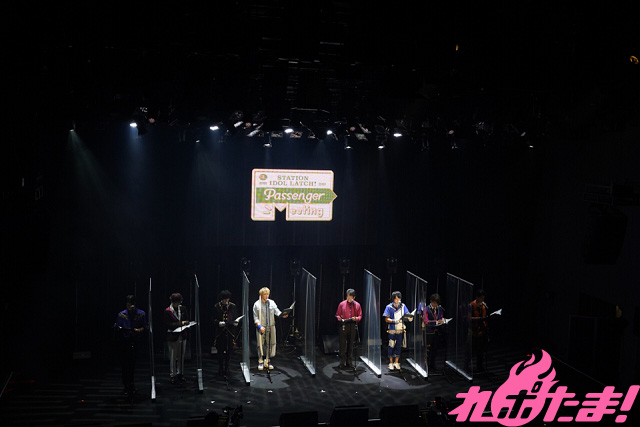 Next, the live performances took a little break and a fun live reading segment began.
Kazuhiko Inoue as Tetsumichi Udaka (Shimbashi Station), Sho Karino who plays Wataru Minato (Hamamatsucho Station), and Shogo Yano as Hayate Kita (Tabata Station) all joined up to tell a story with the title of "Senpai's dressing room story", and a charming exchange between the members was had.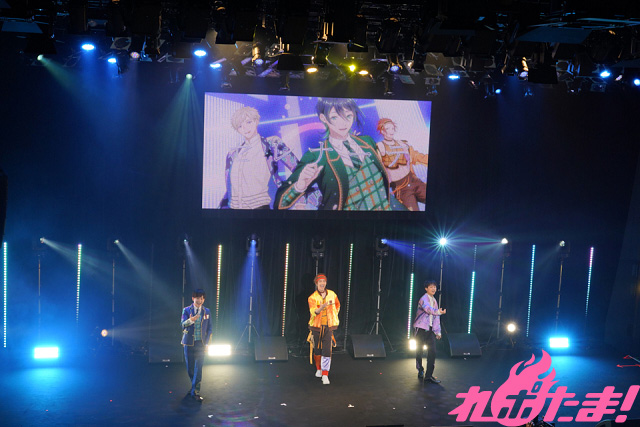 Next, Ryota Aoyama as Yuya Taketsune (Takadanobaba Station), Tetsuei Sumiya as Rui Utsusemi (Otsuka Station) and Masahiro Ito as Miharu Suwa (Nishi Nippori Station) join up as the "Newcomer Unit" and performed a voice drama. The three of them also appeared on-stage to perform "Ai for you". While displaying an innocent nature, each one of them fully showed off their own unique "colors".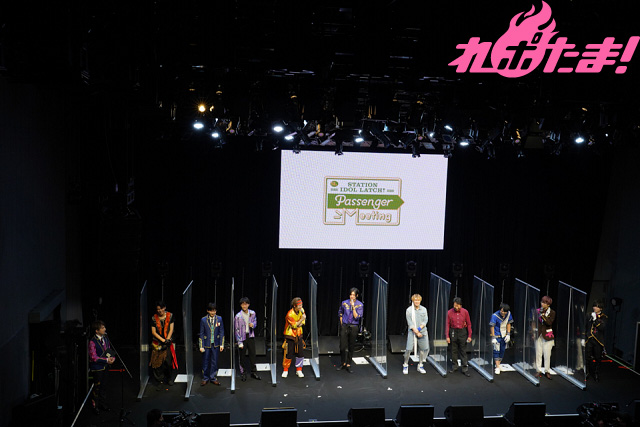 In the variety segment "Tell me LATCH! Special Edition", the members divided up into the inner loop team (comprised of members Azakami-san, Ito-san, Aoyama-san, Sumiya-san, and TAKUYA-san) and the outer loop team (comprised of members Yano-san, Inoue-san, Karino-san, Furuta-san, and Kajiwara-san) and took on a competitive quiz about the Yamanote Line. Questions such as "Please give us one station name on the Yamanote Line that begins with "Ni" and 3 questions in total were asked. The inner loop team ended up winning and were presented with Takadanobaba's famous confection "Zenzai Monaka" as a prize.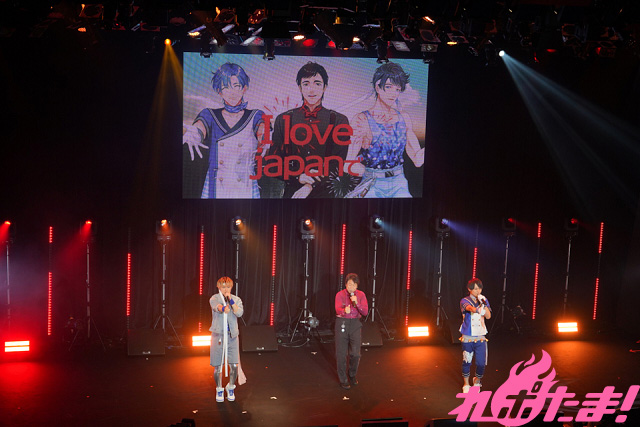 Returning to the live performances, Inoue-san, Karino-san and Yano-san performed "SUNRISE!!" A large chorus of "Wasshoi Wasshoi" really made it all feel like you just traveled back in time to the Showa era. Unable to raise their voices at the event the audience collectively responded by assuming a wasshoi pose and made the atmosphere more exciting with the cast.
In the end, all 11 members who were present that day performed the LATCH! theme song 「LATCH! – Door to the future -」 and the level of excitement at the venue reached its peak.
The encore performance 1st LIVE will be held on March 6 2022 (Sun), and when this was announced at the event the applause from the audience set a record for that day. Even more voice cast members will be appearing at 1st LIVE, so it'll just be getting more fun from here on out!
【Setlist】
01.「Two as One」
02.「Regret」
03.「Salt & Sugar」
04.「Ai for you」
05.「SUNRISE!!」
06.「LATCH! – Door to the future -」
<Reporter / Dandy Saeki・Article wording (editing) by Repotama! editorial department>
【CD Overview】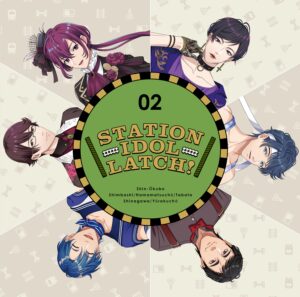 2nd CD "STATION IDOL LATCH! 02"
On sale now
■ Limited First Edition (CD)
Part Number: LATCH-1003
Price: 2,200 yen (tax included)
■Normal Edition (CD)
Part Number: LATCH-1004
Price: 1,850 yen (tax included)
【Included Content】
1. 「Salt & Sugar」
Shio Momose / Shin Okubo (CV: TAKUYA)
Lyrics: miwaflower Composition: Erik Lidborn / MLC /KISSY Arrangement: KISSY
2. 「SUNRISE!!」
Tetsumichi Udaka / Shimbashi(CV: Kazuhiko Inoue), Wataru Minato / Hamamatsucho(CV: Sho Karino), Hayate Kita / Tabata(CV: Shougo Yano)
Lyrics: RT2 Composition・Arrangement: Akira_Kabe
3. 「Regret」
Hajime Ichijo / Shinagawa(CV: Issei Furuta), Yuri Takanashi / Yurakucho(CV: Gakuto Kajiwara)
Lyrics: youth case Composition: youth case / Takeo Kajiwara Arrangement: Takeo Kajiwara
4. Voice Drama "In Front of Everyone, I'll Strive for Perfection"
Shio Momose / Shin Okubo (CV: TAKUYA)
5. Voice Drama " 'Boku' and 'Ore' Both Need You!"
Tetsumichi Udaka / Shinbashi (CV: Kazuhiko Inoue) , Wataru Minato / Hamamatsucho (CV: Sho Karino) , Hayate Kita / Tabata (CV: Shogo Yano)
6. Voice Drama "Commentary on the Mysterious Yuu-kun Presented by Hajime Ichijo"
Hajime Ichijo / Shinagawa (CV: Issei Furuta) , Yuuri Takanashi / Yurakucho (CV: Gakuto Kajiwara)
●「STATION IDOL LATCH!」Official Site
https://latch.jp/
●「STATION IDOL LATCH!」Official Twitter
https://twitter.com/latch_info
●「STATION IDOL LATCH!」Official YouTube Channel
https://www.youtube.com/LATCHofficial
(C)LATCH! Project/JRE