Riselia asks Leonis to train her… TV anime The Demon Sword Master of Excalibur Academy episode 4 scene previews and synopsis released!
---
(Repotama is an online magazine covering news on everything anime, and we have recently started trying out posting articles in English! If you enjoyed this article, we'd really appreciate it if you'd consider sharing it and following us on Twitter!)
The Demon Sword Master of Excalibur Academy is written by Yū Shimizu (author of the popular series Bladedance of Elementalers, with over 2 million copies sold), and original character concepts by Asagi Tohsaka (known for illustrating Girly Air Force). Together, they make an unbeatable duo! The series takes place in a fantasy school setting, centered around an ancient Dark Lord who awakens in the form of a 10 year-old child and meets a host of lovely heroines.
This time, the scene previews and synopsis for episode 4 have been released.
■Episode 4: "The Stirrings of a Bitter Grudge"
Riselia finally awakens her Holy Sword, and then she asks Leonis to train her. Leonis does not hesitate at the opportunity to strengthen one of his followers, so the two end up training together rigorously.
Meanwhile, the administration bureau holds a strategy meeting. Everyone present is concerned about a strange investigation report that was received, and they decide to implement a policy of gathering more information while also going on high alert, in case anything should happen.
Elsewhere, Riselia takes Leonis out to a certain restaurant, telling him, "I want to treat you to a meal as my way of saying thanks for the training." It's here where Leonis bears witness to a different side of Riselia..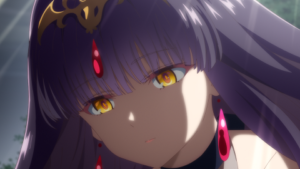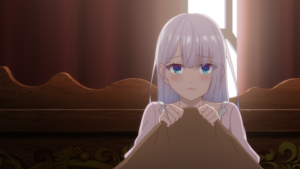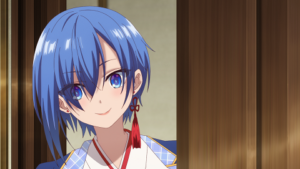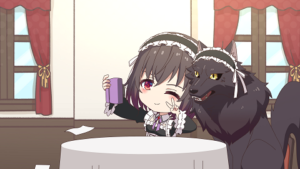 [Staff]
Scenario: Kunihiko Okada / Storyboard: Midori Yui / Unit Directors: Midori Yui, Tadano Hito, Daiki Takemoto, Yūta Kida
[Anime Overview]
TV Anime The Demon Sword Master of Excalibur Academy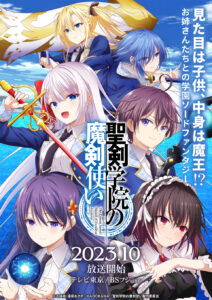 ■Synopsis
As the most powerful of the Dark Lords, Leonis sealed his body away to one day exact his revenge. However, when he is awakened after 1000 years of slumber, he finds that his body has reverted to that of a 10 year-old boy!
"How could this be?!" He wonders to himself, when a young woman discovers him.
"How'd you get stuck in here, little guy? Don't worry, I'll protect you," the young woman says, trying to comfort the awakened Dark Lord.
This girl, Riselia, is a student at Excalibur Academy, and Leonis is astonished when he finds out how drastically his world has changed. Hearing about such things as the unknown and hostile Voids, the Seventh Assault Garden, and the absurdly powerful Excalibur, Leonis is totally lost in his new surroundings but ultimately enrolls in Excalibur Academy.
In a future world that has lost its connection to magic, the mightiest Dark Lord joins forces with beautiful heroines in this fantasy school story!
■Broadcast Info
<TV Tokyo> From October 2, every Monday at 1:30 after midnight
<BS Fuji> From October 5, every Thursday from 12:30 after midnight
<ATX> From October 3, every Tuesday from 9:30 PM
(Reruns: Every Thursday at 9:30 AM / Every Monday at 3:30 PM)
■Streaming Info
・ABEMA
Premium Exclusive Advance Distribution: From September 25, every Monday after midnight at 1:30
Free Distribution for One Week: From October 2, every Monday after midnight at 2:00
・Other Streaming Services
Nico Nico Channel / DMM TV / d Anime Store / FOD / Happy! Douga / Hulu Store / J:COM On Demand / milplus / Prime Video / TELASA / Bandai Channel / (and others)
■Cast
Leonis: Marina Inoue
Riselia: Yui Ishikawa
Regina: Aya Suzaki
Elfiné: Hiromi Igarashi
Sakuya: Honoka Kuroki
Shary: Arisa Nakada
Blackas: Tomofumi Ikezoe
Roselia: Ai Kakuma
Dark Lord Leonis: Daisuke Hirakawa
■Staff
Original Creator: Yū Shimizu (MF Bunko J's The Demon Sword Master of Excalibur Academy / published by KADOKAWA)
Original Character Concept: Asagi Tohsaka, Asuka Keigen
Director: Hiroyuki Morita
Music: Yūji Nomi
Series Composition, Scenario: Kunihiko Okada
Art Director: Nozomu Koga
Production Designer: Shūjirō Hamakawa
Concept Art: Ley Yumeno
Character Designers: Takayuki Noguchi, Satsuki Hayasaka
Creature Design: Takaaki Izumo
Background Art: Satoshi Ōkubo (Goofy)
Color Design: Sakie Suzuki (C&S)
Camera Directors: Kōji Hayashi(C&S), Masaki Satake(C&S)
Editor: Ayako Tan(Graphinica)
Sound Director: Hisayoshi Hirasawa
Opening Theme: "Sen-nen Ai" Chiai Fujikawa
Ending Theme: "Yururi" Kaho
Animation Production: Passione
Production: The Demon Sword Master of Excalibur Academy Production Committee
[Book Info]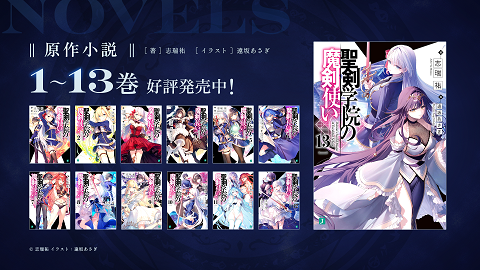 [Light Novels]
Published by MF Bunko J, The Demon Sword Master of Excalibur Academy volumes 1~13 are now available!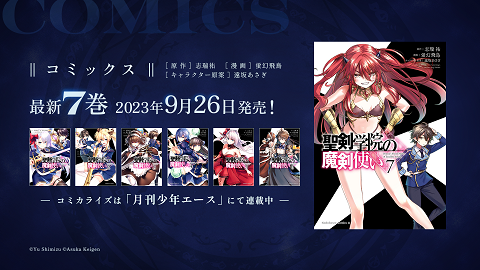 [Manga Adaptation]
Published by Kadokawa Comics Ace, The Demon Sword Master of Excalibur Academy Volumes 1~7 are now available!
[Related Sites]
▼TV Anime The Demon Sword Master of Excalibur Academy Official Site
https://seikengakuin.com/
▼The Demon Sword Master of Excalibur Academy Special Page
https://mfbunkoj.jp/special-contents/seikengakuin/sp.html
▼The Demon Sword Master of Excalibur Academy List of Volumes
https://mfbunkoj.jp/product/seikengakuin/
▼The Demon Sword Master of Excalibur Academy Manga Adaptation Page
https://web-ace.jp/shonenace/contents/420/
▼The Demon Sword Master of Excalibur Academy Official Twitter
https://twitter.com/SEIKEN_MAKEN
▼MF Bunko J Official Site
https://mfbunkoj.jp/
▼MF Bunko J Official Twitter
https://twitter.com/MF_bunkoJ
(c) Yū Shimizu, Asagi Tohsaka / KADOKAWA / The Demon Sword Master of Excalibur Academy Production Committee
(c) Yū Shimizu   Illustration: Asagi Tohsaka
(c) Yū Shimizu (c) Asuka Keigen