Kazuya reflects on his inability to help, but then… TV anime Rent-A-Girlfriend season 3, final episode (12) synopsis, scene previews and episode staff info released! Video preview also available!
---
(Repotama is an online magazine covering news on everything anime, and we have recently started trying out posting articles in English! If you enjoyed this article, we'd really appreciate it if you'd consider sharing it and following us on Twitter!)
Season 3 of the TV anime Rent-A-Girlfriend (Original by Reiji Miyajima and serialized in Kodansha's Weekly Shōnen Magazine) has been airing as of July 7, 2023 (Fri). The TV anime's official Twitter currently has over 320,000 followers, and the original manga has become a very popular romantic comedy with over 10 million copies sold worldwide.
This time, detailed information on the final episode (ep. 12 of season 3, ep. 36 of entire series) has been released!
[Episode 12 (Episode 36 of Entire Series) "Ideal Girlfriend and Girlfriend"]
At the end of the cheer-up date, Kazuya and Chizuru are lighting sparklers in the park at night when Kazuya notices Chizuru trembling and tearing up.
Chizuru quickly returns to her usual smiling demeanor, but Kazuya freshly realizes and reflects on just how powerless he is to help her, due to their relationship being that of a "rental girlfriend and client."
After reminiscing on all the different sides of Chizuru he has seen up until now, Kazuya slowly opens his mouth to speak…
"My idea of an 'ideal girlfriend,' it's…"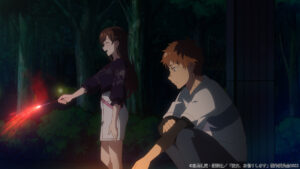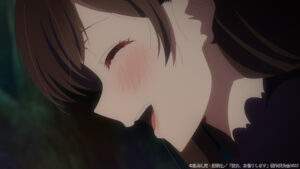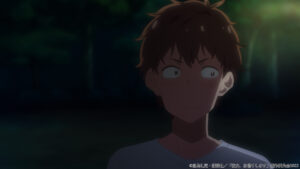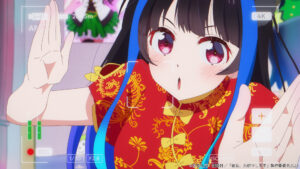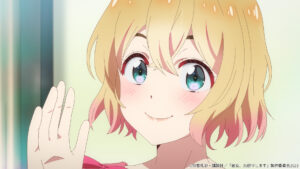 [Staff]
Scenario: Mitsutaka Hirota / Storyboard・Unit Director: Shinya Une / Chief Key Animation Supervisor: Hikaru Suzuki
[Next Episode Video Preview]
https://youtu.be/3eaxG_lrOSg

[Anime Overview]
TV Anime Rent-A-Girlfriend Season 3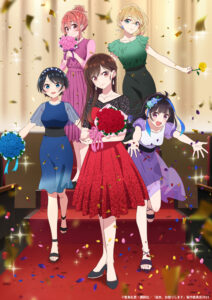 ■Season 3 Introduction
Currently being serialized in Weekly Shōnen Magazine, this highly popular romantic comedy series by Reiji Miyajima has sold over 10 million copies worldwide, and the TV anime is now in its 3rd season!
The lousy college student Kazuya Kinoshita meets the beautiful and pure Chizuru Mizuhara, a "rental girlfriend" who Kazuya falsely claims to his family and friends is his actual girlfriend.
Kazuya spends his days unable to reveal the truth, surrounded by tons of exceedingly beautiful "girlfriends" such as the devilish and aggressive ex-girlfriend Mami Nanami, the slightly pushy and extremely proactive "girlfriend" Ruka Sarashina, and the extremely shy but admirable and hardworking junior rental girlfriend Sumi Sakurasawa!
Going through many seasons and events together, Kazuya's feelings for Chizuru grow and he vows to continue supporting Chizuru as she seeks to establish herself as an actress.
However, the health of Chizuru's grandmother, Sayuri, begins to deteriorate. Chizuru's dream of showing her grandmother a movie she starred in is now in jeopardy.
"Let's make a movie together!"
Kazuya decides to make a movie via crowdfunding with Chizuru as the star…
The movie's production begins, and Mini Yaemori, the new next-door neighbor, becomes involved. Beginning with his one-time "rental", Kazuya's "reality" will shine ever brighter!
Just how exactly will Kazuya and Chizuru's movie production play out…?!
■Broadcasting/Streaming Info
Broadcasting every Friday at 1:23 via 28 MBS / TBS stations nationwide in the "Super Animeism" programming block!
Broadcasting every Tuesday from 22:00 on AT-X!
(Reruns: Every Thursday from 10:00 / Every Monday from 16:00)
Priority streaming on DMM TV every Friday at 1:53! Also streaming from other services!
*Please note that the times and dates are subject to change without notice.
*All times are in JST.
■Staff
Original Creator: Reiji Miyajima(Serialized in Kōdansha "Weekly Shonen Magazine")
Director: Shinya Une
Series Composition: Mitsutaka Hirota
Character Designer: Kanna Hirayama
Music: Hyadine
Sound Director: Hajime Takakuwa
Art Director: Minoru Akiba
Color Design: Fumiko Ishiguro
Camera Director: Shintarō Sakai
Editor: Yumiko Nakaba
Opening Theme: halca "Renai Millifilm"
Ending Theme: Amber's "End Roll"
Animation Production: TMS Entertainment
Animation Production Cooperation: STUDIO COMET
■Cast
Kazuya Kinoshita: Shun Horie
Chizuru Mizuhara: Sora Amamiya
Mami Nanami: Aoi Yūki
Ruka Sarashina: Nao Tōyama
Sumi Sakurasawa: Rie Takahashi
Mini Yaemori: Yū Serizawa
Nagomi Kinoshita: Yukari Nozawa
Sayuri Ichinose: Sayuri Sadaoka
Yoshiaki Kibe: Masayuki Akasaka
Shun Kuribayashi: Gakuto Kajiwara
[Original Work Info]
● Manga Rent-A-Girlfriend (serialized via Kodansha's Weekly Shōnen Magazine)
Written and illustrated by Reiji Miyajima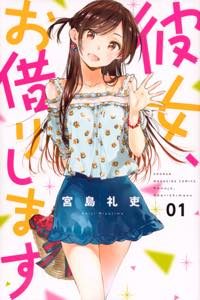 Volumes 1-33 now available!
The first two chapters are available for free on Magapoke!
https://pocket.shonenmagazine.com/episode/13932016480029113181
Rent-A-Girlfriend Official Anthology Comic also available!
●Rent-A-(Really Shy!)-Girlfriend (serialized via Kodansha's "Magazine Pocket")
Written and illustrated by Reiji Miyajima, drawing assisted by Yuka Kinami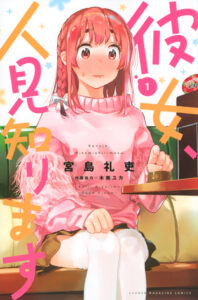 An official spin-off manga of Rent-A-Girlfriend written and illustrated by the original's author, Reiji Miyajima!
Sumi-chan is the main character! This comedy centers around her everyday struggle with her communication problems.
Volumes 1-3 now available!
Chapters 1 to 3 are available for free on Magapoke!
https://pocket.shonenmagazine.com/episode/13933686331662787205
■Official Site https://kanokari-official.com/
■Official Twitter https://twitter.com/kanokari_anime (Recommended hashtag: #RentAGirlfriend)
(C) Reiji Miyajima・Kodansha / Rent-A-Girlfriend Production Committee 2023