As Tarao's condition worsens, Sawatari discovers a child's footprints on the walls of the incubator room. TV anime Heavenly Delusion episode 5 synopsis and scene previews released!
---
(Repotama is an online magazine covering news on everything anime, and we have recently started trying out posting articles in English! If you enjoyed this article, we'd really appreciate it if you'd consider sharing it and following us on Twitter!)
Heavenly Delusion is a sci-fi adventure manga written and illustrated by Masakazu Ishiguro (also known for Soredemo Machi wa Mawatteiru) and serialized via Kodansha's "Afternoon". The series became popular at an extraordinary pace once serialization started in 2018, and in December of that same year it ranked first in the male edition of "Kono Manga ga Sugoi! 2019". The series has maintained its popularity to the present day and 8 volumes of the work have been published, and the animation production is being handled by Production I.G (known for other popular sci-fi anime including the PSYCHO-PASS series and Ghost in the Shell).
Heavenly Delusion is currently airing every Saturday on TOKYO MX/MBS and other networks, and the scene previews (6 in total) and synopsis for episode 5 have been released.
Episode 5: Day of Fate
Maru and Kiruko return to Tokyo, arriving at a town filled with tents clustered together. Maru is having fun at an arcade when he is spotted by a group of vigilantes, which ultimately results in him having to hole up in an empty room alone for a while. Now on her own, Kiruko goes off to collect information and hears rumors about an organization of kidnappers known as the Ministry of Reconstruction. Meanwhile at the school, Tarao's condition continues to worsen and Sawatari discovers a child's footprints on the walls of the incubator room.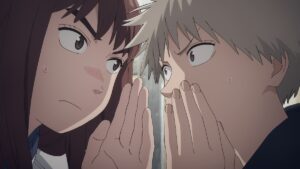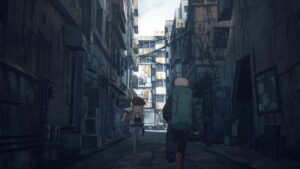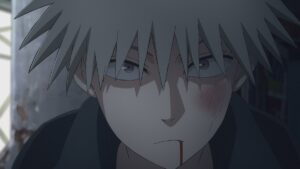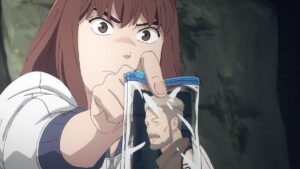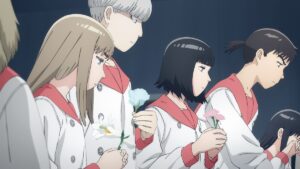 [Episode 5 Staff]
Scenario: Ikumi Nomura
Storyboard: Yōjirō Arai
Unit Director: Kōji Komurakata
Animation Director: Mayu Gushiken, Ren Fujimaki, Ai Watanabe
[Heavenly Delusion Catch-Up Broadcasts will be Aired via TOKYO MX!]
In addition to reruns of the first four episodes that aired in late April, the TV anime Heavenly Delusion will now be broadcast an additional time every week for viewers catching up. Please look forward to it!
[Heavenly Delusion Catch-Up Broadcasts via TOKYO MX Overview]
[Broadcast Dates and Times]
Episode 1: April 24, Monday from 27:35
Episode 2: April 26, Wednesday from 26:35
Episode 3: April 27, Thursday from 27:34
Episode 4: April 28, Friday from 27:35
*Additional broadcasts will continue every Thursday thereafter starting at 26:05
*Please note that broadcast dates and times are subject to change.
[Anime Overview]
TV Anime Heavenly Delusion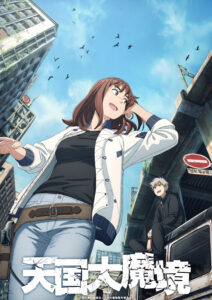 [Introduction]
In 2024, the world was devastated.
Fifteen years have passed since this unprecedented catastrophe.
A devastated Japan is haunted by man-eating monsters known as "Hiruko", and people live huddled together in groups.
Kiruko works odd jobs in Nakano, Tokyo, and one day she receives a mysterious request from a woman.
"Take this child to Heaven…" she says with her dying breath, entrusting the young boy Maru to her.
Maru tells Kiruko "There's somebody in Heaven with the same face as me," but without any additional information to go on, the two of them set off in search of Heaven.
Elsewhere, there are children living in a beautiful place isolated from the outside world. At this facility, the children are accompanied by the school's director as well as kind teachers, and they live a serene life together within the walls. One day, however, Tokio receives a strange message that says "Do you want to go outside of the outside?"
"A world exists outside this place?" He wonders.
Tokio is puzzled by the question, and he eventually starts feeling uneasy about the everyday life he's become accustomed to…
[Broadcast & Streaming Info]
[Broadcast Info]
TOKYO MX from April 1, airing every Saturday from 22:00
RKB Mainichi Broadcasting from April 1, airing every Saturday from 26:00
TV Aichi from April 1, airing every Saturday from 26:25
Hokkaido TV from April 1, airing every Saturday from 26:35 *First time only 26:00
MBS from April 1, airing every Saturday from 26:38
BS11 from April 1, airing every Saturday from 22:00
AT-X from April 3, airing every Monday from 23:00 *Reruns: Airing every wednesday from 11:00 / every Friday from 17:00
RKK Kumamoto Broadcasting from April 14, airing every Friday from 26:23
IBC Iwate Broadcasting from April 17, airing every Monday from 25:28
[Streaming Info]
Available to stream worldwide exclusively via Disney+ (excluding mainland China)
[Main Staff]
Original Creator: Masakazu Ishiguro "Heavenly Delusion" (Serialized in Kodansha "Afternoon")
Director: Hirotaka Mori
Series Composition: Makoto Fukami
Character Designer: Utsushita (Minakata Labo)
Hiruko Designer: Ryōta Furukawa
Prop Designer: Maho Tomisaka, Jōji Sawada
Firearms Designer: Akira Takata
Mechanical Designer: Shinobu Tsuneki
Color Design: Izumi Hirose
Art Director: Yūji Kaneko
Art Design: Brunet Stanislas / Osamu Ii, Mizuka Ueda, Akihiro Hirasawa, Takeyuki Takahashi
3D: directrain, IG3D, 5(five)
Motion Graphics: Hiromu Ohshiro
2DW: CAPSULE, Akiko Hamanaka
Camera Director: Kentarō Waki
Editor: Kumiko Sakamoto
Sound Director: Eriko Kimura
Music: Kensuke Ushio
Opening Theme: BiSH "innocent arrogance"
Ending Theme: ASOBI Doumei "Daremo Karemo Dokomo Nanimo Shiranai"
Animation Production: Production I.G
Production: Heavenly Delusion Production Committee
[Cast]
Maru: Gen Satō
Kiruko: Sayaka Senbongi
Robin Inazaki: Kazuya Nakai
Tokio: Hibiku Yamamura
Kona: Toshiyuki Toyonaga
Mimihime: Misato Fukuen
Shiro: Shunsuke Takeuchi
Kuku: Tomoyo Kurosawa
Anzu: Misato Matsuoka
Taka: Yūki Shin
Director: Masako Isobe
Sawatari: Tadashi Mutō
Aoshima: Atsumi Tanezaki
[Original Work Info]
Currently being serialized via Kodansha's "Afternoon"! (released around the 25th each month)
Manga: Volumes 1~8 now available!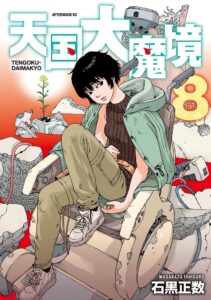 ■Official Site
https://tdm-anime.com/
■Anime Official Twitter
@tdm_anime(https://twitter.com/tdm_anime)
■Credits
(c) Masakazu Ishiguro・Kodansha / Heavenly Delusion Production Committee