Kanoko panics when she thinks her dear friend Hime is rejecting her. TV Anime Yuri is My Job! episode 2 synopsis, scene previews and video preview released!
---
(Repotama is an online magazine covering news on everything anime, and we have recently started trying out posting articles in English! If you enjoyed this article, we'd really appreciate it if you'd consider sharing it and following us on Twitter!)
Serialized via Ichijinsha's Comic Yuri Hime, sales of comic volumes 1 to 11 of Yuri is My Job! by Miman have exceeded 600,000 copies (including digital sales), and the TV anime is airing as of April 6th, Thursday!
This time, the synopsis, scene previews and video preview for episode 2 have been released.
Shift.02 "Let's All Be Waitresses Together"
Still not grasping the café's concept, Hime pledges to become schwestern (sisters) with Mitsuki. Kanoko, Hime's classmate, secretly visits Liebe Girls Academy one day because she is worried about her friend Hime. Kanoko is the only one who knows about Hime's false personality she puts on in public, and she is concerned about Hime's recent strange behaviour. Mai, the café's manager, insists that Hime treat Kanoko as if it were their first meeting in order to maintain the theme of the concept café. Kanoko is totally unaware that the waitresses are all acting and panics when she believes that her dear friend Hime is rejecting her. Mai explains the situation to Kanoko in the backyard, and then…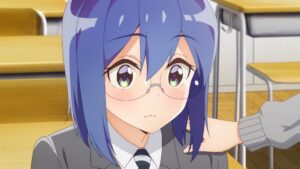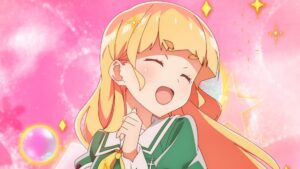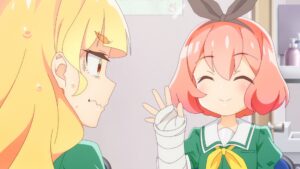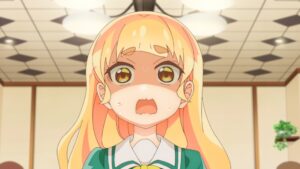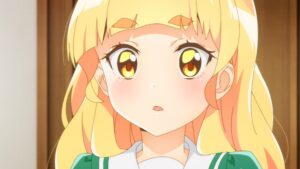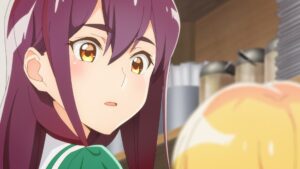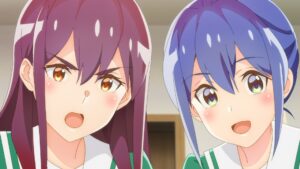 [Episode 2 Staff]
Scenario: Naoki Hayashi
Storyboard: Ikuo Morimoto
Unit Director: Takahiro Majima
Chief Key Animation Supervisor: Taisuke Iwasaki, Rondo Mizukami, Haruka Hinata
Key Animation Supervisor: Yōsuke Kobashi, Konomi Satō, Zearth Sato, Takurō Sakurai
Preview: https://youtu.be/kKVjQrQyVxg
[Anime Overview]
New TV anime Yuri is My Job!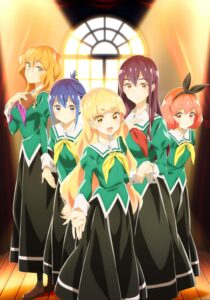 【INTRODUCTION】
"Welcome to Liebe Girls Academy!"
This fictitious all-girls school is actually a salon staffed by waitresses that act as sisters (schwestern) and do their job with great care.
Enter Hime: a girl who is always careful to act in such a way that everyone will love her, and eventually she ends up becoming a "student" herself at Liebe Girls Academy. One day, she casually refers to Mitsuki Ayanokōji—one of the other students—as her "onee-sama" (older sister), and then…?
Both the outward appearances and true intentions of the girls will come to bloom as their life together as waitresses begins!
[Broadcast and Streaming Info]
<Broadcast Info>
AT-X from April 6, airing every Thursday from 22:30
*Reruns every Monday from 10:30 / every Wednesday from 16:30
TOKYO MX from April 6, airing every Thursday from 23:30
BS Fuji from April 7, airing every Friday from 24:30
BS NTV from April 8, airing every Saturday from 23:00
<Streaming Info>
Streaming first via DMM TV starting April 6 (Thurs) at 24:00!
Beginning April 13 (Thurs) at noon, episodes will be streamed sequentially from the following streaming services:
d Anime Store
Amazon Prime Video
ABEMA
U-NEXT
Anime Houdai
J:COM On Demand
milplus
TELASA
au Smart Pass Premium
FOD
Bandai Channel
Hulu
Nico Nico Channel
AnimeFesta
Google Play/YouTube
HAPPY! Douga
iTSCOM On Demand
OnGen Movie
Movie Full Plus
Crank-In! Video
[Staff]
Director: Hijiri Sanpei
Sub Director: Takashi Ikehata
Series Composition: Naoki Hayashi
Character Designer: Taisuke Iwasaki
Art Director: Yukako Ogawa(KLAS), Yuri Takagi(KLAS)
Color design: Arisa Komatsu
Camera Director: Toru Shiga (Studio Twinkle)
CG Director: Yoshikazu Suzuki
Sound Director: Ryosuke Naya
Sound Effects: Katsuhiro Nakajima(Swara-Pro)
Music: Megumi Ohhashi
Opening Theme: "Himitsu♡Melody" Yui Ogura
Ending Theme: "Yume ga Sametemo" Hime Shirasagi (CV.Yui Ogura) & Mitsuki Ayanokōji (CV.Sumire Uesaka)
Produce: infinite
Animation Production: Passione×Studio Lings
Production: Yuri Is My Production Committee!
[Cast]
Hime Shirasagi: Yui Ogura
Mitsuki Ayanokōji: Sumire Uesaka
Kanoko Amamiya: Minami Tanaka
Sumika Tachibana: Makoto Koichi
Mai Mikoshiba:Yukari Tamura
Nene Saionji: Asami Seto
[Original Work Info]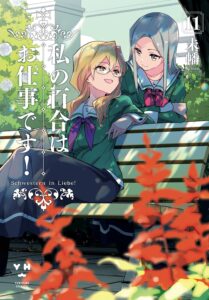 Original Work: Yuri is My Job!
Author: Miman
Currently being serialized via Comic Yuri Hime!
Comic volumes 1~11 now available!
Volume 12 and the Official Comic Anthology
On-sale Thursday, May 17!
・Original Work Comics Official Site
https://watayuri-1jinsha.com/
・Original Work Official Instagram
https://instagram.com/watayuri_1
<Synopsis>
High school student Hime Shiraki has a dream: to marry into extreme wealth and high social status. It is for this reason that Hime is very careful to maintain her image as a girl who would be loved by all. However, one day she accidentally injures Mai, the manager of a cafe. Hime decides to work there for a while and cover some shifts, and her new workplace is a concept cafe named Liebe Girls Academy. Here, the staff are dressed like students from a girls' school and act like sisters, taking care of clientele in a salon environment. Hime ends up calling another student named Mitsuki her "onee-sama" (older sister), and then…
◆Official Site and More
Anime Official Site: http://watayuri-anime.com/
Anime Official Twitter: @watayuri_anime #WatashinoYuriwaOshigotoDesu! #watayuri #YuriisMyJob
Original Work Official Instagram: @watayuri_1
Anime Official TikTok: @watayuri_anime_official
(c)Miman・Ichijinsha/Yuri is my Production Committee!