Ataru and the others discover the power of the Wishing Star. TV anime Urusei Yatsura episode 17 synopsis and scene previews released!
---
(Repotama is an online magazine covering news on everything anime, and we have recently started trying out posting articles in English! If you enjoyed this article, we'd really appreciate it if you'd consider sharing it and following us on Twitter!)
Urusei Yatsura is a TV anime currently being broadcast via Fuji TV's "noitaminA" and other networks. This time, the synopsis and scene previews of episode 17, first airing February 9 (Thurs), have been released.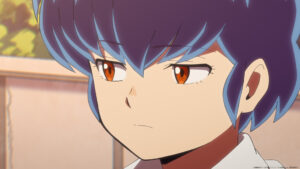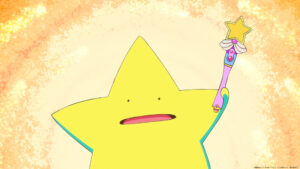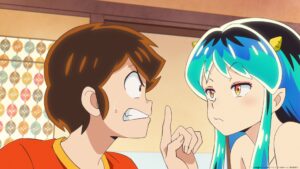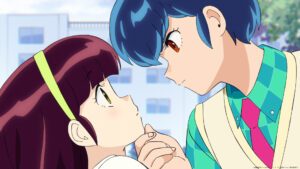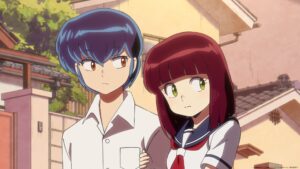 [Episode 17: "A Chest Full of Longing!!" / "Wish Upon a Star"]
●A Chest Full of Longing!!
Some delinquents are chasing after Shinobu before she bumps into Ryunosuke, who is disappointed over not being able to buy a bra. The pursuers catch up and tell Shinobu about their boss' affection for her, but she rejects the confession. In an effort to make the boss lose interest, she asks Ryunosuke for help with "a certain something".
●Wish Upon a Star
Ataru and his family are eating dinner in the living room, when suddenly a being called the "Wishing Star" comes crashing through their ceiling. It tells the family it will grant them three wishes. They immediately spend the first wish on getting the roof fixed, and only then do they realize that the star's power is the real deal…
[Anime Overview]
TV Anime Urusei Yatsura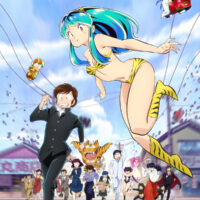 [Introduction]
"I just really love my darling."
Ataru Moroboshi is the most awful high school student on Earth, and Lum is a beautiful Oni girl who came from outer space.
Everything started when these two met…!
Rumiko Takahashi's first serialized story is the brilliant series Urusei Yatsura, and she is still active on the forefront of her industry. In celebration of Shogakukan's 100th anniversary, selected segments of the original story are being made into a new anime divided into 4 parts! (Season 1 began airing in October 2022, and will consist of parts 1 and 2)
Directed by Hideya Takahashi and Yasuhiro Kimura (who worked on JoJo's Bizarre Adventure: Golden Wind), series composition by Yuko Kakihara (who worked on Cells at Work), character design by Naoyuki Asano (who worked on Mr. Osomatsu and Keep Your Hands Off Eizouken!) and animation production by david production (a company that has handled the production of the JoJo's Bizarre Adventure series and Fire Force).
Additionally, the "darling" main character Ataru Moroboshi is played by Hiroshi Kamiya, and the heroine Lum is played by Sumire Uesaka. The two of them together make a matchless couple.
This is a story that is bold, charged with love, and yet somewhat sad… a boy-meets-girl romantic comedy centered around Ataru and Lum and filled with characters from all over the galaxy.
It's hard to say "I love you" while looking you in the eye.
This is a story of youth, filled with gorgeous, tough and crazy "Yatsura"!
[Broadcast & Distribution Info]
◆Broadcast Info
Airing via Fuji TV's "noitaminA" and other networks every Thursday from 24:55 (JST)
◆Streaming Info
Episodes streaming in sequential order beginning October 14 (Fri) at 12:00
■Unlimited Streaming
Amazon Prime Video / d Anime Store / Disney+ / dTV / FOD / J:COM On Demand milplus / NETFLIX / U-NEXT / WOWOW On Demand / Anime Houdai / Bandai Channel / Hikari TV / DMM TV
■Free limited-time streaming of most recent episode
GYAO!
■Pay-per-view
Amazon Prime Video / DMM.com / Google Play / GYAO! Store / HAPPY! Douga / J:COM On Demand milplus / music.jp / Rakuten TV / YouTube (Rental) / Bandai Channel / Hikari TV / Video Market / Movie Full Plus
*Broadcast and streaming times are subject to change without notice.
[Main Staff]
Original Creator: Rumiko Takahashi's Urusei Yatsura (Shogakukan Shonen Sunday Comics)
Director: Hideya Takahashi・Yasuhiro Kimura
Series Director: Takahiro Kamei
Series Composition: Yuko Kakihara
Character Designer: Naoyuki Asano
Sub Character Designer: Kazuhiro Takamura・Mikio
Mechanic Designer: JNTHED・Yoshihiro Sono
Prop Designer: Ryo Hirata
Art Designer: Kaoru Aoki
Art Director: Masanobu Nomura
Color Designer: Ayaka Nakamura
CG Director: Kazuma Hatakeyama
Camera Director: Yuichiro Nagata
Editor: Kiyoshi Hirose
Music: Masaru Yokoyama
Sound Director: Yoshikazu Iwanami
Animation Production: david production
【Cast】
Ataru Moroboshi: Hiroshi Kamiya
Lum: Sumire Uesaka
Shinobu Miyake: Maaya Uchida
Shutaro Mendo: Mamoru Miyano
Sakuranbo: Wataru Takagi
Sakura: Miyuki Sawashiro
Ran: Kana Hanazawa
Rei: Katsuyuki Konishi
Oyuki: Saori Hayami
Benten: Sizuka Ishigami
Princess Kurama: Nana Mizuki
Onsen Mark: Kenta Miyake
Tsubame Ozuno: Takahiro Sakurai
Ryoko Mendo: Marina Inoue
Ataru's Father: Toshio Furukawa
Ataru's Mother: Keiko Toda
Lum's Father: Rikiya Koyama
Lum's Mother: Fumi Hirano
Ten: Aoi Yuki
Ryunosuke Fuzinami: Ayahi Takagaki
Ryunosuke's Father: Shigeru Chiba
Tobimaro Mizunokoji: Yuki Kaji
[Music Info]
Part 1
Opening Theme: MAISONdes "AIUE feat.Minami, SAKURAmoti" (Sony Music Labels Inc.)
Ending Theme: MAISONdes "Tokyo・Shandi・Randevu feat.Kafu, Tsumiki" (Sony Music Labels Inc.)
Part 2
Opening Theme: MAISONdes "I wanna Muchu feat.asmi, Surii" (Sony Music Labels Inc.)
Ending Theme: MAISONdes "Ai Tarinai feat.ýama, Nito。" (Sony Music Labels Inc.)
◆Original Work Info
Urusei Yatsura (Shogakukan Bunko)
Author: Rumiko Takahashi; All 18 volumes on-sale
Also available via webcomic site Sunday Webry
Reprint BOX: All 4 boxes on-sale
<Official Site>
https://uy-allstars.com
<Official Twitter>
https://twitter.com/uy_allstars #UruseiYatsura
<Official TikTok>
https://www.tiktok.com/@anime_uruseiyatsura
(c)Rumiko Takahashi・Shogakukan / Anime Urusei Yatsura Production Committee