I'll do my best to be "normal" in my performance!『Chou Futsuu Toshi Chibachuu Densetsu』interview with Arisa Noto, voice of Mito Hamajo
---
(Repotama is an online magazine covering news on everything anime, and we have recently started trying out posting articles in English! If you enjoyed this article, we'd really appreciate it if you'd consider sharing it and following us on Twitter!)
Chou Futsuu Studio is a studio that produces local anime based mainly in Chiba prefecture. It was recently announced that the new anime Chou Futsuu Toshi Chibachuu Densetsu will be produced in Chiba City, Chiba Prefecture, and it was also announced that Arisa Noto will be playing the role of the heroine Mito Hamajo.
How is she going to perform her role as a "normal" girl in her second year of junior high school? We got to talk to Noto-san, a true "Chiba kid" born and raised in Chiba Prefecture, and she told us a lot about this new work.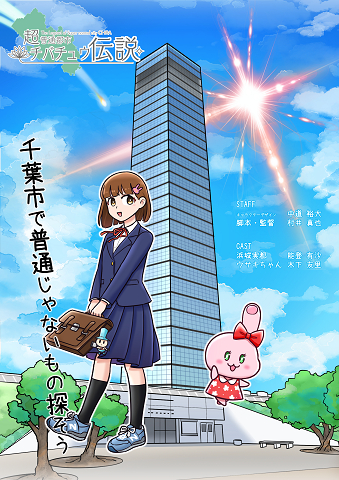 ―What made you decide to apply for the audition?
Arisa Noto:It was a big opportunity for me to appear in this work to help make public love for Chiba explode. Masaya Murai, who is behind the scenario for this story, seemed to understand my feelings and even at the audition the topic of "Chiba love" was a lot of fun to talk about. (laughs)
Chiba City is the capital city of Chiba Prefecture, and places like "Makuhari Messe" and "ZOZO Marine Stadium" are pretty well-known spots to visit, but I wanted people to have one more reason to get to know about Chiba! I applied for the role in order to help Chiba become the #1 city that people want to live in, with as much effort as I could muster!
―Did you watch the previous series?
Noto : I did! I felt that so much of the charm of Chiba Prefecture was communicated, from the more well-known places down to the places that only the most enthusiastic of people would know about. Chiba City is really large, so I'm looking forward to seeing what places get focused on in the show.
―"Chiba Port Tower" is depicted in the key visual, with the tower being something of a symbol of Chiba City.
Noto : I went all the way up to the top after my role was confirmed, but I could see all the way down to the industrial area by the ocean! I didn't expect it but I was able to see the "good parts of Chiba City" when I was up there. (laughs)
―How did you feel when you first saw the design for Mito Hamajo, your character?
Noto : She's just in her second year of junior high school and it's been a while since I've played the role of such a young kid, so I'm really looking forward to it. There seems to be a girl like this in every class, so I want to do my best in dubbing to convey that sense of "normality"!
―Since we're on the topic, what kind of uniform did you wear when you were in junior high school?
Noto : When I was a student in the prefecture, I wore a blazer just like Mito-chan! Since I also attended school with a similar bag, there's a sense of familiarity to it all.
I wondered to myself about where this girl usually goes on her time off… I want to hear from the viewers where the kids go these days to have fun, and what kinds of things they like to do!
―I'm also curious about the mysterious character Usaki-chan (played by Yuri Kinoshita (Kamen-Joshi), who will be Mito's little partner in the show.
Noto : There are some lines from Usaki-chan such as "People are just like garbage," and just from reading the prologue I sort of think "This is a pretty quirky character, I guess?" (laughs) but I'm looking forward to seeing what role Usaki-chan plays in the show.
The producer says that "Chibachuu Densetsu" will be quite story-oriented, so I hope everyone pays close attention to that as well.
―The illustrations drawn by mangaka Hiro Nakamichi are really cute too, aren't they?
Noto : Definitely! I don't think I can say this too loudly (laughs) but there will be plenty of accessories and shoes things like that which will be released, so I hope that everyone will look at the art while imagining what's going to be released in a little while.
―I hear that the crowdfunding for this series, which will be held until May 29 (Sun), has been going well.
Noto : Thanks to everyone we've received so much support! Thank you so much!!
Supporters will be able to appear alongside us in the show, so I hope that everyone will apply freely without worrying about things like "but anime dubbing is hard…"
―I hear you're also in charge of the theme song.
Noto : I can't say anything about it because I haven't heard the music or seen the lyrics yet, but when we met to talk about the song, Murai-san and I both had the same idea… whether we should put the phrase "chuu-chuu" in this song about "Chiba Chuu"… but it's just an idea at this point. (laughs)
I'm looking forward to seeing what kind of song this develops into!
―Is there anything in particular you want to try doing in the future?
Noto : I would like to do a bus tour around the real-life locations in the show.
As a fan of the Chiba Lotte Marines, I would love to do the opening ceremony at the ZOZO Marine Stadium. There are also a lot of golf courses in Chiba, and since I've been playing golf for about a year now, I hope that maybe we can talk about golf courses and maybe do some kind of collaboration! (laughs)
Also, it looks like streams have started up using avatars of the characters from the other series, so I would love to do a stream as Mito-chan and interact with the fans. There's plenty of things I want to do!
―Lastly, please give us one more message.
Noto : It's been a long time since production on the series was announced, but the project itself has finally started. The staff and cast will all be doing their best to convey "Chiba Love" to everyone, so we hope you'll give us your support!
<Interviewer・Photos / Dandy Saeki・Article wording (editing) by Repotama! editorial department>
【Crowdfunding Overview】
Participatory crowdfunding, where you can make your very own character appear in the work or participate directly as a voice talent, is being held until May 29 (Sun). The manga is also scheduled to begin serialization from its official site and social media in May. Please see the website below for more details! (note: site in Japanese)
Crowdfunding Page: https://fanbeats.jp/projects/266
Official Site: https://kashiden.dekimachi.com/story/12chibachu/
Twitter: https://twitter.com/kashiwaanime
【Present】(please note: applications from outside Japan are not available)
Noto-san's autograph on special coloured paper will be presented to one person!
Those who wish to apply are asked to please follow the Repotama! Official Twitter @repotama(https://twitter.com/repotama/)and retweet the tweet of this article. We will contact the winner via DM.
Application period: until June 3 (Fri) 2022 at 23:59 JST