A young lady and a quiet girl come and mess up the story!? Onipan! Interview with Kaori Maeda (voice of Momo Momozono) and Miyu Tomita (voice of Noriko Issun)
---
(Repotama is an online magazine covering news on everything anime, and we have recently started trying out posting articles in English! If you enjoyed this article, we'd really appreciate it if you'd consider sharing it and following us on Twitter!)
☆ED animation scene ※Textless version now available on YouTube!
The original TV anime Onipan! is being broadcast daily via TV Tokyo's Oha Suta (Monday to Friday starting at 7:05am) beginning April 11, 2022! The series is a slapstick comedy which focuses on the three "Onikko " who are sent into the city and work to dispel the popularly held belief that "oni are bad guys". This time, we got to interview Kaori Maeda (voice of Momo Momozono, a descendant of Momotaro) and Miyu Tomita (voice of Noriko Issun, descendant of Issun-boshi). Both of these characters are key to the story as classmates of the three Onikko.
―Please give us your honest thoughts about when you found out you made the role.
Miyu Tomita : When I first heard the title, I thought to myself "I guess it's a cute pop series." Recently, I haven't had too many opportunities to appear in slapstick comedies, so I was happy to receive the opportunity.
Kaori Maeda : I thought, "This seems like a show kids can enjoy too." I liked the fresh concept of these oni going around trying to improve their image to everyone.
―Please tell us about the characters you played.
Tomita : Noriko is a small, quiet girl whose bangs hide her face. She's a "chunibyo" character with a lot of lines that made me think "what is this kid trying to say?" so it was pretty challenging understanding all the lines. (laughs)
Maeda : Momo-chan has a kind heart and good leadership skills, but the way that she makes an entrance is what really leaves an impression. I think she has a "Ohh ho ho!" sort of high laugh particular to these "young lady" type characters, but in her case it's actually "Mohh mo mo!" (laughs)
―Being a "young lady", is she the sort that would get around by being driven in a luxury car or a private helicopter?
Tomita : I have the impression that she has access to a private helicopter, yeah. (laughs)
Maeda : She's serious at heart, so even if she's running late I have a feeling she might refuse the ride and say "I'll make it there myself!" (laughs)
A bit of a change of topic, but I hope that the "Mohh mo mo!" laugh will catch on at school and at the workplace!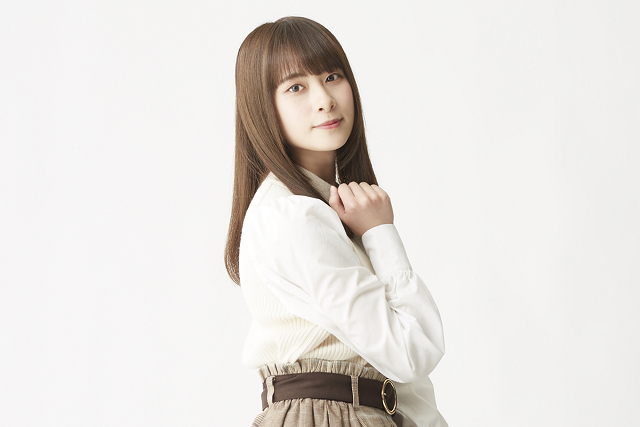 ―Are there any things in particular that you're careful about when performing?
Tomita : The position of Noriko is a pretty difficult one. When she's in the classroom at school, she just observes Momo interacting with the Onikko from a distance. Myself, Kaorin (Maeda-san) as well as Kikuko Inoue (voice of Kuma) often do our recording together, and it's a little sad that I can't directly interact with the performances of the Onikko. That said, I think Noriko also has her own unique pace and energy level, so I try to be aware of that when performing.
Maeda : I particularly make an effort with the scenes that need to have a lot of impact. I also try to not overuse "~desu wa" which is typical of these young lady characters
―Are there any significant interactions between Momo and Noriko in the story?
Tomita : I can't say too much because of spoilers. Initially though, it seems that they don't have much of a connection to each other, but you get the feeling that there actually is something there despite seeming unlikely. From my point of view, I think Noriko sees Momo as "an interesting person". (laughs)
Maeda : This is also just my personal opinion, but I think that Momo sees Noriko as though she was looking at her from above, saying "Don't worry, I'll help you." (laughs)
Tomita : I want everyone to see just how these two are involved with each other in the story.
―The first big event for this series will be held on August 26th (Fri) at The Garden Hall in Ebisu, Tokyo. Both of you are scheduled to appear, I hear.
Tomita : It's nostalgic for me because I stood on that stage as a teenager.
Previously, the three Onikko's "Onipans!" (composed of Tsutsuji played by Yume Nozaki, Himawari played by Mika Negishi, and Tsuyukusa played by Kokona Nonaka) shot a performance of the song "ONIPAPAPAN! PAN!" on Tik-Tok and I got to dance with them, and it was really cute! It's catchy so it's easy to remember, so I hope everyone will dance along on the day of the event.
Maeda : I remember being really nervous the first time I ever did dubbing, but when I saw those three face up to their challenge, I remembered that time in the past for me and it reignited my spirit.
There's the feeling of helping the juniors as seniors, of course… but I think the most important thing is to make an event that's unique to us. So I'll do my best!
Tomita : Watching the performance of the three of them makes me feel like a mom, so it scares me…
Maeda : It sounds like you just want to shoot a home video. (laughs)
―Both of you are still young. (laughs)
Maeda : Yeah I suppose. (laughs) I think a lot of people will want to dance after watching the animation, so I'm hoping to give everyone a sense of closeness at the venue on that day!
―A lot of "small friends" who watched the anime might show up.
Maeda : Since it's in August, I imagine there will be a lot of kids still on summer vacation.
Tomita : It's a show that can be enjoyed by a wide range of different age groups, so I hope that the circle of "Onipan!" will keep expanding!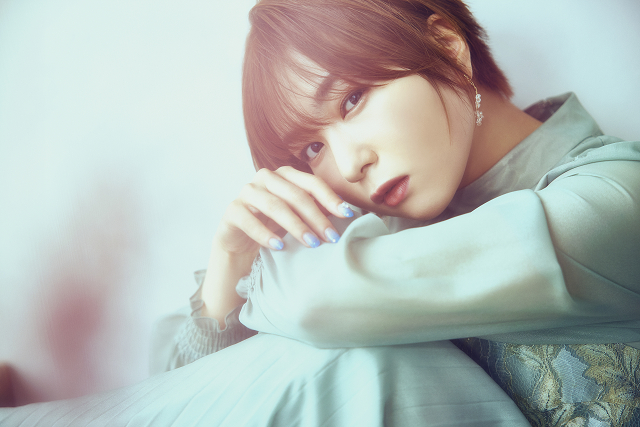 ―Although the date is still not completely fixed, Tomita-san will be appearing in the CD release event for "Onipans!" that will be held in June.
Tomita : I've only talked to the three of them when they came for the dubbing tour and on the day of that interview, so I'm still trying to figure out how I can see them more… At the event with Kaorin, I somehow can understand "If I say this, this will get said back," but I wonder if we'll feel a generation gap?
Maeda : I wonder? I also had a bit of an exchange with Kikuko Inoue-san starting up the conversation with an "Oi oi!"… But I wonder if that will work well with everyone. (laughs)
Tomita : Most of all, I just want to make the event a good memory for everyone who comes out!
―There are a lot of characters that are from old stories and fairy tales in this anime, but do you have any memories of these stories?
Maeda : I have a lot of folk and fairy tales that I love, but I am especially fond of The Little Mermaid and I even collected shells at the beach in my neighborhood when I was little because of it.
Tomita : I enjoyed stories where animals are the main characters, so I don't have a memory of reading those when I was little… There were some stories that were used in school festival performances when I was younger though. So with Onipan! as an homage to Momataro, I play my part from a fresh perspective.
―Do you have any thoughts on Onipan! itself?
Tomita : When I first heard that it was about "Oni struggling to improve their image," I thought "I want to help improve their image too!"
I often think to myself that I want others to get to know me better after meeting them for the first time. There have been quite a lot of people whose first impression of me is someone who is "cool" or "scary". But that's not the case at all…
Maeda : For me, I'm just happy when we spend time together. You're not difficult to approach.
Tomita : This is the case with Kaorin, who has known me for so long. (laughs)
Once I arrive on the scene, I invariably go into "work mode" and start reading the script by myself. So I worry that the three "Onipans!" would have seen me as a bit of a scary person during the tour.
Maeda : But the flipside to that is they might respect you for how you approach your work so seriously, right?
Tomita : I sure hope that's the case. (bitter laugh)
Maeda : I've never played a character with the energy of Momo, so I was happy just to play a different type of character compared to what I'm used to. I think since the title is already "Onipan!" I want them to make goods with the theme of "Oni's Pantsu".
―There does seem to be talk of merch being released, though?
Maeda : Really!? Regardless of what it is, I need to see it.
Tomita : It would be nice if it ends up being something you can actually put on. (laughs)
―The Onikko don various outfits every time. Some of them are related to professions like "police officer" and "chef", but what are some professions that you would like to try?
Tomita : I don't have any experience working part-time, so I'd like to try putting on a uniform for a family restaurant. I'm interested in the uniforms themselves, though, so it might not be enough to make it into a job. (laughs)
Maeda : I'd like to try being a school teacher. I want to try playing with small children!
―Finally, please give us one more message.
Tomita: When I was a little kid, I watched Oha Suta when going to kindergarten and elementary school. I'm really happy to be able to appear on this program I remember so well! I hope that everyone starts their morning with Onipan! and have a great day.
Maeda : There will be a lot of unique characters appearing and they're all interesting in their own ways, so I hope you'll find yourself an "oshi" character that you love. Onipan! is aired every morning, so I hope everyone will make it a habit to check it out before going to work or school. Thank you very much!
<Interviewer / Dandy Saeki・Article wording (editing) by Repotama! editorial department>
【Anime Overview】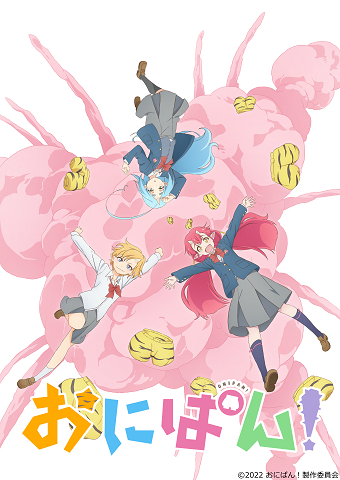 "Onipan!"
Broadcasts daily via the TV Tokyo series "Oha Suta" from Monday-Friday at 7:05!
<STAFF>
Original Creator★ONIPAN project
Original Concept・Original Work Supervision★Norihiro Naganuma
Onikko Character Design★Tomari
Director★Masahiko Ohta
Assistant Director★Junichiro Hashiguchi
Series Composition★Takashi Aoshima
Character Designer・Chief Key Animation Supervisor★Ryuta Yanagi
Art Director★Shunsuke Suzuki
3DCG Director★Shigenori Hirosumi
Color Design★Arisa Komatsu
Camera Director★Shinji Tonsho
Editor★Megumi Onodera
Music Director★Yasunori Ebina
Effects★Naoto Yamatani
Recording★Yoshinori Tsurumaki
Music★Yasuhiro Misawa
Animation Production★WIT STUDIO
Planning Cooperation★AAO Project
<CAST>
Tsutsuji★Yume Nozaki
Himawari★Mika Negishi
Tsuyukusa★Kokona Nonaka
Momo Momozono★Kaori Maeda
Noriko Issun★Miyu Tomita
Kuma★Kikuko Inoue
●Kaori Maeda Twitter
@kaor1n_n
●Miyu Tomita Twitter
@miyju_tomita
●Miyu Tomita STAFF Twitter
@miyustaff
●"ONIPANS!" Official Twitter
@ONIPANSofficial
●"ONIPANS!" Official TikTok
@onipansofficial
●Anime "ONIPAN!" Official Site
https://onipan.com
●Anime "ONIPAN!" Official Twitter
@tv_anime_onipan
Recommended hashtags: #onipan
【CD Overview】
"ONIPAPAPAN!PAN!"
On Sale June 1st, 2022 (Wed)
【ONIPANS! board】(CD+Booklet+"ONIPANS!"Cast Acrylic Stand)
Price: ¥4,200-(tax included)
※ASMART Limited Release
【Regular board】(CD+Booklet)
Price: ¥1,800-(tax included)
Publisher: Onigashima Records/AMUSE
【Contents of CD Recording】Included in the ONIPANS! disc and the standard disc
M-1: "ONIPAPAPAN!PAN!"/"ONIPANS!"(Anime "ONIPAN!" Theme Songs)
Lyrics: Yuki Tsujimura, Composition・Arrangement: Yuki Tsujimura/Ken Ito
M-2: Theme Songs②
M-3: Insert song from the story
※Other songs that will be released along with the anime broadcast will also be included
【Specifications】Included in both the ONIPANS! disc and the standard disc.
Booklet: Mini photo collection filled with the charm of the cast 3 people 16p (planned)
Jacket: Anime "ONIPAN!" WIT STUDIO Specially Commissioned Illustration
【First-come-first-served reservation purchase benefits by store】
Animate: A4-sized File folder ("ONIPANS!" Uniform Style)
TOWER RECORDS: Can Badge ("ONIPANS!" Artist Style)
GAMERS!: B3-sized Poster: ("ONIPANS!" Uniform Style)
Amazon.co.jp: MEGA Jacket ("ONIPANS!" Character)
Rakuten books: Mini Photo Sheet ("ONIPANS!" Artist Style)
General Stores: 2L-sized Bromide ("ONIPANS!" Uniform Style)
☆Click here to make a CD reservation
https://onipanzu.lnk.to/onipapapan-pan_CDWE
【Release Event Information】
"ONIPAPAPAN!PAN!" Release Event
【Tokyo】Sofmap AKIBA Amusement Center
Scheduled for June 4th (Sat) at 12:00-
Details: Gift-giving party
【Tokyo】AKIHABARA GAMERS Gamers Main Store
Scheduled for June 4th (Sta) 14:00-
Details: Mini Talk+Gift-giving party
Guest: Miyu Tomita
【Tokyo】Animate Ikebukuro Main Store
Scheduled for June 4th (Sat) 17:00-
Details: Mini Talk+Gift-giving party
Guest: Miyu Tomita
【Tokyo】TOWER RECORDS Shibuya
Scheduled for June 11th (Sta) 13:00-
Details: Talk+Live+Gift-giving party
MC: Hayashi Mori
【Online】Limited Stand
Schedule: June 12th (Sun) 12:00-
Details: Online Autograph Session
【Osaka】Animate Osaka Nihonbashi
Scheduled for June 19th (Sun) 14:00-
Details: Gift-giving party
【Osaka】GAMERS Nanba
Scheduled for June 19th (Sun) 16:00-
Details: Gift-giving party
※Event participation will function essentially under a "raffle" system.
※There are no gifts given to visitors.
※Event contents are subject to change depending on the situation with novel coronavirus infections.
※For details, please contact each store.
【Event Information】
"ONIPAN! Fan Meeting & Live 2022 『Onisan-kochira♪』"
August 29th (Fri), 2022
Venue open: 17:00
Start time: 18:00
【Tokyo】Ebisu The Garden Hall
Performance: "ONIPANS!" (Yume Nozaki/Mika Negishi/Kokona Nonaka) ・Kaori Maeda・Miyu Tomita
MC: Hayashi Mori
<Ticket Price>
【Reserved Seat】¥5,500-
【Onigashima Seat】¥8,800-
Ticket Release date: Undecided
※ Onigashima Seats feature the following extras!
・Limited edition goods will be given
・ Seat forward guarantee (please note that seat selection is not possible)
・ An after-show with "ONIPANS!" (Yume Nozaki / Mika Negishi / Kokona Nonaka), Kaori Maeda, Miyu Tomita, and Hayashi Mori
※The CD of "ONIPAPAPAN! PAN!" will include a serial number for a top priority raffle entry ticket.
(C)2022 ONIPAN! Production Committee