The photography club receives sudden visitors… TV anime Yatogame-chan Kansatsu Nikki Season 4 Episode 2 Synopsis and Scene Previews have been released
---
(Repotama is an online magazine covering news on everything anime, and we have recently started trying out posting articles in English! If you enjoyed this article, we'd really appreciate it if you'd consider sharing it and following us on Twitter!)
Yatogame-chan Kansatsu Nikki is a popular local comedy focused on the cute Yatogame-chan and improving the fame of Nagoya. Particularly popular in the Tokai region of Japan where more than half of its sales come from and published via Twitter, the original comic Yatogame-chan Kansatsu Nikki has exceeded 550,000 total copies sold including digital sales.
This time, the synopsis and scene preview of episode 2 "Welcome, Student Council President", which began airing on April 16 (Sat), has been released.
【Episode 2 "Welcome, Student Council President"】
Lala is called by the principal, and is given important news relating to the photography club.
Oblivious to what was developing, the photography club was in the middle of a heated discussion about the shapes of different prefectures in Japan and what they look like.
Their talk is interrupted when the student council president makes a sudden visit…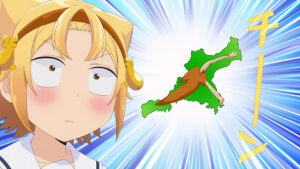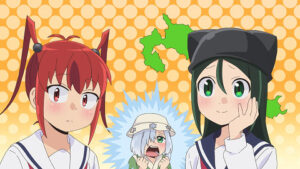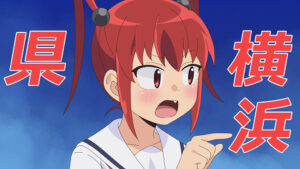 Screenplay: WORDS in STEREO Storyboard: Ryosuke Higashi Director: Wang Yuechun
General Animation Director: Misumi Konno Animation Director: Quan Wuji
【Anime Overview】
『Yatogame-chan Kansatsu Nikki』 Season 4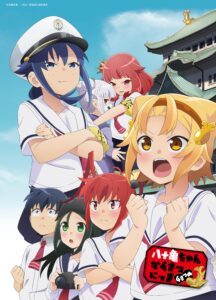 A high school girl who spends a lot of time with her grandmother and has an unvarnished Nagoya dialect named Monaka Yatogame (voiced by Haruka Tomatsu), a boy from Tokyo named Kaito Jin (voiced by Mitsuhiro Ichiki), a girl from Gifu prefecture who attends the same school as Monaka named Mai Tadakusa (voiced by Yuki Wakai) and finally a girl from Mie prefecture named Yanna Sasatsu (voiced by Mikako Komatsu). Through these four highly distinct characters, this is a comedy where you can experience the dialect, culture and unique traits of Nagoya and the Chuukyo area!
Also, in seasons 2 and 3, Shizuoka prefecture native Lala Shonai (voiced by Yoshino Nanjo), Shiharu Itemae from Osaka prefecture (voiced by Honoka Kuroki), and Kyoto native Nanaho Koshiyasu (voiced by Ayasa Ito) all joined the cast of characters! Starting in the Chuukyo area, the backgrounds of the characters have expanded to include the Kinki region as well.
Finally, in season 4 of Yatogame-chan Kansatsu Nikki, the charm and unique culture of Nagoya city, the Tokai region and other areas will all continue to be conveyed through various "loving insults".
【Broadcast information】
Broadcasting begins April 2nd (Sat)
TV Aichi from April 2nd, every Saturday from 20:54-21:00
BS11 from April 3rd, every Sunday from 21:55-22:00
AT-X from April 7th, every Thursday from 22:00-22:05
(Repeat Broadcasts: every Monday from 10:00-10:05/ every Wednesday from 16:00-16:05)
【Streaming Information】
Streaming since April 7 (Thursday)
【Hikari TV】 Beginning April 7th, airing every Thursday at 10:05pm JST
【Other Streaming Services】Sequential airing begins April 10 (Sun) at 10:00pm JST
※Please note that broadcasting and streaming dates are subject to change
※Please note that the first airing will be a special announcement broadcast. The anime's first episode will air in the 2nd week. (※excluding some streaming sites)
【Staff】
Original: "Yatogame-chan Kansatsu Nikki" (serialized in "Monthly Comic REX" / Ichijinsha)
Original author: Masaki Ando
General Director: Hisayoshi Hirasawa
Character design: Satsuki Hayasaka
Art Director: Mame
Color Coordination: Ami Hayashi
Director of Photography: Natsumi Hori
Editor: Yuuzi Oka
Sound Director: Hisayoshi Hirasawa
Music Production: LEVELS
Music: Ryuudai Abe
Series composition: WORDS in STEREO
Animation production: Saetta
Animation production cooperation: Hayabusa Film
【Cast】
Monaka Yatogame:Haruka Tomatsu
Kaito Jin:Mitsuhiro Ichiki
Mai Tadakusa:Yuki Wakai
Yanna Sasatsu:Mikako Komatsu
Tosika Jin:Hisako Tojo
Lala Syonai:Yoshino Nanjo
Rin Jandara:Eriko Matsui
Teppei:Kenji Akabane
Shiharu Itemae:Honoka Kuroki
Nanaho Koshiyasu:Ayasa Ito
Serura Dobe:Maria Naganawa
Masahide Tsuji:Junji Majima
Sho Kochikashi:Sumire Uesaka
Kei Aonaji:Sora Tokui
Kiiina Asaka:Reo Kurachi
Recchiri-sensei:Tetsu Inada
Rika-sensei:Haruna Terada
Serura Mama: Mami Koyama
【Theme Song】
Akira Ouse "ENJOY☆NAGOYA☆PERFECT☆LIFE"
■Official Website https://yatogame.nagoya/
■Twitter @yatogame_chan/Hashtag: #Yatogamechan
【Original Work Information】
Yatogame-chan Kansatsu Nikki (Currently being published via Monthly Comic Rex)
Yatogame-chan Kansatsu Nikki (Published via Rex Comics) Volumes 1-11
Volume 12 on sale April 27, 2022 (Wed)!
(c)Masaki Ando・Ichijinsha/Aichi Dagane High School