TV anime "Love of Kill" official relay interview #4 released. Episode 4 Case File also updated
---
(Repotama is an online magazine covering news on everything anime, and we have recently started trying out posting articles in English! If you enjoyed this article, we'd really appreciate it if you'd consider sharing it and following us on Twitter!)
The popular manga "LOVE of KILL" (author: Fe) is a warped and suspenseful story interwoven with the lives of professional hitmen.
This series is being serialized in Monthly Comic Gene, has published up to 11 volumes to date and has exceeded 750,000 copies sold in total (as of December 2021, including electronic sales). Also, after the release of the drama CD, an anime adaptation began broadcasting on TV and has quickly garnered attention.
This time, the Official Interview #4 as well as the episode 4 case file have been released.
【Official Interview #4 "Ryang-ha's 'Endless Resourcefulness' that was made clear in the confrontation with Hou】


Ryang-ha: Hiro Shimono
Hou: Tomoaki Maeno
――In the fourth episode, Ryang-ha and Hou finally face each other.
Maeno: It really stood out how no matter how much Hou attempted to get under Ryang-ha's skin, he didn't seem to have any effect on him.
Shimono: Yeah, he really didn't budge.
Maeno: There was a sense of achievement and exhilaration in Hou, but I also got the sense that he was spinning his wheels uselessly in front of Ryang-ha. In the first half there's a scene where Ryang-ha calls Hou and Hou stands there smoking while on the phone. It's a scene where Hou is overjoyed that he can finally figure out where Ryang-ha has gotten himself too and proceed with what's next for them, but Ryang-ha doesn't show much of any reaction at all. The difference in temperament was interesting.
――On the contrary, Ryang-ha is always level-headed, right?
Maeno: With Chateau having been taken hostage it's possible that he was quite agitated, but he certainly isn't the sort to show that sort of thing. The only thing he did was when his expression changed to one of worry over the whereabouts of Chateau after that explosion, I suppose?
Shimono: You've got it. Also, I think they did a great job with concealing Ryang-ha's facial expressions in the way the shots are set up. For example, in the scene where he talks to Hou on the phone, like Maeno-kun mentioned. It makes it seem like he's actually angry, but since it doesn't clearly show that in the shot, it gives a sense of uneasiness to the whole situation.
Maeno: He's certainly a character with a lot of mysteries around him. I think somebody as straightforward as Hou couldn't help but get annoyed. (laughs)
Shimono: Although, as a voice actor, it's difficult to understand what your character's facial expressions are going to be in the final production. I have to express his emotions from what little information is given, and then with this character I have to suppress those emotions further…
Maeno: This might get a bit technical, but although I'm very grateful that the writing was done at the same time as the dubbing, it was very difficult to get the timing of the dubbing in-sync with the character with this form of production.
Shimono: There isn't any timing or scale when reading the lines since the video has already been finished, and there is some difficulty involved with dubbing lines to match an already finished animation. However, having a video to look at is overwhelmingly easier to dub regardless, right?
Maeno: That's right. You can really get a sense for the emotions and the actions for the characters when you actually see them animated before reading the lines out.
Shimono: Sometimes I can't see Ryang-ha's facial expressions, but when I can see them the finer nuances of his expressions are in plain sight which is really helpful for understanding the scene and emotions of the character.
――There's a scene where Ryang-ha says "Oh no."
Shimono: That's the part where Chateau is chasing after the assailant by herself. This was also a pretty tough line to figure out how to perform. Initially, I put more emotion into it, but then I was told that I didn't need to go quite as far as I did so I had to adjust the reading accordingly.
The same thing was also true immediately after the last explosion. The script just read "…!!" Ryang-ha was obviously upset over how Chateau was being taken away, but I figured that if I expressed too much emotion then there would be additional implications, and I ultimately decided to make a sound for the reaction without breathing in much at all. I was told to simply ad-lib a gasp, and I figured that the best way to do that for this character would be to not put too much air into it.
Maeno: When I saw Ryang-ha upset this time around, I thought that Chateau must be special to him after all.
Shimono: The core of Ryang-ha himself is still something that's shrouded in mystery, but it seems pretty clear that he cares about Chateau. I'm still not sure exactly which emotions are most important for this character… but I understand that Chateau is important to him at least.
Maeno: There are some parts where you can't really tell exactly what the distance between the two is, even though you know there's something there.
Shimono: For sure, there's a certain spitefulness present and yet they stick around with each other. There's a certain resolve to maintain physical distance from each other (laughs) but regardless there's something about him that seems to show that he cherishes her.
Maeno: It's difficult to get a sense for Chateau as well. It can't be easy for her to trust him, and if she gets too close she could end up dead.
Shimono: For that reason I think Chateau's anxiety and distrust of him makes sense.
――Shimono-san said this in the previous interview, but it doesn't seem to be a simple love between the two of them.
Shimono: Why is he staying so close to Chateau and putting in so much effort? I think it'll make more sense as the story progresses.
Maeno: It's just speculation at this point, but it seems pretty likely these two had some connection in their pasts.
――Regarding the case that happened 17 years prior in Chateau's past, the name Ryang-ha Song was mentioned.
Shimono: This was a young boy who had died. There was a mistake in the real name of the target, and the scene was really interesting.
Maeno: I wonder what it means that this Song Ryang-ha has died?
Shimono: As a result we don't even know who the current person with that name is. When I also thought about what was revealed in the past, the mystery got even deeper.
――Next, what could you tell us about what you're expecting and looking forward to in the 5th episode onward?
Maeno: Hou mentioned a "second round" so I expect there to be a battle between the two of them. I think Hou wants to take Seung-woo as well, but… since he's already been shot by Ryang-ha he's got at least two or three problems in his way first. I am looking forward to seeing how their confrontation is handled next.
Shimono: Hou is very black-and-white, which I think rubs Ryang-ha the wrong way.
Maeno: Definitely. Unexpected things always happen to Ryang-ha but he's quick to overcome the odds in a rapidly changing environment thanks to his skills and experience. With that confidence his mind remains strong, and I think this causes a lot of trouble for Hou.
Shimono: I'd also like to see more of Ryang-ha and Hou interacting with each other, including when they face off with each other. In episode 4, the conversation with Ho was very one-way (laughs) so I'd be happy if there were many more conversations in the future.
――Finally, I wanted to ask the cast members of this show a question. It's a question I arrived at from the title "Love of Kill", but is there anything that you two have been maintaining a love for recently?
Shimono: It's "health" for me.
Maeno: That's certainly an important thing! For me… well, it's my car. Due to the way things are right now I've been going to places by car a lot more, and I want to be really careful when I'm driving so I don't go careening off a cliff.
Shimono: And don't get bullied by large motorcycles.
Maeno: Yeah, I want to make sure that I can avoid harm even if I get attacked by a big two-wheeled vehicle.
……Well, no, I'm always really careful about staying out of accidents. (laughs)
【FILE 04 "REAL FACE" Case File Update】
Info on each case from the story is summarized here.
Please take a look after watching.
(Note: Website in Japanese)
Case File #04
https://love-of-kill.com/special-inc-files.html?file=4
【Anime Overview】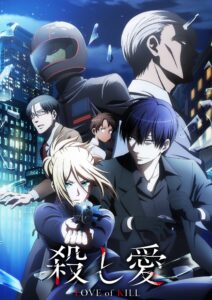 【Broadcasting/Streaming Info】
TV anime broadcasting begins Wednesday, January 12th, 2022
Advanced terrestrial broadcasting and fastest distribution of individual episodes via d Anime Store
<Broadcast information>
TOKYO MX From January 12th, every Wednesday from 24:00
Sun TV From January 13th, every Thursday from 24:00
KBS Kyoto From January 13th, every Thursday from 25:00
BS Nippon Television From January 12th, every Wednesday from 24:00
AT-X From January 13th, every Thursday from 22:30
(Repeat broadcast weekly (Monday) 10: 30- / weekly (Wednesday) 16: 30-)
<Streaming information>
d Anime Store From January 12th, every Wednesday from 23:30
Other sites will release episodes sequentially.
※Note that broadcasting dates and times are subject to change due to broadcasting circumstances.
【INTRODUCTION】
Two hitmen face off against each other at a certain "workplace".
A calm and cool bounty hunter named Chateau meets the mysterious and deadly Ryang-ha.
Chateau and Ryang-ha are supposed to be enemies… but somehow, Ryang-ha takes a liking to Chateau after their encounter and begins to follow her around.
She eventually relents and starts cooperating with Ryang-ha, but is then caught up in a conflict with an organization that's targeting him. This conflict also bears a connection to Chateau's past.
What does Ryang-ha have to gain in approaching Chateau? What is hidden in Chateau's past?
This is a story of twisted suspense around two hitmen that couldn't be a worse match.
A strange and fateful gear is about to turn.
【CAST】
Chateau Dankworth: Saori Onishi
Ryang-ha Song: Hiro Shimono
Euripedes Ritzland: Kenyu Horiuchi
Jim: Kohei Amasaki
Hou: Tomoaki Maeno
Jinon: Ayumu Murase
Nikka: Masakazu Morita
Mifa: Yoko Hikasa
Donny: Hochu Otsuka
【STAFF】
Original: Fe(serialized in "Monthly Comic GENE/KADOKAWA)
Director: Hideaki Oba
Series Composition/Screenplay: Hisao Ayumu
Character Designer: Yoko Sato
Sub Character Designer: Toshimitsu Kobayashi
Chief Animation Director: Yoko Sato/Toshimitsu Kobayashi
Action Animation Director:Yasunori Saiki
3D Prop Design:Tomokazu Sugimura
Art Director:Masaki Mayuzumi
Color Coordination:Aiko Yamagami
Director of Photography:Akane Fushihara
Editing: Kashiko Kimura{
Sound Director: Hajime Takakuwa
Sound Effects: Toshiya Wada
Sound Production: Bit grooove promotion Inc.
Music: Kei Yoshikawa
Music Production: TOY'S FACTORY
Music Production in Cooperation with: Miracle Bus Corporation
Animation Production: Platinumvision
Production: Love of Kill Project
TV Anime Official Site https://love-of-kill.com
Official Twitter @LoveofKill_info(https://twitter.com/LoveofKill_info)/ #LoveofKill
Official TikTok loveofkill_info(https://www.tiktok.com/@loveofkill_info)
(c)2022 Fe/KADOKAWA/LOVE of KILL Production Committee