A regular visitor talks about his "Lashinbang Love"! Interview with Tomohito Takatsuka in charge of Lashinbang Radio for February 2022
---
(Repotama is an online magazine covering news on everything anime, and we have recently started trying out posting articles in English! If you enjoyed this article, we'd really appreciate it if you'd consider sharing it and following us on Twitter!)
"Lashinbang" is a retailer that buys and sells used anime goods, figures, DVDs, Blu-rays, etc. across Japan. In store, a radio program featuring popular voice talents is being broadcast in the first and second half of every month. After the in-store broadcasting period is over for each voice actor/actress, the video archive of the show is being made available via YouTube.
In February 2022, Tomohito Takatsuka, who is known for such roles as Sirius Eveil in Ouji no Honmei wa Akuyaku Reijou, Sousei Arakida in STAND MY HEROES PIECE OF TRUTH, and Minori Watanabe in the game THE IDOLM@STER SideM. We got a chance to talk to Takatsuka-san, who is a regular customer of Lashibang, and he talked about himself (?) with a lot of excitement!
―Please tell us your frank impression of how you feel when talking about "Lashinbang Radio".
Tomohito Takatsuka: I was initially really surprised to get the offer, because I've been visiting them often for so long. Once it sunk in, I was overjoyed!
―Did you visit one of the stores?
Takatsuka: I often go to Akihabara in Tokyo for fun, and I think about what stores I want to visit in advance and make something of a "shopping route", but among them Lashinbang is included. They've got so many of my favorite goods like figures, prizes and keychains, so I can't help but go to Lashinbang on my trips.
―How was the "My First Nattoku Kaitori" segment, where you looked up the prices for various anime and game-related goods you can sell online?
Takatsuka: I used to use a buy-and-sell service to buy new figures that I wanted, so I was really familiar with this kind of service.
This time, I looked at the prices for figures of "Kinnikuman", "Strike Witches" and "Queen's Blade", but I was really surprised and said "They actually sell for this much!"
―It seems that everyone was able to get more familiar with you in the "Daily Life of Tomohito-san" segment. First of all, could you talk about this starting from the "Current Obsession" part?
Takatsuka: I talked about the "survival game" that I've gotten so into lately. I haven't been able to play much for the past little while though, so I talked about how that's been on my mind so much!
―In the "Ideal Valentine" segment, you talk about what you think would be an ideal Valentine's Day.
Takatsuka: I talked about three different situations for this: "student version", "worker edition" and "senior edition", as opposed to talking about Valentine's Day memories. It was hard to make an ideal situation out of the old-age situation… (laughs) Please look forward to hearing what I talked about!
―The "Improvised Anime Audition" segment is a part where you create your own original anime by combining randomly selected "genres", "roles" and "lines".
Takatsuka: I think the original concept for this was to have fun with an idea of something so utterly bizarre with totally mismatched concepts, but by some miracle it actually turned out great, so please tune in and check it out!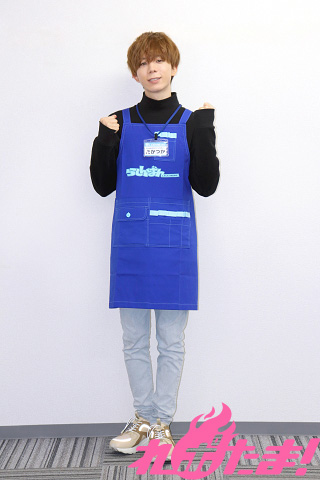 ―I hear that you also talked about your own work.
Takatsuka: I've been able to have a lot of valuable experiences, such as my artist debut in January 2022 and playing the main character in LOOPERS last year, so I talked about these kinds of things. I feel that I'm really moving forward as a voice actor!
―Please tell us about your future goals.
Takatsuka: I want to appear in as many works as possible and play lots of different roles. I want to do everything I can while I can!
―By the way, is there anything you'd like to try doing in your private life?
Takatsuka: I'd like to do some camping and fishing. A number of my friends have gotten into camping recently and want to go camping together, and I'd like to do some river and sea fishing while out there. I want to try squid caught on the boat right there on the spot and give it a rating. I might get seasick though. (laughs)
―Please give a final message to the readers.
Takatsuka: I'd love it if everyone who supports me would also share in my "Lashinbang Love". (laughs)
It might be difficult to visit the store directly at the moment, but I'd be thankful if you'd consider adding it to your own personal "list of places I want to go". Thank you very much!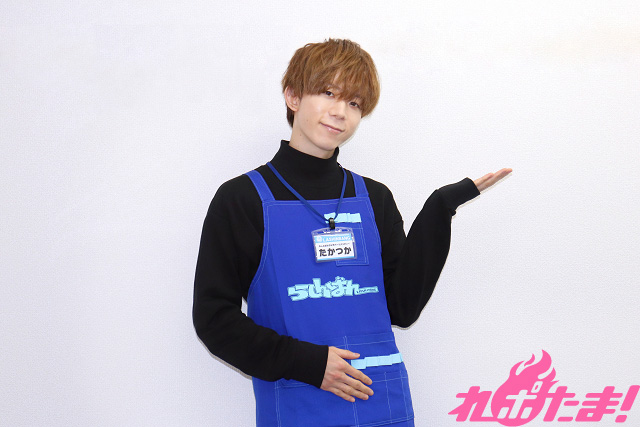 <Interviewer / Dandy Saeki・Article wording (editing) by Repotama! editorial department>
● Lashinbang YouTube channel
https://www.youtube.com/channel/UCD6rv8KsGnrQZFR9Ax6CSmg
【Present】(please note: applications from outside Japan are not available)
Takatsuka-san's autograph on special coloured paper will be presented to one person!
Those who wish to apply are asked to please follow the Repotama! Official Twitter @repotama (https://twitter.com/repotama/) and retweet the tweet of this article. We will contact the winner via DM.
Application period: until February 14 (Mon) 2021 at 23:59 JST