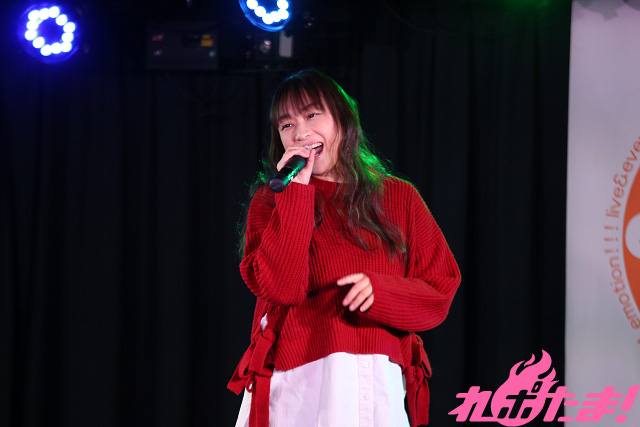 Mingosu is back to doing free talk events! Asami Imai's "Balancing Journey" Release Commemorative Event (Part 2)
---
(Repotama is an online magazine covering news on everything anime, and we have recently started trying out posting articles in English! If you enjoyed this article, we'd really appreciate it if you'd consider sharing it and following us on Twitter!)
Asami Imai's new album "Balancing Journey" was released on December 22, 2021. An ambitious project, this album contains 12 completely original new songs, and an event commemorating its release was held on January 8 (Sat) at Space emo Ikebukuro in Tokyo.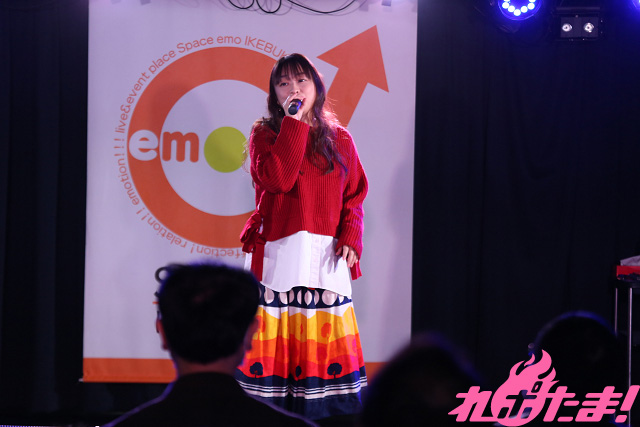 This was her first event with a live audience in the past two years since the release of the album "Flow of time" in November 2019. She wore the colorful skirt that she's been wearing at events since the release of her 2016 single "Asayake no Star Mine", and appearing with a wavy hairstyle "prepared with a hair iron provided by my manager."
In the talk part of the event, she looked back on the production of the album. Although the mastering (completed by adjusting the volume mixing and sound in each song) was completed in mid-November, she mentioned that it wasn't quite possible to meet with everyone due to circumstances in the world particularly at that time. "But, after I got a sample of the album, I decided to give it to Yumi Hara-san who helped with the album's production!" She said with a smile.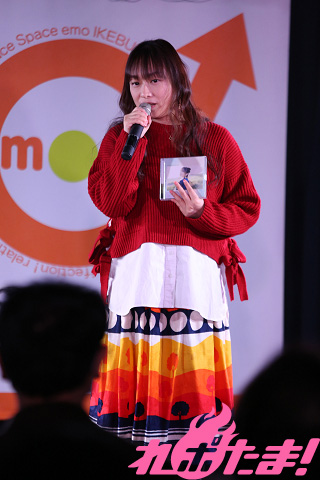 Also, questions that were rounded up on Twitter in advance were also answered at the event.
In response to the question "What changed in 2021?" she said "In the second half of the year, the number of options for songs to sing increased for me significantly, but my approach to singing also diversified a lot. I want to improve my live performances of all the songs I sung this time, little by little!
Regarding the album, she was asked "It seems like a lot of your songs have a secondary theme hidden in the lyrics, but please tell us about that. In response, she answered "For example, in my song 'Watashi ga Suki ni naru Mahou' I wrote about a girl who failed to be selected after an audition, and auditions are something I really love. But, as I wrote it, I realized that the lyrics also applied to me. So that was kind of funny. (laughs)"
In response to the question "Did you buy the grab bag?" she said "I did not!" and immediately after she noticed that the person who had asked the question was holding one of the bags. "Alright, let's see what's in it!" she said, and the venue got excited as it was opened. Another question asked "How do you decide what you're going to wear at events?" and she said "First of all, I do it with TPO in mind. Whenever I'm going to appear in an event for a brief amount of time, I want to draw as much attention as possible so I'm conscious about picking out costumes that have a lot of impact!" The event went down perfectly in line with Mingosu's (Asami Imai's nickname) personal style.
The second half of the event was a live concert. She started with the title song "Balancing Journey" and then moved on to the song talked about earlier "Watashi ga Suki ni naru Mahou", and the venue was filled with penlights being waved along with the performance. In addition, a rock-paper-scissors tournament with autographed posters as prizes was held, and the event filled with so many activities finally came to a close.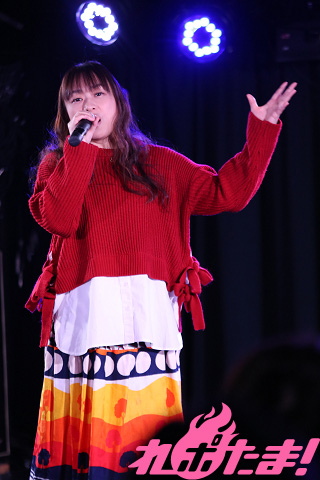 <Reporter・Photos / Dandy Saeki・Article wording (editing) by Repotama! editorial department>
☆Please see below for a list of photos.
●Asami Imai Beyond The Music Official WEB
https://mingosu.jp/
●EARLYWING Official Site
http://www.earlywing.com/
●YouTube: Beyond The Music Channel
https://www.youtube.com/c/BeyondTheMusicChannel
●Beyond The Music ON LINE SHOP
https://www.shop-btm.com/