Kaori Oda's Acoustic Live Tour Final Day "Kaori's melody vol.6~Acoustic Tour 2022~" Official Report released!
---
(Repotama is an online magazine covering news on everything anime, and we have recently started trying out posting articles in English! If you enjoyed this article, we'd really appreciate it if you'd consider sharing it and following us on Twitter!)
The acoustic live tour "Kaori's melody" was held for the first time in roughly 3 years by singer Kaori Oda, who among other things is known for participating in Yuki Kajiura's solo project "FictionJunction" and Sound Creator Revo's fantasy orchestra Sound Horizon. The last performance of "Kaori's melody vol. 6~Acoustic Tour 2022~" was held on January 15, 2022 (Sat) at eplus LIVING ROOM CAFÉ & DINING in Tokyo.
This is the 6th acoustic live event with the title "Kaori's melody" that has been held. It's a popular live concert centered around delivering music through singing and piano only, and tickets were sold out this time as well. Because of Covid-19, this was the first performance of "Kaori's melody" that had both a live audience and a livestream of the event.
Singles like "Akatsuki No Butterfly" (night performance) and "Tsuiso Kanon" (afternoon performance) were played, and popular songs such as "No sing, No Life", "WORKING!!" and others were all performed alongside a piano rendition of the instrumentals.
Also during the cover segment and now a tradition at this event, HOUND ROAR's "syndrome" from the drama CD series "DIG-ROCK" was given a self-cover, and the venue was charged up by the performance.
The MC was constantly busy with Mr. Kawai (the piano) during the event, and created a calm atmosphere from the beginning of the event to the end.
Since it had been a long time since the last "Kaori's melody" was held, two performances were held day and night in a calm setting, and all 13 songs were shown with different performances. It was a special live event where viewers could really get a grasp of the singing ability of the constantly evolving Kaori Oda.
Next, the solo band live event "KAORI ODA 15th Anniversary SOLO LIVE ~THE ONE AND ONLY~" is scheduled to be held on March 21 (Mon/holiday) at Akabane ReNY alpha in Tokyo in commemoration of the 15th anniversary of her solo debut.
The highest priority tickets are included in copies of the "Kaori Studio DVD" currently on sale.
Don't miss the here-and-now of Kaori Oda, who is celebrating her 15th anniversary after being involved in so many projects and gaining lots of experience as a singer-songwriter!!
【Performance Info】
"Kaori's melody vol.6 ~Acoustic Tour 2022~"
Performance Date: January 15, 2022 (Sat)
[Daytime Performance] Open: 13:00 / Start: 14:00
[Night Performance] Open: 17:00 / Start: 18:00
Venue: Tokyo・eplus LIVING ROOM CAFÉ & DINING
<Set List>
M-01. No sing, No Life
M-02. Tsuiso Kanon (Afternoon Performance) / Akatsuki No Butterfly (Night Performance)
M-03.Shinon (Afternoon Performance) / Ai ga Kikoeru (Night Performance)
M-04. Kirameki no Tobira
M-05. for you
M-06. Stay with me
M-07. Last Twilight
M-08. Flavor Of Life (Cover / Afternoon Performance) / Lovers Again(Cover / Night Performance)
M-09. Can't Stop Love (Afternoon Performance) / Kioku no Silhouette (Night Performance)
M-10. Maze
M-11. Working!!
EC-01. syndrome(Self Cover)
EC-02. Kimi to Ai ni naru (Afternoon Performance) / Hajimaru no Kioku (Night Performance)
【New Live Overview】
Solo debut 15th anniversary BAND Live to be held!
"KAORI ODA 15th Anniversary SOLO LIVE 〜THE ONE AND ONLY〜"
Date and time: March 21, 2022 (Monday/Holiday)
Open: 16:30 / Start: 17:00
【Tokyo】Akabane ReNY alpha
Price: 6,600 yen (tax included / with reference number / Standing)
※Preschoolers cannot enter/Drink fee not included
【DVD Overview】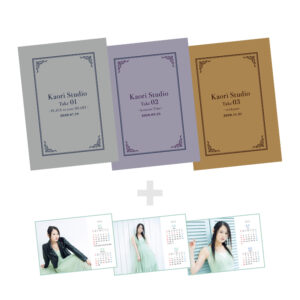 The live performance from the recording studio taken in July, September and November 2020 will be released on DVD!
Pre-orders available via Team Store!(https://team-ec.jp/contents/488835)
■DVD "Kaori Studio Special Set" (Calendar included)
14,500 yen (tax included)
Set contents:
01. Kaori Studio Take 01 ~PLACE to your HEART~
02. Kaori Studio Take 02 ~Acoustic Time~
03. Kaori Studio Take 03 ~with you~
04. 2022 Kaori Oda Desktop Calendar
■Single item・DVD "Kaori Studio Take 01 ~PLACE to your HEART~"
4,400 yen (tax included)
■Single item・DVD "Kaori Studio Take 02 ~Acoustic Time~"
4,400 yen (tax included)
■Single item・DVD "Kaori Studio Take 03 ~with you~"
4,400 yen (tax included)
■Kaori Oda Official Website
http://www.team-e.co.jp/sp/oda_kaori/
■Kaori Oda Live Site
http://www.team-e.co.jp/sp/kaori_live/
■Kaori Oda Official Twitter
https://twitter.com/odakaori_0511
■Kaori Oda Official blog
https://lineblog.me/odakaori/