A surprise new song was performed live! "Sachika Misawa Birthday Event 2021" Report
---
(Repotama is an online magazine covering news on everything anime, and we have recently started trying out posting articles in English! If you enjoyed this article, we'd really appreciate it if you'd consider sharing it and following us on Twitter!)
Sachika Misawa's birthday event was held on January 9th (4 days before her birthday on January 13th), at the Hamarikyu Asahi Hall Sho Hall in Tokyo.
Standing in front of the many fans who arrived, Misawa was visibly impressed and said "I'm really happy that you all came here for me and not just for my music!"
The staff also did an excellent job in holding this event. She also shouted out the Universal Music label and her crown program "Sachika Misawa no Radio wo Kiku Janne!" from Nippon Cultural Broadcasting. "A lot of fans tune in here, so please let everyone know about them" she said enthusiastically when arranging a product sales segment.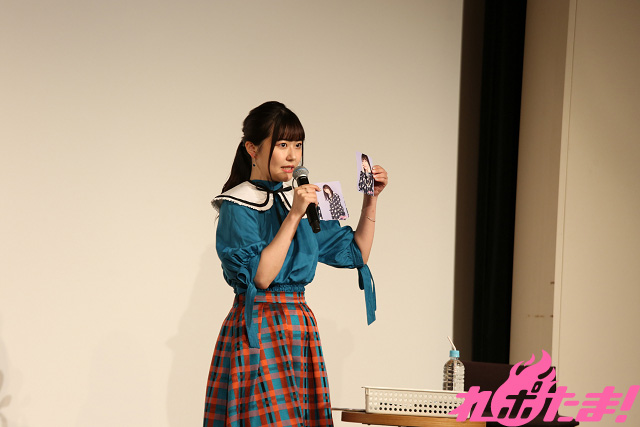 From here, the birthday event began. After the introduction of event goods, the "Misawa WORK~2021 First Half~" segment began, where they looked back on her work during the first half of the year.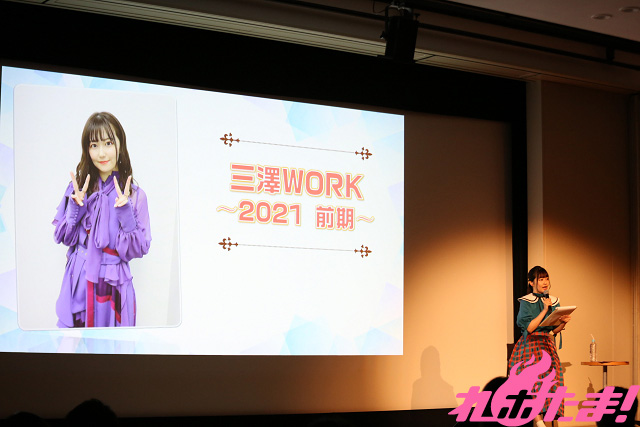 Misawa left her previous office in 2020 and celebrated the New Year in a state of relative freedom.
However, a TV personality from the STV Sapporo TV's popular variety show "Bugi Ugi Senmu" made a surprise appearance on "Misawa Sachika no Radio wo Kiku Janne!", and she also took on the role of Sakura Bakushin O in the hit game Uma Musume Pretty Derby, and she ended up spending her time in a fulfilling way.
In the congratulatory message segment from the fans, various warm comments were received such as "I'll support you all the way in 2022!" and "You've got a cute smile and a strong love for the local area!"
Speaking of the year-end and New Year holidays, she let out a bitter laugh, saying "I've been busy running around everywhere recently so once I have some time off, I don't know what to do…" She then followed up with "I feel more alive when I'm keeping busy (with work). I also see myself as a realist, and I know I have to keep working hard since I've still got a lot of things I want to do!"
During the "Fan Test" segment, 10 questions about Misawa were prepared by Misawa in advance, and depending on the number of correct answers the fans gave, a score of 1 to 5 was given out. Such questions as "The current number of Twitter followers is greater than 173,000," or "I was born late," or "The service that I first charged money for was 'Post Pet'," and so on. The "heroes" who had come to the venue feeling prepared ended up seeming to be quite worried.
In the end, there were a number of correct responses given from the audience to each of the questions, and Misawa said with a smile "Please share your answers online!"
In the "Gifts from the Misawa Family" segment, "Tarekomi Info" from her father was shown to everybody. One thing revealed here was "When she was a baby, (Misawa) couldn't sleep very well, but whenever I took her out for a drive she would fall asleep right away." Another thing revealed was "She used to call a "glass" a "pock".
After a video of Misawa eating a birthday cake that was taken by the staff was shown on-screen, a mini concert segment was opened as a surprise to the audience. She sang "Sekai Ga Watashiwo Yobukara" from her mini-album "Shinkokyu" released in December 2021. The fans in attendance were noticeably impressed by the sudden "reverse-gift".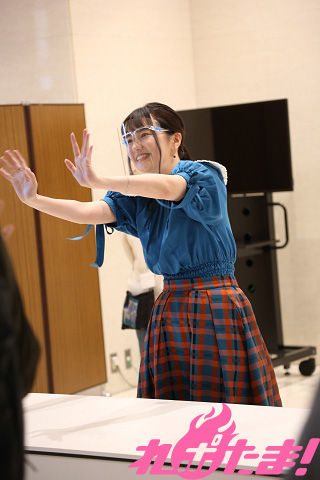 We got a chance to talk to Misawa after the event, so we'll introduce the conversation below.
―Please give us your impressions from today's event.
Sachika Misawa: I was really happy to have the fans congratulate me in person. I could tell that everyone was having a good time even with faces being covered with masks!
―You received a lot of birthday wishes today.
Misawa: I received so many kind words, to the point where I thought "Do you actually think all this?" (laughs) I couldn't read them all out today, but I'll read the rest of them later on!
―In Part 1, you looked back on the first half of 2021.
Misawa: There was a big event after transferring offices, but thanks to the help of everyone around me I was able to re-establish a fan club (after the previous office) and make appearances in various different content. There were plenty of good things this year!
―In the "Gifts from the Misawa Family" segment, stories from your childhood were shared.
Misawa: I thought "is this really okay to make a whole segment out of?" but I'm glad that everyone seemed to enjoy it. (laughs)
―The "Fan Test" segment really was full of tough questions. (laughs)
Misawa: It took me about an hour to think of questions after the idea for this segment was proposed to me, but I think it was worth the effort in the end. (laughs)
―Everyone seemed quite surprised once you began singing "Sekai Ga Watashiwo Yobukara".
Misawa: I just released a mini-album and this was the perfect opportunity to showcase that, so I thought "I definitely need to perform!"
It was difficult to prepare penlights for the event it seems, though that's probably because the fans didn't expect there to be a performance this time.
Whenever I have an event, please keep a penlight in your bag. (laughs)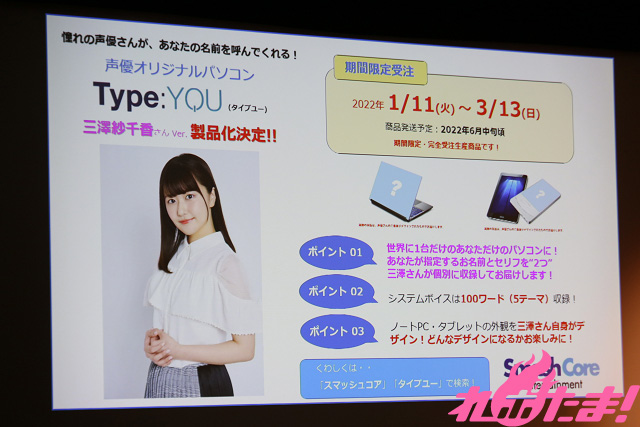 ―Next, I'd like to ask you about the happy news you were going to share. First, I hear that it was decided you would release an original personal computer.
Misawa: We're working hard to come up with a design that can be used on a daily basis! I'm looking forward to seeing what kind of lines we'll record because we'll be including voice clips of specific lines for purchasers!
―There was also an announcement that your first solo show will be held in Tokyo and Osaka.
Misawa: It's been ten years since I first debuted as a singer, and I feel that "the time for this has finally come." I want to make it a lovely stage event packed with things that I'd love to do, so please come check it out!
―Lastly, please tell us about your aspirations for 2022.
Misawa: I'd like to actively take on the challenges I've always wanted to face this year! I'll also be providing everyone with some special and surprising news soon. I hope we have a great time together this year!
<Reporter・Photos / Dandy Saeki・Article wording (editing) by Repotama! editorial department>
☆Please see below for a photo gallery.
【Live Overview】
「Sachika Misawa 1st Live」
【Dates and Times】
March 6, 2022 (Sun)
【Osaka】Music Club JANUS
April 3, 2022 (Sun)
【Tokyo】Hanayashiki Hana Theater
<Fan Club Priority Raffle>
Reception period: January 9, 2022 (Sun) at 21:00 until January 23 (Sun) at 23:59
☆More details below/span>
https://misawasachika-fc.net/contents/489153
【CD Overview】
『Shinkokyu』
On sale starting Wed, December 21, 2021
【First Time Limited Edition A】【First Time Limited Edition B】【Regular Edition】
2,750 yen each (tax included)
●Sachika Misawa Artist Site
https://www.universal-music.co.jp/misawa-sachika/
●Sachika Misawa lit.link
https://lit.link/misawasachika
●Sachika Misawa Official Twitter
@misawa_official
●Sachika Misawa Official Instagram
@sachika_misawa_usm