Gor☆geous and Enako have a great time at Mayumi Tanaka's talk! "Mashin Hero Wataru The Seven Spirits of Ryujinmaru -Reunion-" Theatrical release commemorative event
---
(Repotama is an online magazine covering news on everything anime, and we have recently started trying out posting articles in English! If you enjoyed this article, we'd really appreciate it if you'd consider sharing it and following us on Twitter!)
The popular series "Mashin Hero Wataru" (referred to as "Wataru" from here on) has been loved by many since the Showa era in Japan. The most recent movie "Mashin Hero Wataru The Seven Spirits of Ryujinmaru -Reunion-" was released at movie theaters across the nation for three weeks beginning January 7, 2021 (Friday). This work is a re-edited version of Mashin Hero Wataru The Seven Spirits of Ryujinmaru" which is currently being aired on YouTube, and also includes new episodes added.
In commemoration of the release, Mayumi Tanaka (voice of Wataru Ikusabe), Enako, a cosplayer who has cosplayed as the heroine Himiko Shinobibe from "Korokoro Aniki", and also Gor☆geous, who professes a deep love for the series of "Wataru". An event for the movie was held on stage, and they talked about the work.
First of all, Tanaka-san and Gor☆geous took the stage and the talk began. In their first introduction, Tanaka expressed her gratitude and said "I'm grateful that so many people love 'Wataru'!" And Gor☆geous showed off the "promised gag" with a globe excitedly and presenting "Monja Village" from the work proudly.
Referring to the decision to make this part into a movie, Tanaka said "There are a lot of enthusiastic Wataru fans, and I've been told over and over that they want a sequel, but due to various ongoing circumstances it has been difficult to make this happen. So, I wondered, 'Wait, is this actually going to happen?' and I'm glad that after a few double-takes I realized it was finally happening! Gor☆geous chimed in with "I heard there will be an exhibition even after the anime, so I was really looking forward to it. I'm so glad that it finally happened!"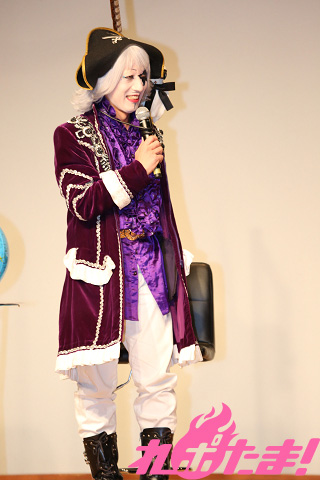 Looking back on the memories from earlier times, Gor☆geous said "The first season of the anime (Mashin Hero Wataru) began broadcasting in 1988, but as a matter of fact I was born in that same year. It seemed there was a link, and it became a very special work to me." Then, Gor☆geous followed up with "I was listening to the radio broadcast of Wataru in my hometown in Fukushima Prefecture, and when I sent a postcard to the program they actually used it in the show!"
Next, when asked about her impressions of the work, Tanaka said "Mashin Hero Wataru The Seven Spirits of Ryujinmaru -Reunion- was produced in an omnibus format, but it was put together really well." Then, Gor☆geous said "It's a show you can enjoy even if this is your starting point for this series. There were a lot of cuts from the older anime that were announced, and it made me really nostalgic"
Also, when Tanaka was asked by Gor☆geous "What's your favorite character aside from Wataru?" she said "Toraou. Wataru is a so-called good boy, but he's actually up to his fair share of mischief. In Mashin Hero Wataru The Seven Spirits of Ryujinmaru -Reunion- , it was interesting how Toraou showed off a more mature side than Wataru did."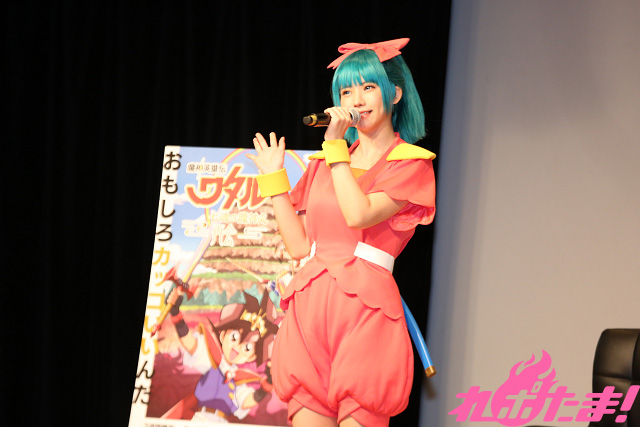 Next was the talk given by Enako who had appeared on-stage in cosplay. In regard to Wataru, Enako said "The characters are all so cute and heartwarming!" and in response to the question "Who would you like to see again?" in reference to the subtitle of this work, she said with a smile "I'd like to meet my friend who first invited me to try out cosplay. I still keep in contact with them, but we rarely see each other in cosplay anymore so I'd like to make an opportunity to dress up and hang out together again!"
Lastly, they talked about "Aspirations for 2022" because it's a new year. The words that Gor☆geous decided to write down were "To Wataru the world. I want to help spread Wataru around the world, and make the world a more fun place to be," speaking like a true entertainer (?).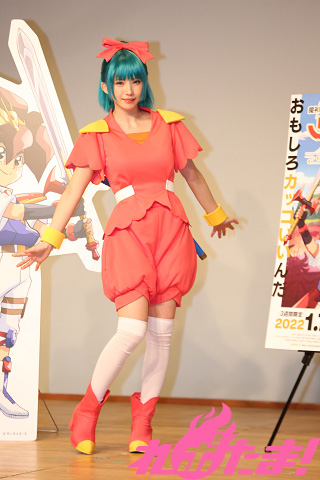 The final message is one for fans who have been looking forward to the screening. Tanaka said "It's just my personal expectations, but I get the feeling that Wataru will continue to grow as a series into the future." She praised the series with a reference to Wataru's trademark phrase, and the event came to a close.
<Reporter / Dandy Saeki・Article wording (editing) by Repotama! editorial department>
【work Overview】
"Mashin Hero Wataru The Seven Spirits of Ryujinmaru -Reunion-"
Screening for three weeks at 34 theaters nationwide beginning January 7, 2022 (Friday).
●"Mashin Hero Wataru The Seven Spirits of Ryujinmaru -Reunion-" Official Site
http://www.mashin-eiyuuden-wataru.net/shichikonspecial/