Her long-awaited 1st album has been completed! Interview with Yuri Komagata who recently released "stella"
---
(Repotama is an online magazine covering news on everything anime, and we have recently started trying out posting articles in English! If you enjoyed this article, we'd really appreciate it if you'd consider sharing it and following us on Twitter!)
Yuri Komagata is a voice actress and artist who has released one single and four mini albums up to this point. Then, on December 15th, she released her first full album. With about three and a half years passing since her debut with the single "Tomare no Susume" she now has a large list of recent and older songs written by herself along with songs made by various familiar creators.
We asked her what to listen to now that the album has been released.
―Your album has finally been released, but please tell us how you feel about it all right now.
Yuri Komagata: Once the album was released, we had a panel exhibition as well as an exhibition of costumes that was held in various record stores and anime shops. I was really happy to engage with the staff at these places because they were enthusiastic about livening up the place together! On the day of the release, we kicked things off with a release event, made an appearance as a guest on ABEMA's live broadcast "Seiyuu to Yoru Asobi" and then talked for a long time on the radio show "baybx3".
Also, when I looked at social media, I saw that many people were already listening to the CD, and I was really happy to see the overall impressions being "This song was good."
―It seems that a "Hand-over party" was held for the first time in a long time.
Komagata: There were a lot of fans who always show up who showed up again this time too, and the feeling of "It's been a while!" was overwhelming.
―How did you feel when production started on the album?
Komagata: Since it was my first full album, it felt a lot like the time I released my first single so it felt like a party. I made it with the intention of never forgetting that feeling I had the first time.
―What was the reason for bringing in "On My Way (Album ver.)" as the first song?
Komagata: I had also thought about going with "Tomare no Susume", which is also about beginnings, but the concept for the music video of "On My Way" was about getting up in the morning and saying "Alright, let's go!" so I decided that it was the most fitting choice.
―What is the meaning behind the album title "stella"?
Komagata: Referring to its meaning of "star", I wanted to make music that would bring light to everyone who listens.
―The lead track "Compass" is like a big clump of positivity.
Komagata: A lot of my songs are rather subdued in tone, so I've always thought "I want to make more songs that can really fire up an audience with penlights in hand at a concert." I wrote the lyrics for this one because the staff recommended that my own words would make for the best performance if the song was done live.
I listen to a lot of music and draw inspiration from it. This time as well, I listened through "Compass" and got really inspired to finish the lyrics off in a powerful way. I think I managed to put my current feelings as well as my determination for my future activities into the lyrics of the song.
―A lot of scenes are shown in the music video, right?
Komagata: We shot the whole thing in one studio in a single day. There are different concept rooms on the 1st floor, the 2nd floor and the rooftop, so I went with making a "set like my own room" or "a set like a recording studio", or even setting the roof up to see the cosmos at night.
―Could you see stars from the roof?
Komagata: Actually we couldn't see them at all… It was forecast to be a clear night, but it ended up raining. I'm something of a "bad weather girl" and unfortunately I showed that side of myself off again this time too. (laughs)
―Specifically how did you make this music video?
Komagata: In addition to the stargazing part, there are a lot of parts relating to music activities, such as singing a song in a recording room or sitting in your room with a guitar, with the concept of "making a visualization of artist activities." There's a scene with a lot of metronomes, but on the site when we shot that scene all of the metronomes made different sounds and the dissonance between them was really something. I don't think the sound was included at all in the end, though. (laughs)
―The scene with singing while lying down really sticks with the viewer.
Komagata: The director praised me by saying "You've mastered singing while asleep." (laughs)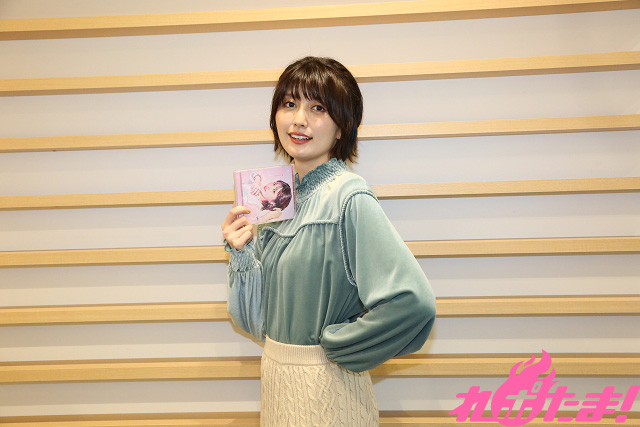 ―The CD jacket's bright pink is really eye-catching.
Komagata: The designer suggested using the pink color. I usually use a lot of cooler colors, so I was worried about whether everyone would like it or not but I was happy that it was so well received!
Also, my makeup artist said "This might be the first time I've done "kawaii" makeup for Komagata-san."
―How was the recording?
Komagata: Making use of everything I've done so far, it was very easy to sing. In the end I think it's good to have a varied melody line or to be able to say "it's not just a cute song."
―I hear you also were behind the lyrics for "happy weekend".
Komagata: Actually I came up with those lyrics during the time of production for "Kizu darake no Uta" that I wrote with Kazuumi Kumagai. I tried to borrow from his style and include English lyrics into the song, which I hadn't done before.
―I heard that the kanji used for "sadness" is read as "koi" (love).
Komagata: Tatsuya Yano came up with the title, but it's a song depicting a melancholy love like the title implies. Just recording it was a pretty long process of two days. I think it would be worth your time to check it out.
―Was it difficult to sing the chorus with high notes?
Komagata: I've had some experience with that before, so it wasn't as hard as I was expecting it would be. Yano-san said "It was surprisingly easy to get over this hurdle…" More difficult songs might come up moving forward. (laughs)
―I heard that "Kizu darake no Uta" is your first rock song.
Komagata: I talked to Kumagai-san at an online event held a little while ago, and back then he said he wanted to collaborate with me and also make a rock song. It was a great opportunity and we responded to that request with enthusiasm!
―The lyrics were co-written, but how did you go about that?
Komagata: First of all, I made a chorus, but then I asked him to fix it… this happened a lot of times. I was really happy to have so many suggestions given to me each time!
Also, the first person pronoun "boku" was used because I wanted the lyrics to come across more powerfully.
―I think the fans would love to hear the 1st single's coupled song "Hajime kara Kitto" recorded.
Komagata: It's one of my favourite older songs. I got to show it off for the first time in a long time at "Miyako Premium Live -2021-" held from December 10 (Fri) to 12 (Sun), and I was really happy that there were so many people there waiting for me! I hope that people who have recently come to know me would also take this opportunity to give this a listen.
―The last track "I wish" is a gentle tune in triple time.
Komagata: My first mini album "CORE" has a cheery Christmas song called "Talk 2 Night" but I wanted to sing a song with a different kind of atmosphere.
At the end of the song's interlude there is a six-seventh time signature part, and I remember it was quite a struggle getting it into the recording. Also Yano-san, who was in charge of arrangement, gave me direction one-on-one and I was able to talk in detail about the song. I hope everyone will feel the warmth of the Christmas season while listening to this song.
―It looks like there is also a mini live planned for January for the release event.
Komagata: At the release event we had the other day, I was able to talk with everyone directly for the first time in a while, so I'm really looking forward to singing next time too. Please look forward to what I'm going to sing!
―The 2nd solo live will be held on March 19, 2022 (Sat) for the first time in 3 years. Please tell us about your enthusiasm for it.
Komagata: I have a lot more songs now compared to the 1st live, and I'm still thinking about what songs I'm going to sing. I think it's pretty hard for everyone to predict what the setlist will be, but I would like everyone to get ready and listen to the CDs that have been released up to this point, including "stella". There's still a fair bit of time, so I hope you'll enjoy the songs as much as possible!
―By the way, what were your plans for the year-end and New Year holidays?
Komagata: I was thinking about training my body to be ready for the upcoming event. I'm planning on going to the gym and running to improve my physical strength. Please look forward to my powered-up performance at the venue!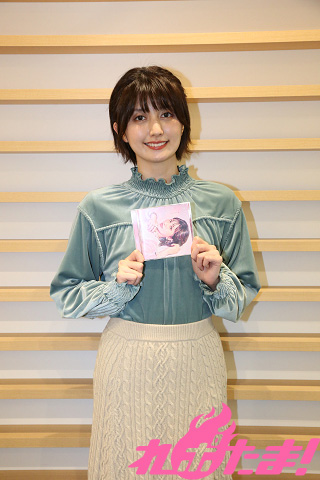 <Interviewer・Photos / Dandy Saeki・Article wording (editing) by Repotama! editorial department>
【Album Overview】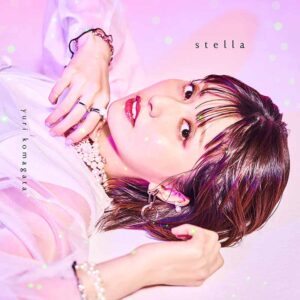 "Stella"
On sale (December 15 (Wed) Release)
3,850 yen (tax included)
<Songs Included>
01. On My Way(Album ver.)
02. Tomare no Susume (トマレのススメ)
03. Kimi to Koi no Yokan (キミと恋の予感)
04. Compass (コンパス) (Lyrics by Herself)
05. Rararu Hallelujah (ララルハレルヤ)
06. happy weekend
07. Night Walk
08. Clock-wise (クロックワイズ)
09. Koi (孤悲)
10. Kizu darake no Uta (創だらけの詩)
11. Hajime kara Kitto (はじめからきっと)
12. I wish
●Yuri Komagata Artist Site
http://www.teichiku.co.jp/artist/komagata-yuri/
●Yuri Komagata Official Twitter
@KomagataYuri
【Present】(please note: applications from outside Japan are not available)
Komagata-san's autograph on special coloured paper will be presented to one person!
Those who wish to apply are asked to please follow the Repotama! Official Twitter @repotama (https://twitter.com/repotama/) and retweet the tweet of this article. We will contact the winner via DM.
Application period: until January 14 (Fri) 2021 at 23:59 JST