Performing a new song in front of the fans! GuilDrops x Hospital Clown LIVE at ART LIVE 2021
---
(Repotama is an online magazine covering news on everything anime, and we have recently started trying out posting articles in English! If you enjoyed this article, we'd really appreciate it if you'd consider sharing it and following us on Twitter!)
Yuri Ehara, Yua Nagae, Shu Natani, Yurie Kozakai, and Marina Yamada comprise the voice actress unit GuilDrops, and they held their first event in about two years with a live audience on November 28 (Sun), in Tokorozawa Sakura Town, Saitama.
ART LIVE 2021 was held to "create an event and a platform for artists who have struggled as a result of the COVID-19 disaster and to suit the lifestyle of a 'post-Corona' society".
In addition to the mini live events and talks given, there was also a collaboration done with Hospital Clown, which is currently conducting activities to help energize patients in-hospital, and everyone in the audience was given a good time.
The five actresses who took the stage performed "Saikyo Dreamer" along with a dance. Singing full of energy to the fans in the audience, two members of Hospital Clown then made an appearance. A powerful street performance was carried out, and the members of GuilDrops also joined in and attempted things like "plate-spinning".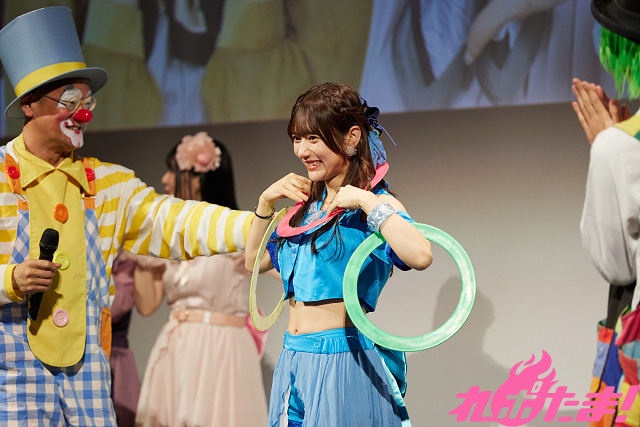 After applause was given to Hospital Crown, we returned again to the live segment. The new song "Nankaime no Daisuki?" was performed for the first time. Regarding the song, the members left comments like "the choreography here is cute!" and "the music video was shot with sailor uniforms in a certain school." They also advertised (lol), saying "The photos taken during the music video's shooting will be released in a bromide format, so please look forward to it!"
Also, on the day of the event, the MC of the TV program "Maji De Re;Start!? GuilDrops Inquiry" known as the "Magical, Lovely Crystal Noda" had their birthday, and it was also the 30th birthday of Nagae-san too, so the five members sung "Happy birthday to you" and finished things off in a festive mood.
Lastly, the event concluded with a performance of "Make You Smile!", which was performed at last year's event.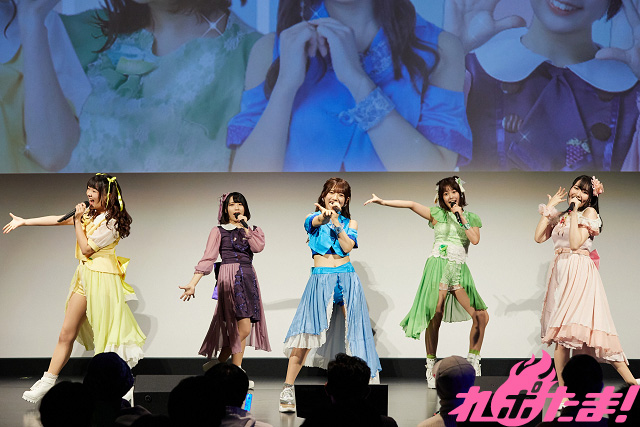 Here's what the five members had to say after the event.
―Please give us your impressions of the event.
Yuri Ehara: It was the first live concert we've done since Shu-chan joined us, and with the new system now in place I had even more fun than before. But all the visitors were so kind to us, and once I realized that I was having an absolute blast!
Yua Nagae: I was nervous at the event after so much time being absent from them. However, I began to remember everything I've done on stage up to this point and I ended up enjoying my time with a big smile on my face.
Shu Natani: I joined GuilDrops a bit later than everyone else, but this was my first event where I got to meet with the fans directly. I was worried about whether I'd be able to do a good job, but thanks to all of my senpais I managed to survive!
Yurie Kozakai: The members of Hospital Crown were so exciting to watch, so I think the event had a great atmosphere for everyone attending.
Marina Yamada: It's been a long time since the last event, so I felt pressure during our rehearsal. That said, it was great that I was able to interact with the fans with the product sales that took place before the event, and my tension was relieved there.
―Please introduce the currently airing program "Maji De Re;Start!? GuilDrops Inquiry"
Ehara: First of all, big guests such as the anime song artist Masayoshi Oishi as well as voice actor Ryo Horikawa come on the show. I am learning lots of new things every time, and I especially hope that everyone who is interested in the animation and voice acting industries will check it out.
Kozakai: Magical Lovely really makes it all funny. Anyway, it's filled with all kinds of content!
―I heard that "GuilDrops & Friends" is also being broadcast.
Nagae: That's a real behind-the-scenes kind of show. (laughs)
We talk in a really relaxed manner on that show, and I think this one is a better look at our "real appearance"!
Ehara: I think if you listen to this show, you'll understand how compatible you are with the members of GuilDrops. (laughs)
―There has also been a GuilDrops YouTube channel set up.
Yamada: We're really giving it all of our might to try lots of new things there, so I hope you'll see how we're coming along on YouTube!
Ehara: We do a lot of projects where each member's individuality stands out, and we have a lot of moments where we think "Wait, is this what I'm actually good at?" (laughs)
Natani: I'll do my best to be firmly recognized by both the members and fans as a member of GuilDrops!
―Finally, please give us a message.
Kozakai: I love GuilDrops, so I really want other people to know about us, and I also want to share all the fun with the fans at a solo concert that we weren't able to do this year!
Yamada: I didn't really get a chance to show off this year just how much I've grown! I want to be able to show everyone clearly next year!
Natani: I hope that more people are going to have the opportunity to get to know me. And I want to aim for the position of a "reliable kouhai" among the members!
Nagae: We're still active on a wide range of platforms including TV, radio and also YouTube, but we'll do our best to appear in even more kinds of media next year!
Ehara: It was so great to be able to have an event with everyone for the first time in so long!
We've set the goal of "one day, we'll make an anime based on GuilDrops" and we'll continue to push on toward that goal. We hope you'll be there for us!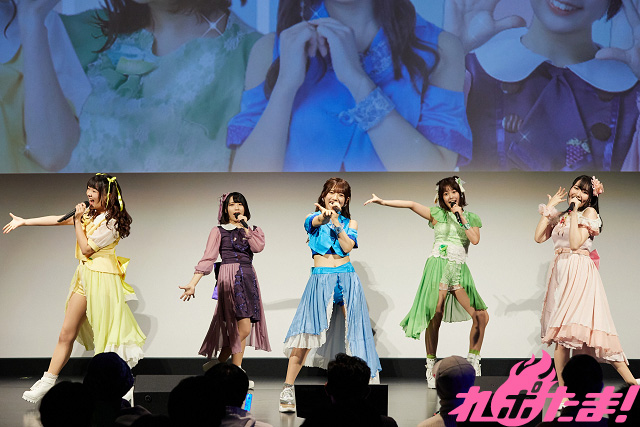 <Reporter / Dandy Saeki・Article wording (editing) by Repotama! editorial department>
●GuilDrops official Twitter
@guildrops(https://twitter.com/guildrops)
●"Maji De Re;Start!? GuilDrops Inquiry" Official Site
https://www.bsfuji.tv/guildfriends/
●GuilDrops Official Online Shop
https://guildrops.booth.pm/