Having a good time on the seafloor every Saturday night! "Asuka Shioiri and Saika Kitamori's Shiosai Undersea Hills" Personality Interview
---
(Repotama is an online magazine covering news on everything anime, and we have recently started trying out posting articles in English! If you enjoyed this article, we'd really appreciate it if you'd consider sharing it and following us on Twitter!)
Asuka Shioiri and Saika Kitamori are young voice actresses currently involved in projects such as the now-airing TV anime "Puraore! ~PRIDE OF ORANGE~". The two are also starring in the variety show "Asuka Shioiri and Saika Kitamori's Shiosai Undersea Hills" where everyone has a great time with fun talks and exciting projects. The program is being streamed from OPENREC.tv every Saturday from 20:00 JST!
The concept of the show is that the two are "managers" of the Undersea Hills and they create memories with the "fish (listeners)", giving the visitors a fun time for each visit.
This time we got to sit down and ask them about their show right after the stream ended.
―It's been about 4 months since the show began, but how has it been so far?
Asuka Shioiri:It hasn't even been half a year yet, but I'm really looking forward to the stream every week with all of the fun projects and plans we have!
Saika Kitamori: I'm working to provide an environment in the stream that makes you feel at home, so I hope that the O-sakana (listeners) feel this way.
―How was the name "Shiosai Undersea Hills" decided?
Kitamori: First, I said to Asuka (Shioiri-san) "something-something Hills would be good".
Shioiri:I really wanted to use "Shiosai" as it was a fusion of our names and I liked how it sounded, so when she suggested "Hills" we came up with a lovely title. It's a title that we made together, so I'm very happy with it!
―What has been your most memorable project so far?
Kitamori: There have been many, but the card game project we did today (November 6 (Sat) stream) was really fun. We tried "Nanja Monja" and "Sea Turtle Soup", but Asuka's way of naming things became apparent as we played. I think we were able to get closer to each other thanks to this. (laughs)
Shioiri:It's all thanks to you, Sai-chan. (laughs)
Kitamori: Aside from that, we also played tag in the online game Among Us with the fish (listeners).
Shioiri:If you're caught, you get killed, and we both died many times… the cries we let out when this happened really echoed through the studio. (laughs)
Kitamori: At the beginning everyone is looking out for each other, but in the end they just end you. The two of us ended up getting put under by the fish the whole time. (laughs)
Shioiri:(laughs)
Also, if we're talking about the program, the "food and drink plans" can't be left out. There was a "eating curry comparison" project, and I prepared pineapple as a topping for it.
Kitamori: We personally didn't like it very much, but it was really shocking how some of the male staff were eating it and saying "Somehow, this is pretty good". (laughs)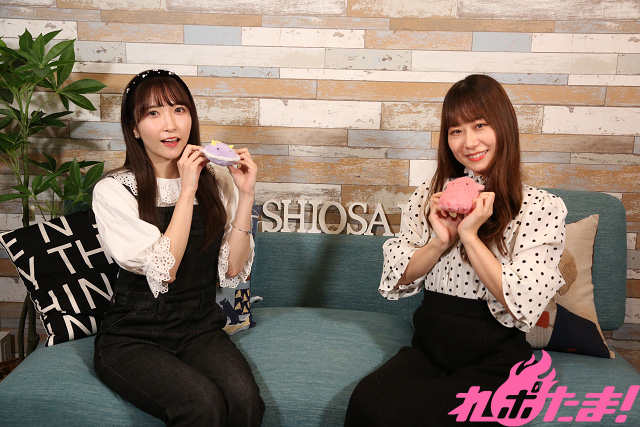 ―What's something you want to do on the program in the future?
Kitamori: I'd live to do a real event. I would really like to have an opportunity to meet the fish in person.
Shioiri:I'd like to make a theme song for the program and sing along to it.
Kitamori: I'd like to try eating different things on the program while blindfolded and then guessing what it was. I guess I'd be confident if it was potato chips…?
―Lastly, do you have one more message for the readers?
Shioiri:If you'd be interested in becoming a subscription member, you'll get access to photos and videos only viewable by members, and you'll also be able to win instant photos as well, so please consider joining if you'd like!
Kitamori: I hope you'll come and swim around in the Undersea Hills with us. Thank you very much!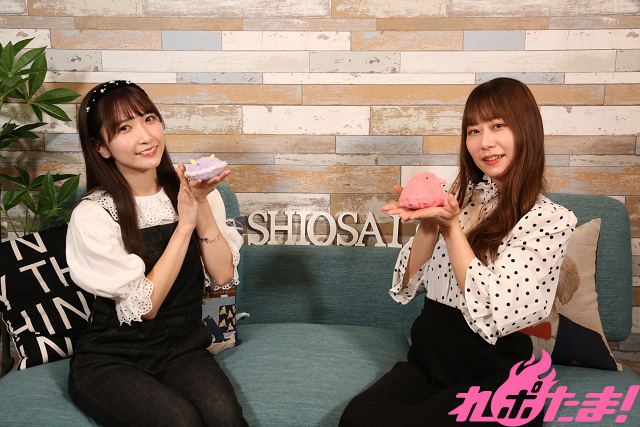 <Interviewer・Photos / Dandy Saeki・Article wording (editing) by Repotama! editorial department>
【Program Overview】
"Asuka Shioiri and Saika Kitamori's Shiosai Undersea Hills"
OPENREC.tv via "Anipachi", streaming every Saturday from 20:00 to 21:00 JST!
●Channel subscription URL
https://www.openrec.tv/user/shiosai-kaitei
☆Become a member below:
https://www.openrec.tv/subscription/user/shiosai-kaitei
【Present】(please note: applications from outside Japan are not available)
Asuka Shioiri-san and Saika Kitamori's-san's autographs on special coloured paper will be presented to one person!
Those who wish to apply are asked to please follow the Repotama! Official Twitter @repotama (https://twitter.com/repotama/) and retweet the tweet of this article. We will contact the winner via DM.
Application period: until December 24 (Fri) 2021 at 23:59 JST