The explosive power of Asaka and Tomoyo Kurosawa's friendship on full display! 『Asaka Special Talk and Live Vol.2 ~BIRTHDAY PARTY~』Report
---
(Repotama is an online magazine covering news on everything anime, and we have recently started trying out posting articles in English! If you enjoyed this article, we'd really appreciate it if you'd consider sharing it and following us on Twitter!)
Anime song singer Asaka's live event was held on October 23rd from Shinagawa Intercity Hall in Tokyo. This time, we're reporting on her birthday event 『Asaka Special Talk and Live Vol.2 ~BIRTHDAY PARTY~』(night part).
Asaka appeared at the live event in Nagoya wearing a blue T-costume which was decided by vote. Her friend Tomoyo Kurosawa was invited, and appeared in a matching costume in the color yellow, which is what Asaka wore during the Osaka event. After Kurosawa said with some doubt "Are you really okay with being like me…?" and "Are we really that close…?" Asaka couldn't help but cringe a bit at the situtation (lol)
In order to check whether these two were really close friends, the "compatibility check game" was attempted. In this game, questions about each other were asked, and the level of compatibility was measured by how many of the answers matched up between the two.
After being asked "How did you two meet?" they both answered "We met through the anime song singer MICHI-san". Asaka-san was introduced to Konomi Suzuki-san, Shiena Nishizawa-san (EXiNA) and Kurosawa-san through MICHI-san.
When asked "How will your relationship be in ten years?" Kurosawa answered "We'll be mom friends (moms of dogs)" and Asaka replied with "Our dogs are going to get married," which was a perfect match! Their answers showed how much the two love dogs. They ended up with 2 out of 4 answers matching, leaving them with decent (?) compatibility.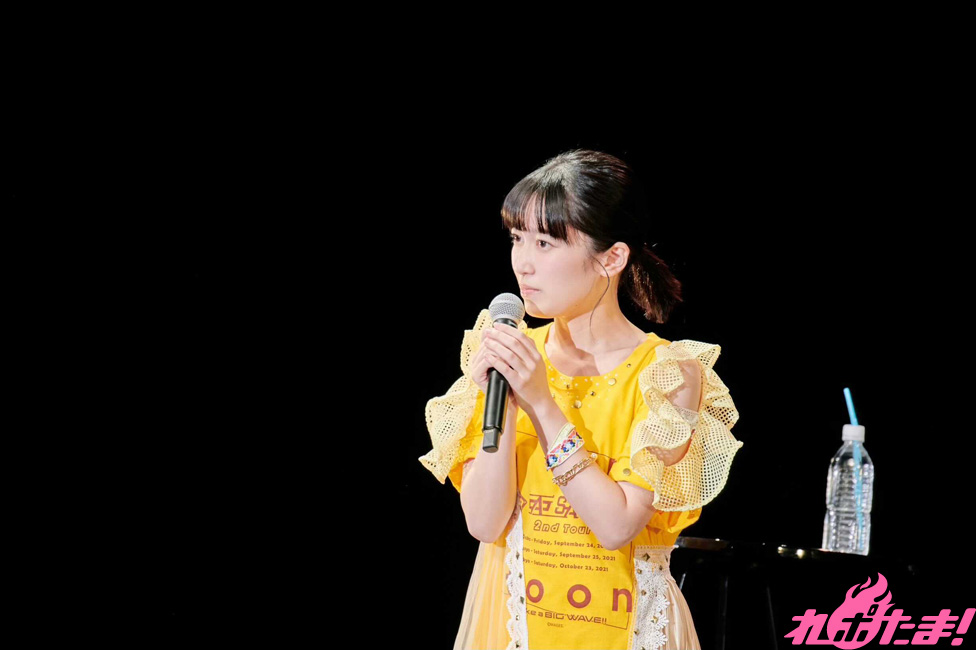 Next, a popular game called "Haa" was played, where one has to act out a single word from a selection of situations and then the other person needs to guess what the situation is, but with the two being talented performers the general gist of the game changed a bit.
First, when Kurosawa acted like an ikemen gentleman with the prompt "You really make it hard to hate you," and "holding back laughter while saying 'Happy birthday'", getting the audience charged, she passed the baton to Asaka. Asaka then introduced herself as though she were in the middle of eating ramen from the chain "Sugakiya" popular in Aichi prefecture, saying "I'm a flower that blooms in Asia, Asaka" which succeeded in getting Kurosawa to explode with laughter. But when she performed "Vibrato while scoring in karaoke", Kurosawa responded with applause, saying "That's what I'd expect from a singer!"
Let's try watering Asaka" was a project to publicly produce the ad-lib video normally shot in the weekly live program "Asaka's THE CATCH". It was previously adjacent to Kurosawa's own program, so Kurosawa often made an appearance on the show.
Kurosawa gave her a flower and a birthday present as a surprise, but while Asaka expressed her happiness with her entire body she also showed her an old ad-lib video they filmed on her phone, showing everyone that they had been working on their ad-lib skills for many years.
Also, the present given by Kurosawa was "goods that can become a cat", since it was for her 22nd (22=nyan nyan) birthday. Asaka seemed really happy, saying "I'll wear it at next week's "THE CATCH!""
Kurosawa left the stage at this point, and the last mini segment was held by Asaka. Expressing their gratitude to everyone who celebrated her birthday, she started with singing "1000miles", and then the new game "Yuru Camp△ Have a nice day!" OP theme "See The Light" for the first time.
At the end of the night, Kurosawa dressed up in Asaka's MV costume and made another surprise appearance while "Seize the Day" was being sung! Asaka, referring to herself as "The Asaka who can no longer speak English" and briefly confused Kurosawa, but they sang a unique duet that received hearty applause from the venue.
And with that, the surprise-filled birthday live event came to a close.
<Reporter / Dandy Saeki・Article wording (editing) by Repotama! editorial department>
【Live Overview】
Asaka 5th Anniversary LIVE
"Asaka 5th ANNIVERSARY LIVE ~Thank you sooooo much!!~"
Date: January 10, 2022 (Mon/Holiday)
【Kanagawa】KT Zepp Yokohama
Time: Open 14:45 / Start 15:30
【Tickets】
・FC Limited Special Ticket 12,000 yen
・Ticket w/ goods 9,000 yen
・Regular Ticket 7,500 yen
●Asaka Official Site
http://asaka1007.jp/
●Asaka Twitter
@AsakaOfficial
●Asaka STAFF Twitter
@asaka_info