Miko goes shopping with her little brother Kyousuke, but… TV anime MIERUKO-CHAN episode 8 scene and video previews have been released. The CD jacket and cafe collaboration info have also been unveiled!
---
(Repotama is an online magazine covering news on everything anime, and we have recently started trying out posting articles in English! If you enjoyed this article, we'd really appreciate it if you'd consider sharing it and following us on Twitter!)
With the short story uploaded to Twitter becoming a big hit, the popular series MIERUKO-CHAN is currently being serialized via WebComic Apanda. A TV anime series is also currently being aired.
This time, the synopsis, scene preview and video preview for episode 8 "The Things She Sees" first airing November 21 (Sun), have been released.
In addition, the design of the jacket for the MIERUKO-CHAN Original Soundtrack CD has also been released!
Also, a collaboration between MIERUKO-CHAN and Cure Maid Cafe has also been announced, and information on menus, extras and special goods have also been released.
Please check these things out in addition to the anime!
【Episode 8 "The Things She Sees"】
The behaviour of the apparitions is strange.
It's completely unclear what they're doing or what purpose they exist for.
That's what's so scary about them… at least, for the girl who can see them.
Miko has chosen to escape this hardship simply by deciding to ignore them.
However, when she went shopping with her younger brother Kyousuke, she encountered a ghost that couldn't be ignored…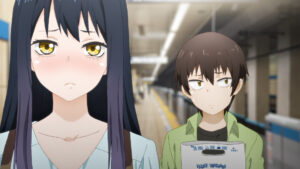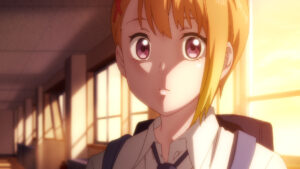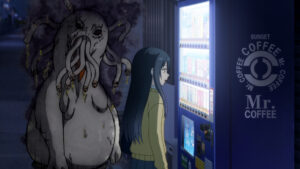 【Episode 8 Staff】
Scenario: Kenta Ihara Storyboard: Takashi Sano Unit Director: Tatsuya Ishiguro
【Video Preview】https://www.youtube.com/watch?v=XVDL27YYMdg
【Original Soundtrack CD Jacket Released】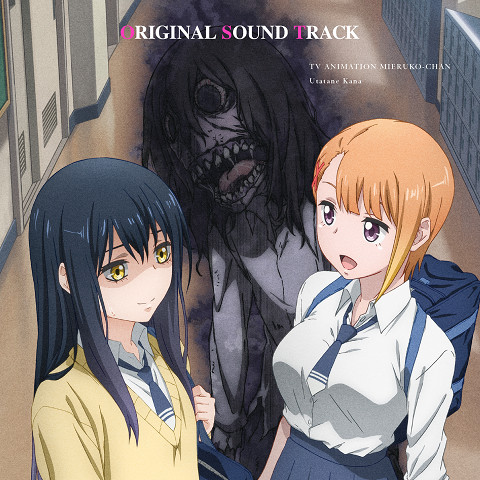 The jacket of the original soundtrack CD of TV anime MIERUKO-CHAN will be released on December 22 (Wed). The music from the series will be featured.
【CD Overview】
Release date:2021年12月22日(Wed)
Music: Kana Utatane
Product number: ZMCZ 15281
Price without tax: 3,000 yen
Price with tax: 3,300 yen
Release/Distribution: KADOKAWA Co., Ltd.
● Contents Included: Music from the TV anime MIERUKO-CHAN
【Cure Maid Cafe collaboration menu, extras and goods info released 】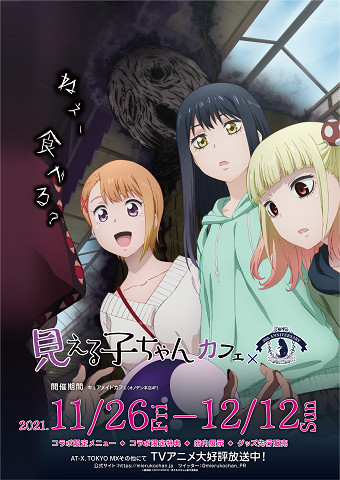 A collaboration between MIERUKO-CHAN and Cure Maid Cafe has been announced!
The menu, extras and goods info have been released.
Drinks, food and sweets inspired by Miko, Hana and the others will be made available.
Special limited-time extras will be given to customers who order from the collab menu!
With the sale of additional limited goods and the display of many scene photos in-store, you can really immerse yourself into the world of MIERUKO-CHAN.
If you see something, pretend to not notice it.
We're looking forward to everyone's visit.
【Cafe Collaboration Overview】
Title: MIERUKO-CHAN Cafe
Period:November 26, 2021 (Fri) ~ December 12 (Sun)
Store: Cure Maid Cafe (Onoden Flagship Store 4F)
Site:http://www.curemaid.jp/collab_cafe/mierukochan2021/
●Cure Maid Cafe Collaboration Limited Extras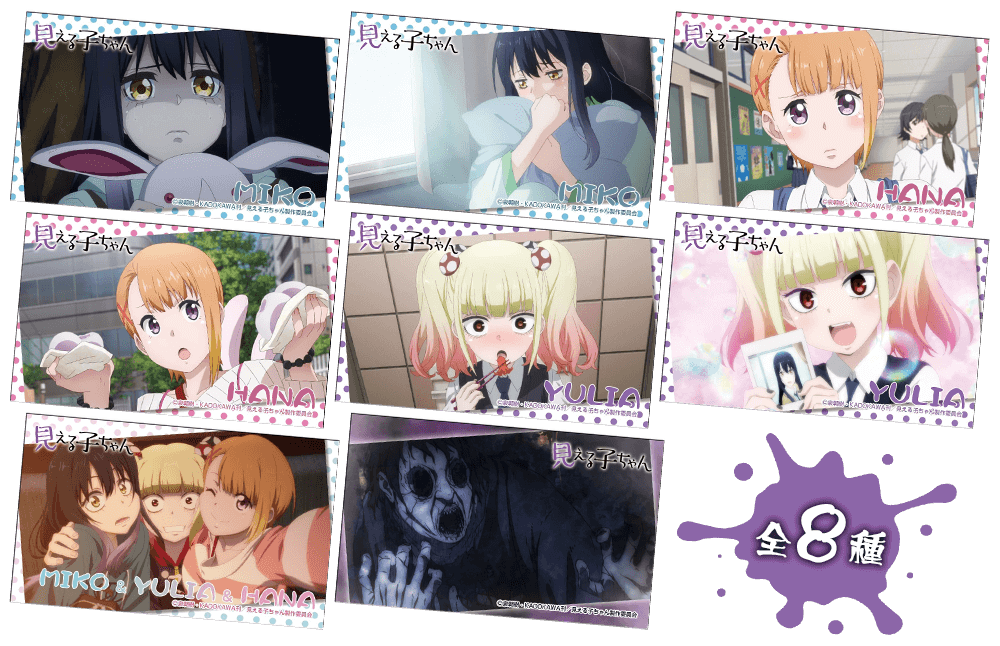 『Collaboration Limited Character Cards (8 types) 』
For every item ordered from the collab menu, 1 card will be gifted to the customer!
※Size: 55m x 91mm
※Card type presented cannot be chosen
※Please note that distribution will only run as long as supplies last
※Cards will also be given with the purchase of takeout items
●Collab Menu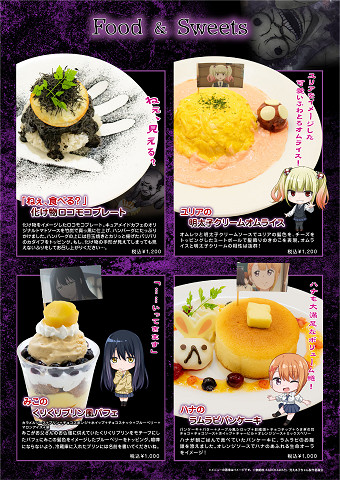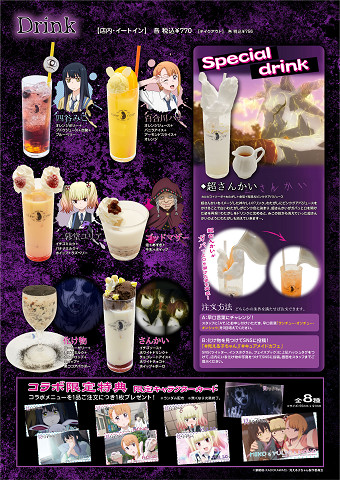 ●Priority Limited Goods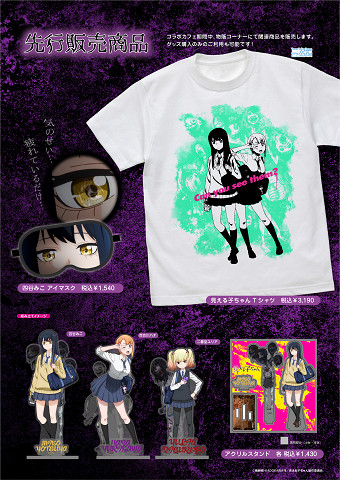 【Anime Overview】
TV anime MIERUKO-CHAN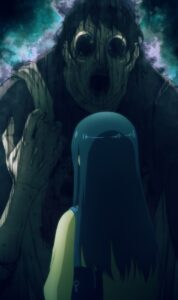 【Introduction】
If you saw something you shouldn't be able to see,
If you saw something you shouldn't look at,
What would you do……?
What would you do if that thing talked to you,
If it came right up to you…
What would you do……?
Would you take one look and run away?
Would you learn strange techniques, or get the help of a medium and fight them?
Well, as for the action taken by high school girl Miko Yotsuya…
Completely ignore them!
I didn't see anything, and I'm not noticing anything!
This is the story of a high school girl avoiding strange, grotesque "freaks" by making full use of an iron will to skilfully ignore what's right in front of her…
Just because you can't see them,
They're right next to you, you see…?
【Broadcasting/Streaming Info】
TV anime broadcasting since Sunday, October 3, 2021!
<Broadcast information>
AT-X From October 3rd, every Sunday from 22:00
(Repeat broadcast weekly (Wednesday) 29: 30- / weekly (Sunday) 7: 00-)
TOKYO MX From October 3rd, every Sunday from 24:30
KBS Kyoto From October 3rd, every Sunday from 24:45
Sun TV From October 3rd, every Sunday from 25:00
BS Nippon Television From October 4th, every Monday from 24:00
<Streaming information>
d Anime Store and Prime Video simultaneous broadcast/fastest delivery
From October 3rd, every Sunday from 24:30
Also streaming from various other sites beginning October 11 (Mon).
Please see other sites individually for more info!
【Staff】
Original Creator:Tomoki Izumi (serialized in WebComic Apanda / published by KADOKAWA)
Director: Yuki Ogawa
Assistant Director: Takahiro Majima
Assistant Director: Shintaro Matsushima (GYORAI EIZO)
Series composition/Screenplay: Kenta Ihara
Character design and animation director: Chikashi Kadekaru
Sub-character design: Kyoko Kametani, Futoshi Chikkyo, Tin
Monster Design: Makoto Uno, Yasuhiro Moriki, Futoshi Chikkyo, Katsuzo Hirata, Hiroya Iijima, Hiroyasu Oda (Studio Mogana)
Prop design: Yukinori Umetsu
Costume design: Yuka Takashina
Chief Key Animation Supervisor: Masahide Yanagisawa, Hideki Hashimoto, Katsuzo Hirata, Kyoko Kametani, Yuka Takashina
Editing: Ayako Tan
Color design: Ritsuko Utagawa
Art setting: Midori Iwasawa (KUSANAGI), Shin Watanabe (Ekachi Epilka)
Art Director: Ayano Okamoto (KUSANAGI)
Concept Composite: Junpei Takatsu
Director of Photography: Yang Xiaomu(Grafinica)
Music: Utatanekana
Music production: KADOKAWA
Sound Director: Fumiyuki Go
Sound effects: Maki Takuma (Swara Pro)
Sound production: Magiccapsule
Animation production: Passione
【Cast】
Miko Yotsuya: Sora Amamiya
Hana Yurikawa : Kaede Hondo
Yuria Niguredo: Ayane Sakura
Zen Tono:Yuichi Nakamura​
Godmother:Ikuko Tani
Kyousuke Yotsuya:Yumiri Hanamori​
Toko Yotsuya :Hitomi Nabatame
Mamoru Yotsuya: Kousuke Toriumi
Rosoku Junji:Nobuo Tobita   and others
OP theme: "Mienaikarane !?"
Song: Miko Yotsuya (CV. Sora Amamiya)
Lyrics and composition: Shinji Saito (Dream Monster)
Arrangement: Ryuichi Takagi (Dream Monster) 
ED Theme: "Mitana ? Mitayone ?? Miteruyone ???"
Song: Miko Yotsuya (CV. Sora Amamiya)
Lyrics: Karasuya Sabou
Composition and Arrangement: Masaki Honda(Dream Monster)
【Anime Official Site and Social Media】
■TV anime official website https://mierukochan.jp/
■Anime official Twitter @mierukochan_PR
Recommended hashtag: #Mierukochan
【PV】https://www.youtube.com/watch?v=HD_TGzj7oU8

【Book Information】
『MIERUKO-CHAN Official Anthology Comic』 Original Work: Izumi Tomoki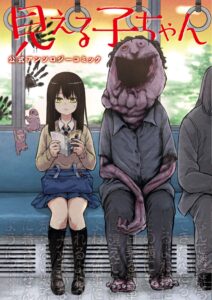 On-sale November 22 (Mon). Don't miss this one, either!
(c) Izumi Tomoki / KADOKAWA / MIERUKO-CHAN Production Committee