Twins on the stage! "STATION IDOL LATCH!" interview with Hiromu Mineta (voice of Miyabi Fudo / Meguro) and Masaki Ota (voice of Rei Soma / Mejiro)
---
(Repotama is an online magazine covering news on everything anime, and we have recently started trying out posting articles in English! If you enjoyed this article, we'd really appreciate it if you'd consider sharing it and following us on Twitter!)
In STATION IDOL LATCH! (commonly known as LATCH!), the Yamanote Line's station employees become idols after work. The station staff idols from each of the 30 stations entertain passengers (fans) with songs and talks.
This time, it's all about Miyabi Fudo and his younger brother that he loves named Rei Soma, who grew up in a branch family. We interviewed Hiromu Mineta and Masaki Ota, who proudly play the roles of these twins in "LATCH!"
―First off, what did you think when you heard about the LATCH! project?
Hiromu Mineta: I was thrilled when I heard that it was a project associated with the Yamanote Line. At first I wondered whether they would make the station itself anthropomorphic, but then I found out that the "station staff would be performing idol activities after work" and then that made me wonder how this was actually going to be carried out.
Masaki Ota: I simply thought "that sounds interesting".
Since there are 30 stations it was clear that there would be at least 30 idols participating, so I figured that it would be a project that would quickly spread all over the place.
I used to work as a member of a 5th-generation idol group, but back then I vaguely thought to myself "once this project is over, I guess I'll go into working as an actor."
So when I heard about the LATCH! project, I was a little bit confused at first but I decided to approach it with the intention of "participating in a new idol project as actor Masaki Ota."
I would like to work my hardest and do everything I can in my performances so as to not be a bother to my seniors.
―Do you both use the Yamanote Line regularly?
Mineta: I use it nearly every day. When living in Tokyo, you just sort of end up using it naturally and it becomes a part of your day-to-day life. That's definitely been the case for me. By the way, because the office is nearby I often use Ebisu station.
Ota: I use the line quite often. One thing about it is that even if you fall asleep while riding and miss your stop, the line will eventually loop back to the same spot, so there's a feeling of security in that. (laughs)
A little while ago there was a lot of publicising about the massive amounts of construction being done around Shibuya station, so I feel like it's a route that has attracted a lot of attention in Japan. I often use that same station. Again, because of the nearby office. (laughs)
Mineta: Whenever I go shopping, I'll often get off at Shinjuku Station. Every kind of department store can be found around there!
Ota: That's true!
―Have you both used Meguro Station and Mejiro Station? Also, what is your general impression about the station and its surrounding area?
Mineta: Meguro Station gives off the impression of being in a fashionable part of the city. However, there are still a lot of things I don't know about yet, so I want to give the area a closer look and really convey its appeal to the passengers (fans).
Ota: My impression is that Mejiro Station is surrounded by a quiet residential area, but I can't say I really remember getting off at that station… (bitter laugh)
Just like Mineta-kun, I want to increase my knowledge of the area too!
―With what sort of mindset do you two perform the roles of Miyabi Fudo and Rei Soma?
Mineta: When I was doing the recording for the voice drama, I thought to myself that I would try to reflect the overall image of Miyabi in my performance, and then the sound director said "Let's keep that up!" so I wondered to myself if that was the right way to handle it.
Miyabi has a completely different attitude when he talks to Rei than when he talks to others. That's how strong the bond between the two of them is, and I think it's a great relationship they have!
Ota: Unlike Mineta-kun, I received a lot of direction from the sound director.
Rei's character was difficult for me to play by voice, and the experience made me realize that voice acting is hard. I'll do my best to learn as much as I can about Mejiro Station as well as Rei, and in the future I hope I'll be told that "Because you worked hard, Rei's character was well established".
<strong―Please tell us a story from the recording of the voice drama.
Mineta: Ota-kun recorded first and then I did mine after, but it seems that after that Ota-kun went in and did it again later.
Ota: Yup. Due to a lack of skill, I had to re-record it on a different day… So as a result, listening to his performance and mine allowed me to listen to both of them like an actual dialogue. In this sense, perhaps it worked out well.
Mineta: I actually would have liked to have a real conversation, but this is just how things are at the moment so it can't be helped. If we have a chance to have a live reading event next time, I hope everyone will enjoy our expressive and dynamic performance!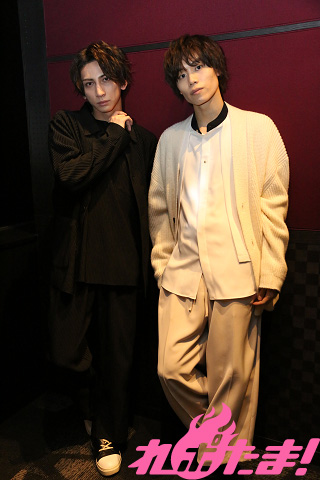 ―Please tell us your thoughts on the duet song "Get into the Wonderland" that you both sang together.
Mineta: I recorded mine after Ota-kun, so I got to listen to his voice. We both sang in high notes and there was a good sense of synchronization, so I think that the passengers will be able to tell that the two are twins.
Also, however, since the song division between the A melody and B melody might be different, I sang in such a way that would make the differences between us stand out well.
Ota: It was really easy to do because the director basically told me to "just freely be like Soma". I'm looking forward to seeing what kind of performance we can do live.
―Miyabi and Rei are both twins, but do you have any "twin stories"?
Mineta: I co-starred with the comedian "The Touch" the other day, but our timing in the routine was so incredibly matched up that it left quite an impression on me.
Ota: My friend from my time as a student had a fraternal twin. I remember being kind of surprised that even though they were twins, their appearance and personalities really weren't that similar. Does that mean that Miyabi and Rei are also fraternal? I'm curious!
―Moving forward, what do you want to do with LATCH! in the future?
Mineta: I'd like to try doing a shuffle unit that's different from the Meguro/Mejiro unit. The cast is full of unique individuals, so if there's an opportunity at a live event I'd definitely love to get the chance to sing and dance with them!
Ota: At the Yamanote Line stations, I'd love it if there was a LATCH! day once a month, and the cast's voices could be used for the station announcements on that day. Also, if the train tune would also become one of our songs, there really couldn't be anything more I could ask for!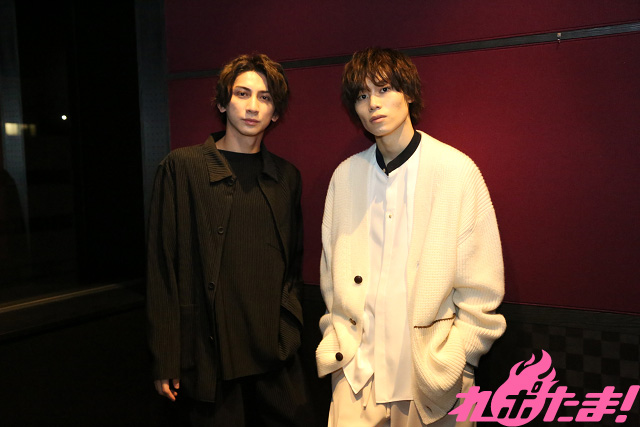 <Interviewer・Photos / Dandy Saeki・Article wording (editing) by Repotama! editorial department>
【Live Overview】
『STATION IDOL LATCH! 1st LIVE "All aboard!!"』
Date: March 6, 2022 (Sun)
【Tokyo】Grand Prince Hotel New Takanawa・Hiten
Time: 【Afternoon Performance】12:45 Open/13:30 Start 【Evening Performance】17:15 Open/18:00 Start
Ticket Price: All seats reserved; Tickets included with limited goods: 9800 yen (tax included) / Standard tickets: 8,000 yen (tax included)
Ticket Sales Period: Beginning February 19, 2022 (Sat) from 12:00~
※Up to four tickets per registration
※Preschoolers cannot enter
※Included with each copy of 3rd CD (November 10 (Wed) on sale) and 4thCD (December 8 (Wed) on sale) is a ticket with a serial number giving guests priority entry to the event
【CAST】
JY01 Tokyo/ Rion Shouji (CV: Kensho Ono)
JY02 Kanda/ Rihito Kayama (CV: Yukitoshi Kikuchi)
JY03 Akihabara/ Yusei Raiden (CV: Yuto Suzuki)
JY04 Okachimachi/ Mario Takara (CV: Youhei Azakami)
JY05 Ueno/ You Ameya (CV: Jun Kasama)
JY06 Uguisudani/ Yuta Negishi (CV: Junta Terashima)
JY07 Nippori/ Ryou Tonari (CV: Tomohiro Yamaguchi)
JY08 Nishi-Nippori/ Miharu Suwa (CV: Masahiro Ito)
JY09 Tabata/ Hayate Kita (CV: Shogo Yano)
JY10 Komagome/ Satsuki Hanabusa (CV: Tomohito Takatsuka)
JY11 Sugamo/ Daichi Takaiwa (CV: Yuki Inoue)
JY12 Otsuka/ Rui Utsusemi (CV: Tetsuei Sumiya)
JY13 Ikebukuro/ Aohazuku Mikado (CV: Nobunaga Shimazaki)
JY14 Mejiro/ Rei Soma (CV: Masaki Ota)
JY15 Takadanobaba/ Yuta Taketsune (CV: Ryota Aoyama)
JY16 Shin-Okubo/ Shio Momose (CV: TAKUYA)
JY17 Shinjuku/ Yuki Shindou (CV: Atsushi Tamaru)
JY18 Yoyogi/ Aoi Momino (CV: Nayuta Fukuzaki)
JY19 Harajuku/ Kyuto Tskeshita (CV: Tomohiro Iwasaki)
JY20 Shibuya/ Kousei Hachiya (CV: Yuta Hayashi)
JY21 Ebisu/ Tsumugi Aeba (CV: Hidenori Takahashi)
JY22 Meguro/ Miyabi Fudo (CV: Hiromu Mineta)
JY23 Gotanda/ Akira Godai (CV: Hiroaki Miura)
JY24 Osaki/ Shinichi Osaki (CV: Hisayoshi Suganuma)
JY25 Shinagawa/ Hazime Ichijou (CV: Issei Furuta)
JY26 Takanawa Gateway/ Izumi Orchid Aren (CV: Shuta Morishima)
JY27 Tamachi/ Toshisato Haburi (CV: Tsuyoshi Koyama)
JY28 Hamamatsucho/ Wataru Minato (CV: Sho Karino)
JY29 Shimbashi/ Tetsumichi Udaka (CV: Kazuhiko Inoue)
JY30 Yurakucho/ Yuri Takanashi (CV: Gakuto Kajiwara)
【CD Overview】


3rd CD "STATION IDOL LATCH! 03"
On sale from November 10 (Wed) 2021
■Limited First Edition (CD)
Part Number: LATCH-1005
Price: 2,200 yen (tax included)
■Normal Edition (CD)
Part Number: LATCH-1006
Price: 1,850 yen (tax included)
【Limited First Edition/Normal Edition CD Contents】
1. 「Get into the Wonderland」
Miyabi Fudo / Meguro (CV: Hiromu Mineta) , Rei Soma / Mejiro (CV: Masaki Ota)
2. 「Hanabiramauyoruni」
Izumi Orchid Aren / Takanawa Gateway (CV: Syuta Morishima) , Satsuki Hanabusa / Komagome (CV: Tomohito Takatsuka) , Daichi Takaiwa / Sugamo (CV: Yuki Inoue)
3. 「Sparkling Night」
Tsumugi Aeba / Ebisu (CV: Hidenori Takahashi) , Akira Godai / Gotanda (CV: Hiroaki Miura) , Toshisato Haburi / Tamachi (CV: Tsuyoshi Koyama) , Shinichi Osaki / Osaki (CV: Hisayoshi Suganuma)
4. Voice Drama 「The Passenger Closest to Me」
Miyabi Fudou / Meguro (CV: Hiromu Mineta) , Rei Soma / Mejiro (CV: Masaki Ota)
5. Voice Drama「Seeking an Intimate Friendship」
Izumi Orchid Aren / Takanawa Gateway (CV: Shuta Morishima) , Satsuki Hanabusa / Komagome (CV: Tomohito Takatsuka) , Daichi Takaiwa / Sugamo (CV: Yuki Inoue)
6. Voice Drama「A Mature Night Out with the Wild-Looking Men」
Tsumugi Aeba / Ebisu (CV: Hidenori Takahashi) , Akira Godai / Gotanda (CV: Hiroaki Miura) , Toshisato Haburi / Tamachi (CV: Tsuyoshi Koyama) , Shinichi Osaki / Osaki (CV: Hisayoshi Suganuma)
【Limited First Edition CD Contents】
Bonus Track "Yamanote Line Voice Relay #3"
【Limited First Edition Included Bonus Items】
Other Jacket, 3 types
●「STATION IDOL LATCH!」Official Site
https://latch.jp/
●「STATION IDOL LATCH!」Official Twitter
https://twitter.com/latch_info
●「STATION IDOL LATCH!」Official YouTube Channel
https://www.youtube.com/LATCHofficial
(C)LATCH! Project/JRE