Happily looking back on the past while creating a fun-filled future with the fans! EARPHONES' concept EP "identity" 【Online Show Version】 Commemorative Online Event "Re: EARPHONES Theory of evolution Online Show" Report
---
(Repotama is an online magazine covering news on everything anime, and we have recently started trying out posting articles in English! If you enjoyed this article, we'd really appreciate it if you'd consider sharing it and following us on Twitter!)
EARPHONES is a voice actress unit consisting of members Marika Kouno, Rie Takahashi, and Yuki Nagaku, and they recently held an online event celebrating their 6th year on Saturday, October 16th.
This event was held for everyone who purchased the concept EP via King Records' official shop ELR STORE (KING e-SHOP). Held at the same venue last year on October 31 under the name "EARPHONES Theory of evolution Online Show", we'll look back on this year's event along with photos.
Thanks to the event being held online, many unique aspects of the event were enjoyed by viewers, such as getting a look from behind-the-scenes live and the stage itself changing to suit each scene of the event, making it an experience not easily forgotten.
After the video ended, a "Live Strategy Segment" with EARPHONES producer Hirano was held. With a planned date and place set for January 30 2022 in Tokyo at TACHIKAWA STAGE GARDEN, EARPHONES' 6th anniversary live event "identity", songs and live goods were announced, and everything was planned according to the requests of all the Komaku-chans (the fans).
The producer Hirano announced songs with a lot of votes, and namely songs such as "Sankitousen!" and "Fight Song!" ranked particularly high. Some of the highly requested songs were ones that have never been performed live before, to which the three performers responded "I definitely want to give these songs a go during the next live event!"
With such a wide range of songs that the fans wanted performed, many specific requests such as "I hope there will be a part where only songs from Seiyu's Life! are performed" and "How about a medley of songs from Kangokutou MARY SKELTER?" were received.
Then, the idea of live goods was brought up. From typical items like "acrylic stands", "acrylic keychains", many other item ideas were developed from the starting point of "Speaking of earphones…" such as actual earphones, along with earphone cases and CD storage cases.
Being in a situation where it was difficult to hear cheers from the audience directly, the three performers said " I want to have goods that allow the fans to participate on-stage during the live performances!" and the producer Hirano responded enthusiastically by saying "I will think up some goods that can be enjoyed during the live events, as well as ones that can be enjoyed every day!"
The final segment focused on creating a new jingle for the WEB radio program "EARPHONES' Three Square Theorem" currently being distributed via internet radio station . Creators' guild band "Gesshoku Kaigi" member Endou-san was welcomed remotely, and the three members of Onsen proposed different ideas such as "A work that can be played in reverse and still enjoyed" (coming from Takahashi-san), "A 'rock' song for the 6th anniversary" proposed by Nagaku-san (translation note: the word for "rock" in Japanese is phonetically similar to the Japanese word for "six"), and "Something that the fans can participate in" which was proposed by Kouno-san.
Initially Endou-san had agreed to create just one jingle, but since he is already involved in music production with the three performers and also an old friend, he said "Alright! I'll make three!" and with that, the three members of EARPHONES were very visibly impressed with his declaration.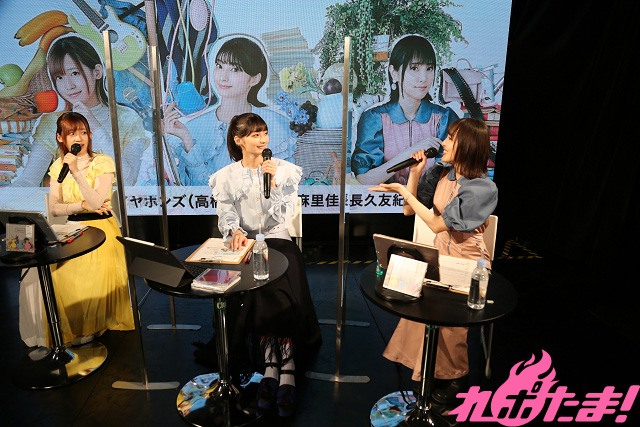 【Comments from after the event】
―Please give us your impressions of the event.
Rie Takahashi: It was so much fun to hear all the comments from the fans during the event. Especially during the "Live Strategy Segment" it really felt like we were all having a meeting together.
Marika Kouno: I was really happy to be able to hold an event at the same venue as last year. I enjoyed watching the video of us on stage so much that I thought "Wait, is that really us?" (laughs)
Yuki Nagaku: For the past year and a half, I think a lot of people have really been struggling with a lot of things, but I think we were able to get excited and have a good time as we looked forward to the live performance next year!
―It seems that during the meeting, a lot of ideas for the event planned for January 30 2022 (Sun) were talked about.
Kouno: It's really nice that so many of the ideas from the fans are things we were already so interested in performing.
Takahashi: It really gives us confidence in performing when we know that people want to hear our songs!
Nagaku: Now that we've celebrated our 6th anniversary, the amount of songs we have recorded has increased by a lot, and since we've been wondering which songs to perform it was really helpful to hear everyone's opinions and ideas!
―The topic of special goods for live events really excited everyone too.
Nagaku: Considering the amount of time before the actual performance I don't think we can guarantee everything, but hearing all of the fan's requests was really helpful for making decisions!
Takahashi: As the producer Hirano mentioned, it looks like there will be goods made for everyday use as well, so please look forward to more info on that.
―It was also decided that three new jingles for "EARPHONES' Three Square Theorem" will be produced.
Takahashi: We weren't trying to ask for so much from the beginning, but since Endou-san said "It's alright~" well, we sort of went along with it… (laughs)
Kouno: I think that Endou-san was really kind to go along with us on that. When he made his remote appearance, a particular night pool-like background that appeared in the press conference for the anime AKIBA'S TRIP (which Kouno-san and the others appeared in) was used. Normally you wouldn't go with such a risky image… (laughs)
Takahashi: I feel a comfortable closeness with Endou-san.
―Please let us know what you're enthusiastic about for the new year's live performance.
Kouno: I would like to be able to bring the ideas that were created today to the performance. We will make the stage set up so that everyone can enjoy it, so please look forward to it!
Takahashi: After retrospective screenings and various meetings, I feel that the path to better and better live performances has become more clear. I hope everyone takes good care of their health, and I look forward to seeing you all at the beginning of the year!
Nagaku: Last year we performed online (with no spectators) but this time we will be able to perform for both live spectators and those watching online, so we will all be aiming to create a day where everyone can have 120% enjoyment! I'll do my best!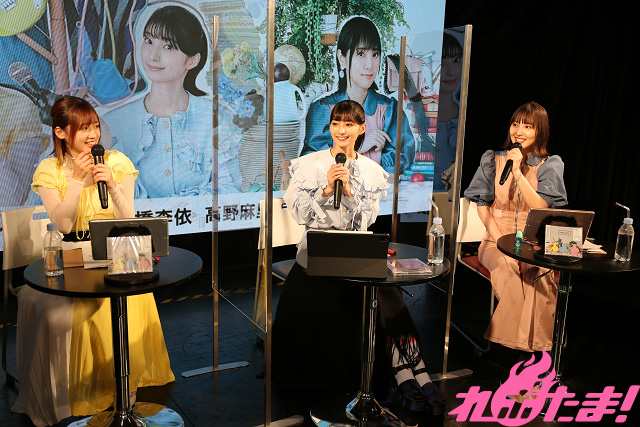 <Reporter・Photos / Dandy Saeki・Article wording (editing) by Repotama! editorial department>
【Product Overview】
EARPHONES Concept EP "identity"
Now available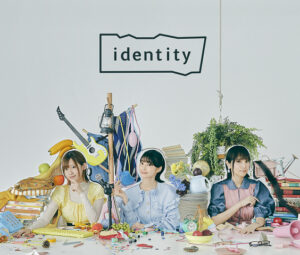 【Normal version】
Price: 3,300 yen (tax included)
Format: Blu-ray + CD
Part number: KIZX-499~500
<Contents>
[CD]
Hajimemashite
Others
[Blu-ray]
Hajimemashite MUSIC VIDEO
Others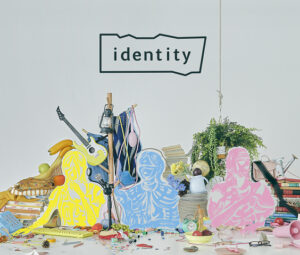 【Online Show version】
Price: 7,150 yen (tax included)
Format: Blu-ray + CD
Part number: NKZX-5~6
<Contents>
[CD]
Same as the normal version
[Blu-ray]
EARPHONES Theory of evolution Online Show
Hajimemashite MUSIC VIDEO
Others
● Product URL
https://kingeshop.jp/shop/artist/artist.aspx?artist=44749&ps=20&elr=44749
"EARPHONES 「identity」 original A4 clear file"
ELR store:全員集合デザイン柄
ELR store: All-members design pattern
Animate: Marika Kouno pattern A
Amazon: Rie Takahashi pattern A
HMV: Yuki Nagaku pattern A
Rakuten Books: Marika Kouno pattern B
TOWER RECORDS: Rie Takahashi pattern B
7net: Yuki Nagaku Pattern B
【Live Event Info】
Performance name: EARPHONES' 6th Anniversary LIVE "identity"
Date: January 30 2022 (Sun)
Open: 17:00 / Start: 18:00
【Tokyo】TACHIKAWA STAGE GARDEN
Premiere ticket: 8,250 yen
General ticket: 6,600 yen
Stream ticket: 3,500 yen
※Please note that the number of available seats will be set in accordance with the guidelines set by the national and local governments as a countermeasure against novel coronavirus infections. Thank you for your understanding and cooperation.
【Radio Overview】
web radio program "EARPHONES' Three Square Theorem"
※streaming on the 4th Tuesday of every month
https://www.onsen.ag/program/omimi
【EARPHONES Information】
<"identity" sale page URL>
https://elr.lnk.to/IDTMM
● EARPHONES Official Homepage
http://earphones-official.com/
● EARPHONES Official Twitter
https://twitter.com/earphone_seiyu
● EARPHONES YouTube Channel
https://www.youtube.com/channel/UCJFiq8b262KUx2px_iIjaVw
● EARPHONES Official Instagram
https://www.instagram.com