The story has jumped into the turbulent Part 2! "Mushoku Tensei: Isekai Ittara Honki Dasu" Interview with Yumi Uchiyama (voice of Rudeus) and Ai Kakuma (voice of Eris)
---
(Repotama is an online magazine covering news on everything anime, and we have recently started trying out posting articles in English! If you enjoyed this article, we'd really appreciate it if you'd consider sharing it and following us on Twitter!)
Mushoku Tensei: Isekai Ittara Honki Dasu (commonly known as Mushoku Tensei) became a huge hit on the novel posting site "Let's Become a Novelist".
The main character is a 34-year-old unemployed man who is reincarnated into a different world filled with swords and magic following a motor accident. The protagonist Rudeus vows to overcome the trauma from his past world and live life to the fullest.
Rudeus begins his life anew in this different world while developing his skills with magic and  experiencing all kinds of events and encounters.
This time, we interviewed Yumi Uchiyama (voice of Rudeus) as well as Ai Kakuma (voice of Eris, a young girl swordfighter and pupil of Rudeus, who continues to travel with him on the Demon Continent following Rudeus' transfer).
―The second part has finally begun, hasn't it? Please tell us any current feelings and thoughts you have.
Yumi Uchiyama: To everyone who was kept waiting, I can't help but feel "sorry to have made you wait so long…" but since some of Part 1 was also able to be rebroadcast more recently, I'm really glad about everyone who has decided to continue watching into Part 2.
Ai Kakuma: It's only natural, but the transition of the story into Part 2 is very easy to understand and pick up again. As a fan, I'm really glad about all of the scenes that help the viewer understand the characters even more fully than before.
―Are you working with Tomokazu Sugita, who plays the "past man" in the dubbing studio?
Uchiyama: Unfortunately due to present circumstances, we're unable to record with a large number of people at the same time so there aren't very many opportunities to record together… I often record with the members of Dead End (the name of Rudeus' party) and the dialogue with these other two characters makes that important, so I figured it really couldn't be helped that I couldn't also get many opportunities to record with Sugita-san… So, afterward when I watched the airing of Part 1, I thought to myself "So this is how Sugita-san is able to act…" and tried to pick up some techniques from his performance.
―Are there any things in particular you watched out for while performing?
Uchiyama: I tried to act in such a way that conveyed the feeling of "Rudeus, who was once trying to act alone, has now grown to trust Eris and Ruijerd of Dead End (Rudeus' party)."
Particularly Eris' development from a "girl" into a "lady", both mentally and physically, is very well depicted and worth paying attention to!
Kakuma: Being the daughter of a high-ranking aristocrat, I think that Eris was clumsy and trying to make herself appear more impressive due to complications in her family. After welcoming Rudeus as her tutor and getting a sense for his greatness, you can really feel the absolute hostility she shows toward anyone who tries to come after Rudeus.
Through Eris, you can see that growth isn't just about improving some ability.
―Are there any characters that have really caught your attention in Part 2?
Kakuma: There's Kishirika Kishirisu. She made her first appearance in Part 1, but I hope everyone pays attention to her because she is a really strong character.
Uchiyama: I also want to say Kishirika. She has rich expressions and with Yuka Iguchi playing her part, you just can't dislike her. Aside from her, I'm also interested in the party of Roxy (Rudeus' teacher). They're acting independently at the moment, but I wonder when the party is going to get involved with Dead End? I can't wait for it.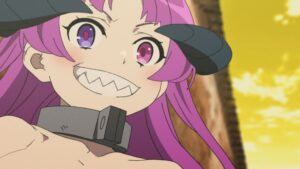 ―Rudeus and the others have the alias "Dead End", but what about you two? Do you two have any other nicknames you could go by?
Kakuma: I have a habit of stacking easily stacked items, like scripts and DVDs. You can call me "Ai Kakuma: The Stacker". Oh, that doesn't mean that I'm "The Woman Who Can't Throw Things Out", though! (laughs)
Uchiyama: I don't really think it's true, but recently I've often been told that "Uchiyama-san says yes to everything", so please call me "Affirmative Uchiyama". (laughs)
―One more time, please tell us the highlights of Part 2.
Uchiyama: While Rudeus' growth is what's mainly on display, the growth of all the characters is shown in detail. Even if you see a situation take place that's similar to something that happened before Part 2, the members of Dead End sometimes have quite a different reaction to the same sort of event, which I think is one of its highlights.
Kakuma: How will Eris change after going through so many years of being handed everything on a silver platter? I hope everyone plays close attention to this. Also, Rudeus' teacher Roxy also makes an appearance, so I hope her fans will enjoy getting to see her.
Uchiyama: I also think that Eris' growth is quite remarkable to watch. More so than Rudeus, I think you can see it happening in the way a parent might, and I would also like everyone to watch the relationship between the two characters closely.
Rudeus' desire to return Eris to her hometown has always been close to his heart, and I think that Eris' single-minded desire to catch up to Rudeus will start to become apparent soon too. I really hope you'll enjoy seeing how this plays out in the story.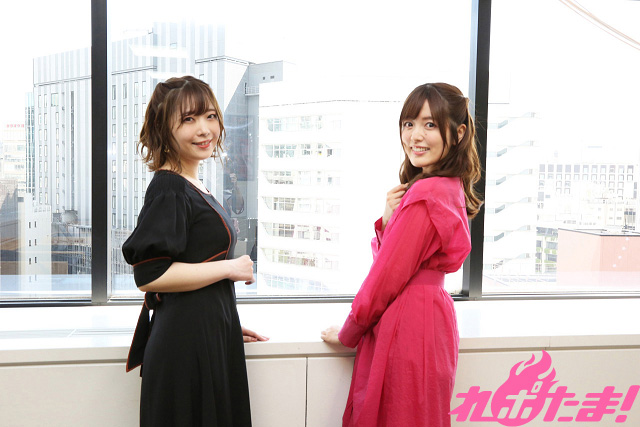 <Interviewer・Shooting / Dandy Saeki・Article wording (editing) by Repotama! editorial department>
【Anime Overview】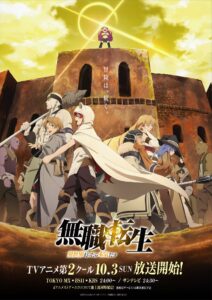 Mushoku Tensei: Isekai Ittara Honki Dasu
Part 2 is now being broadcast!
Every Sunday 24:00 TOKYO MX, KBS Kyoto, BS11
Every Sunday 24:30 Sun TV
TV Aichi Every Sunday 25:35
J: Tele Every Monday 25:00
AT-X Every Monday 22:00 * Repeat broadcast every Wednesday 10:00 / every Friday 16:00
Simultaneous terrestrial broadcasting via d anime store and Nico Nico.
Other distribution platforms delivering sequentially from noon every Saturday beginning October 9th.
● Official site
http://mushokutensei.jp
● Official twitter
http://twitter.com/mushokutensei_A/
(C)Rifujin na Magonote / MF Books / 'Mushoku Tensei' Production Committee
【Special Gift】(note: applications from outside Japan not available)
One person will receive a signature from Uchiyama-san and Kakuma-san!
To apply, please follow the official Repotama! Twitter @repotama ( https://twitter.com/repotama/ ) and retweet the tweet of this article. Winners will be contacted via DM.
Application deadline: Until 23:59 on October 22, 2021 (Fri)