Making Aoi Ichikawa feel appreciated! "Taito Ban and Aoi Ichikawa's 'Is it alright to be our usual selves?'" Aoi Ichikawa's Birthday event~Aoi Ichikawa wants to be praised! (Part 2) Report
---
(Repotama is an online magazine covering news on everything anime, and we have recently started trying out posting articles in English! If you enjoyed this article, we'd really appreciate it if you'd consider sharing it and following us on Twitter!)
Beginning September 2020 and quickly gaining popularity, "Taito Ban and Aoi Ichikawa's 'Is it alright to be our usual selves?'" (commonly known as "itsuboku") is a variety show being presented by Taito Ban and Aoi Ichikawa. Aoi Ichikawa's online birthday event was held on October 2 (Sat).
Ichikawa turned 30 on this day. In the second part (continuing from part 1), there was a small bit of trouble with Ban forgetting to wear his slippers, but then the event carried on in a joyful mood. In line with the second part of the event bearing the subtitle "Aoi Ichikawa wants to be praised", Ban and the fans quickly began to celebrate Ichikawa.
Ichikawa, who was praised for his voice during a segment where mail was read to him, smiled and replied with "I don't really like my voice that much, but it's really nice to be told that." Also, in a different "praise for Ichikawa" segment, a pie chart was made to see specifically what fans were complimenting him on via Twitter. The results showed that his voice and face accounted for half of the total compliments received. On the other hand, Ban decided to praise him for the special skill of "being able to make stag beetles out of sand". (lol)
Next, a birthday message was given to Ichikawa from fellow voice actors he's close to. After the first part of the event where a video message was received from Shogo Yano, more messages arrived from Hiroki Goto and Taishi Murata in the second part. Goto said that Ichikawa "is a man you can rely on" and Ichikawa happily said in response "I actually got a message from senpai who I respect so much this morning!" Also, Murata gave a message filled with love (?) saying "Even if I'm a bit annoying he doesn't get mad, and is a very kind and tolerant person."
In the "Show the Will of a Gamer! Aoi Ichikawa vs. the Neighbours" segment, an online challenge was made playing "Super Bomberman R Online". In "Battle 64" up to 64 players can play simultaneously and Ichikawa was able to play with the fans who were watching.
They played many times but couldn't get very far past the initial stages each time before being eliminated. The fans' skill was impressive, but in the final game Ichikawa was able to reach the top 4 and showed everyone that he has the will of a gamer. After finishing, Ichikawa expressed his gratitude and said "So many people gathered together to play. It was a tough fight and a lot of fun. Thank you so much!"
The last segment was the program's "Reading Corner". This time, the famous Japanese fairy tale "Suzume" was showcased. The two gave a highly invested performance reading the story, and the comments briefly settled down as the fans listened attentively to the story from the other side of the screen.
At the end of the event, Ban presented hand soap from the skin care brand Aesop as a gift, and Ichikawa accepted it with a smile.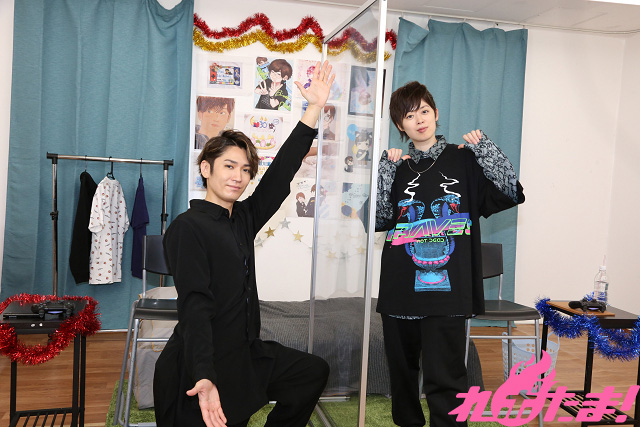 【Comments after the performance】
―Please give us your overall thoughts on today's event.
Taito Ban: I had as much fun as Aoi-kun!
Aoi Ichikawa: First off, I'm really glad that we were able to hold the second birthday event, and that this time as well, many fans came to celebrate!
―How about we look back on the year that's passed since the program began?
Ban: I was definitely having a harder time at first, but now I feel just like the title of the program when I say "is it okay for us to just be ourselves like this?" and it's really nice to be able to just relax and run the program and that everybody is enjoying it too.
Ichikawa: For sure. At the first part of this year's event, I was able to talk about what I wanted to talk about, and I'm grateful to be able to work in this environment where people are happy to indulge us by listening to our stories.
―At today's event, it was really exciting for everyone to play games with the fans.
Ban: It was online this time, but I'm looking forward to being able to have a fun face-to-face session with everyone at some venue in the future.
Ichikawa: When we get to do an in-person event, I hope we're able to play games again then as well. It's a hobby we're both into.
―What do you think of making new goods to release at future events?
Ban: Yeah, hmm… Maybe making some sort of climbing shoes, since mountaineering is my hobby?
Ichikawa: That's a little too niche I think! (laughs) Maybe we could produce something practical like a tumbler cup or something?
Ban: Yeah! I like the idea of going with something that can be used every day.
―Finally Ichikawa-san, please tell us about your aspirations as a 30 year-old.
Ichikawa: I like reading aloud, and I also upload that on my YouTube channel. I would like to continue doing this moving forward, and I hope that it will eventually lead to some sort of work opportunity too.
Ban: My birthday is coming up soon too on December 18 (laughs), so I hope everyone will come and hang out with us on that day as well!
Ichikawa: Thank you to everyone for your continued support!
<Reporter・Shooting/ Dandy Saeki・Original Japanese article wording (editing) by Repotama! editorial department>
☆ Click here to view the streams (Archives not available). Recorded streams available via time shift up to one week after the stream has completed.
https://ch.nicovideo.jp/itsuboku/blomaga/ar2048561
●Channel page (Nico Nico Douga)
https://ch.nicovideo.jp/itsuboku
●Program Official Twitter
https://twitter.com/itsuboku2
【Special Gift】(applications from outside Japan not available)
One person will receive a handwritten signature from Ban-san and Ichikawa-san!
Applicants can apply via first following the Repotama official Twitter @repotama (https://twitter.com/repotama/) and also retweeting the tweet of this article. The winner will be contacted via DM.
Application deadline: Until October 22, 2021 (Fri) at 23:59