Oct. 2021 new anime MIERUKO-CHAN key visual & new cast information released. Episode 1 synopsis and scene preview also released
---
(Repotama is an online magazine covering news on everything anime, and we have recently started trying out posting articles in English! If you enjoyed this article, we'd really appreciate it if you'd consider sharing it and following us on Twitter!)
With the short story uploaded to Twitter becoming a big hit, the popular series MIERUKO-CHAN is currently being serialized via WebComic Apanda. An anime television series began airing in October 2021.
This time, following the third teaser visual, the key visual was finally released alongside additional cast info.
Also, with the first episode airing on October 3 (Sun), the first episode's synopsis and scene preview have also been released.
【Key Visual release】
The finally-released key visual features the image of a repulsive apparition…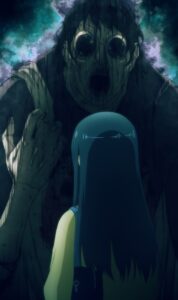 【New cast info and comments from the cast】
Zen Tono: Yuichi Nakamura
Godmother: Ikuko Tani
Kyousuke Yotsuya: Yumiri Hanamori
■Yuichi Nakamura (voice of Zen Tono)
​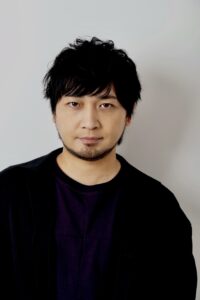 I was able to check out the original work when I auditioned for my role, but it's a horror dressed up as a high school girls' slice-of-life that is, in turn, dressed up as an emotionally-gripping horror… It has a lot of layers to the premise but I found the simple abnormalities in the story to make it a very easy work to enjoy. Summer may be over now, but I hope this work will help chill its viewers in the lingering summer heat.
■Ikuko Tani (voice of Godmother)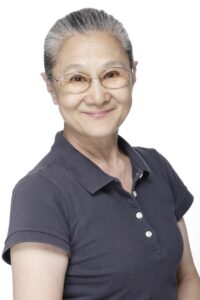 It's interesting. The purer the person, the better they'll see. Adults who are already too stained by their deeds can't see properly anymore… but perhaps as they age more, they can again be made clean…? Hints are going to be made here and there in the story, so I'm looking forward to it. Let's get more and more excited the further along we go in the story.
■Yumiri Hanamori (voice of Kyousuke Yotsuya)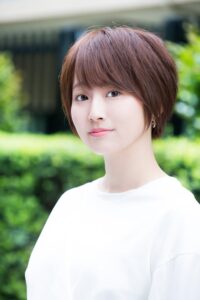 A boy of roughly this age who asserts enthusiastically that "I'm going to protect my mom and sister!" just naturally makes me want to smile. I hope you'll enjoy the conversation and drama between Miko-chan (who can see) and Kyousuke-kun (who can't see), who seem connected in some way despite being utterly at odds with each other…!
【Character illustrations and introductions released】
■ Zen Tono (CV. Yuichi Nakamura)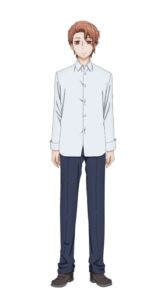 A nice young man who appears to be friendly with a soft disposition. Strangely, he has started appearing near Miko and the others often, but there's something strange going on in the background here…
■Godmother (CV. Ikuko Tani)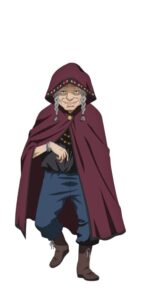 Known as "Shitamachi's Godmother". While she does squeeze money out of regularly-visiting suckers, she is probably also a real psychic. Yuria admires her.
■Kyousuke Yotsuya (CV.Yumiri Hanamori)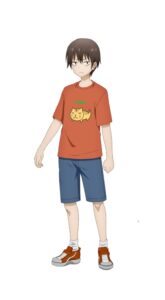 Miko's younger brother. Likes watching scary programs on TV. He acts cheeky and is blunt towards her, but he doesn't actually dislike his older sister. Actually, he likes her quite a bit. Apparently, they also took baths together until fairly recently.
【Episode 1 synopsis and scene preview】
【Episode 1 "Can You See Them?"】
This is the daily, ordinary life of Miko Yotsuya, an ordinary high school girl. She goes to school, attends class, goes home and watches scary shows on TV with her brother. However, a shadow begins to stalk her. Without any warning, it appeared in full view before her. At first, she thought it was something wrong with her mind, perhaps just a hallucination. Maybe she was just tired… but, "it" was certainly right there in front of her…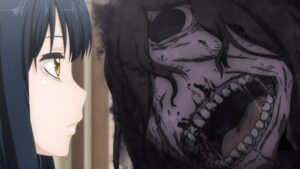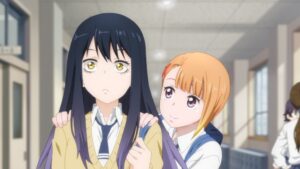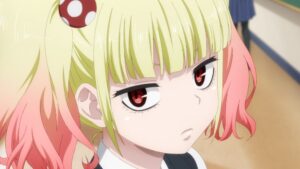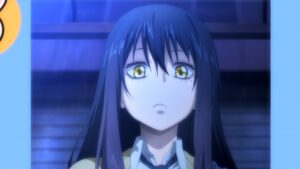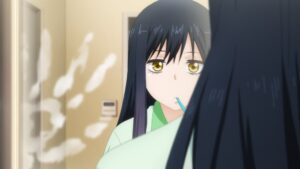 【Episode 1 Staff】
Scenario: Kenta Ihara Storyboard: Yuki Ogawa Unit Director: Shintaro Matsushima (GYORAI EIZO)
【Anime Overview】
【Introduction】
If you saw something you shouldn't be able to see,
If you saw something you shouldn't look at,
What would you do……?
What would you do if that thing talked to you,
If it came right up to you…
What would you do……?
Would you take one look and run away?
Would you learn strange techniques, or get the help of a medium and fight them?
Well, as for the action taken by high school girl Miko Yotsuya…
Completely ignore them!
I didn't see anything, and I'm not noticing anything!
This is the story of a high school girl avoiding strange, grotesque "freaks" by making full use of an iron will to skilfully ignore what's right in front of her…
Just because you can't see them,
They're right next to you, you see…?
【Broadcasting/Streaming Info】
TV anime broadcasting begins Sunday, October 3, 2021!
<Broadcast information>
AT-X From October 3rd, every Sunday from 22:00
(Repeat broadcast weekly (Wednesday) 29: 30- / weekly (Sunday) 7: 00-)
TOKYO MX From October 3rd, every Sunday from 24:30
KBS Kyoto From October 3rd, every Sunday from 24:45
Sun TV From October 3rd, every Sunday from 25:00
BS Nippon Television From October 4th, every Monday from 24:00
<Streaming information>
d Anime Store From October 3rd, every Sunday from 24:30
【Staff】​
Original Creator:Tomoki Izumi (serialized in WebComic Apanda / published by KADOKAWA)
Director: Yuki Ogawa
Assistant Director: Takahiro Majima
Assistant Director: Shintaro Matsushima (GYORAI EIZO)
Series composition: Kenta Ihara
Character design and animation director: Chikashi Kadekaru
Sub-character design: Kyoko Kametani, Futoshi Chikkyo, Tin
Monster Design: Makoto Uno, Yasuhiro Moriki, Futoshi Chikkyo, Katsuzo Hirata, Hiroya Iijima, Hiroyasu Oda (Studio Mogana)
Prop design: Yukinori Umetsu
Costume design: Yuka Takashina
Chief Key Animation Supervisor: Masahide Yanagisawa, Hideki Hashimoto, Katsuzo Hirata, Kyoko Kametani, Yuka Takashina
Editing: Ayako Tan
Color design: Ritsuko Utagawa
Art setting: Midori Iwasawa (KUSANAGI), Shin Watanabe (Ekachi Epilka)
Art Director: Ayano Okamoto (KUSANAGI)
Concept Composite: Junpei Takatsu
Director of Photography: Yang Xiaomu(Grafinica)
Music: Utatanekana
Music production: KADOKAWA
Sound Director: Fumiyuki Go
Sound effects: Maki Takuma (Swara Pro)
Sound production: Magiccapsule
Animation production: Passione
【CAST】​
Miko Yotsuya: Sora Amamiya
Hana Yurikawa : Kaede Hondo
Yuria Niguredo: Ayane Sakura
Zen Tono:Yuichi Nakamura​
Kyousuke Yotsuya:Yumiri Hanamori​
Godmother:Ikuko Tani  and others
OP theme: "Mienaikarane !?"
Song: Miko Yotsuya (CV. Sora Amamiya)
Lyrics and composition: Shinji Saito (Dream Monster)
Arrangement: Ryuichi Takagi (Dream Monster)
ED Theme: "Mitana ? Mitayone ?? Miteruyone ???"
Song: Miko Yotsuya (CV. Sora Amamiya)
Lyrics: Karasuya Sabou
Composition and Arrangement: Masaki Honda(Dream Monster)
■TV anime official website https://mierukochan.jp/
■Anime official Twitter  @mierukochan_PR
Recommended hashtag: #Mierukochan
【PV】https://www.youtube.com/watch?v=HD_TGzj7oU8

(c) Izumi Tomoki / KADOKAWA / MIERUKO-CHAN Production Committee