Interview with Mia REGINA on their new song "Tsukiumi no Yurikago", a ballad number that's perfect for relaxing this summer
---
(Repotama is an online magazine covering news on everything anime, and we have recently started trying out posting articles in English! If you enjoyed this article, we'd really appreciate it if you'd consider sharing it and following us on Twitter!)
Anime song vocal unit Mia REGINA released their 9th single on Wednesday, July 28!
The title tune "Tsukiumi no Yurikago" is the ending theme for The Aquatope on White Sand, a new anime set in Okinawa that is currently being broadcasted. The song is a ballad number that fits perfectly with the overall atmosphere of the series, bringing a refreshing breeze to the hot summer in Japan.
―Please tell us how you felt when the collaboration with The Aquatope on White Sand was decided.
Waka Kirishima: I felt encouraged because I loved P.A.WORKS' anime from the beginning, and because our juniors and label mate ARCANA PROJECT were performing the anime's opening theme "Tayutae, Nanairo".
Fuuri Uebana: It's been about a year and 3 months since the release of our single "I got it!" so I was looking forward to seeing how our next song would be.
Risuko Sasakama: P.A.WORKS was also the production company that set the OP theme for the anime Appare-Ranman to be "I got it!", so I felt that the meeting here was fate.
―How was the recording?
Sasakama: It's a ballad, something that I had never sung in Mia REGINA, and I really noticed how much calmer this song felt than usual.
I think Kayoko Kusano, who was in charge of composition, really helped the three of us align our direction with each other for the performance.
Uebana: It was difficult because of how it was a different melody than usual, but we prepared well for it in advance.
Kirishima: The solo part wasn't decided in advance, so on-site directly the best part of the song from each of us was chosen. We had to re-record it many times until it sounded right, and we spent a lot of time recording it carefully.
Sasakama: I carelessly thought "Oh, I probably won't have a high part…" (laughs)
I tried to sing in a way that would convey sadness without too much tension in my voice.
―Are there any lyrics that really stuck with you?
Kirishima: My favorite, or most memorable is the "Now, good night" at the very end. Kusano-san helped me find a better "good night", and at the end I felt a "good night" of satisfaction.
―Can you tell us about the music video?
Kirishima: We shot it in a studio that was designed to reflect the image of trees, lakes, and the deep ocean. The setting of the show is Okinawa in the middle of summer, but at the time of shooting it was still cold…
―The scene where the three people snuggle up together also leaves quite an impression.
Sasakama: It was a situation unlike one we've run into before, so I felt my heart racing a bit because I was getting hugged a lot.
Kirishima: It has the feeling of walking up to a lonely, wandering person.
Uebana: One of the main characters in this show, Fuuka Miyazawa, quits being an idol and comes to Okinawa, but this scene gives off the feeling of a place that will heal her.
Sasakama: At the studio, a transparent aquarium filled with water had light shone through it, so the stage was lit like the surface of water.
Kirishima: During the shoot I fell and ended up tumbling into the water. That was rough… (bitter laugh)
Uebana: The shoot took place from morning to night, so I slept the whole way back on the return bus. (laughs)
―The coupling "Dear!!!" by Sasakama-san is a song with a sense of speed, which is often the case with Mia REGINA's music.
Sasakama: Until now we would sing something like "Minna, Tsuitekite ne!" with a lot of energy, but since this time it's a coupling track of "Tsukiumi no Yurikago", I thought about the overall atmosphere and sang with a feeling of calmness.
Kirishima: This is a song that is linked both to the work and to ourselves, and I have a strong desire that everyone we've been able to meet so far will be able to listen to it. We hope that everyone will sense our growth, knowing that we want to convey that "We are here doing our best."
Uebana: This song fit us perfectly, and we were able to sing it with joy. It's a number that I'm now very familiar with, so please enjoy listening to it!
―You're going to be appearing at Nagano Aniera Festa that's planned to be held in Nagano Prefecture on September 18th (Sat) and 19th (Sun).
Kirishima: When I saw the event last time (2019), I thought to myself "I definitely want to be there!" so I'm happy that we'll be able to perform.
Sasakama: We've heard from fans "I think Mia REGINA will look great on the outdoor stage!" so I think it'll be an awesome, fun time for everyone!
―The Aquatope on White Sand is set in Okinawa, but have you ever been to Okinawa?
Sasakama: I've been to an isolated island before, but the sea was so beautiful, and I could hardly believe it when I saw the fish right next to me in the sea. When I watch the anime, it makes me want to go again.
Uebana: We got to vote on where to go for a school trip between Okinawa or another place, but unfortunately the majority vote for Okinawa lost out to the other place so I couldn't go… (bitter laugh)
I really love Okinawan food, so I definitely want to go there if I get an opportunity to!
Kirishima: I first went to Okinawa about two years ago, but I also went to the Churaumi Aquarium at that time so I feel like it was fate. I also want to go again. I would be happy if the anime's event could be held locally, too!
―Finally, please give everyone a message.
Kirishima: There are always lots of challenges, but I tried to challenge a lot of new things this time too. This is a song that embraces you, so I'd like it if you would listen to it when you're feeling tired, and I hope you'll also listen to it along with the anime!
Uebana: Please listen to this song and deeply feel the world of this anime and Okinawa!
Sasakama: The song is completely filled with the atmosphere of the anime. Just as Kukuru Misakino and Fuuka Miyazawa are the two heroines connected closely together in this story, I want everyone to love this song that connects Mia REGINA with you all!
<Original Text by Dandy Saeki>
【CD Overview】
"Tsukiumi no Yurikago"
Release Date: July 28, 2021 (Wednesday)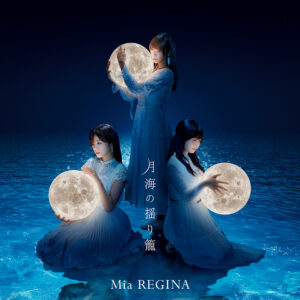 ■Artist Edition (CD+Blu-ray)
Part Number: LACM-24155
Price: 2,200 yen (10% tax included)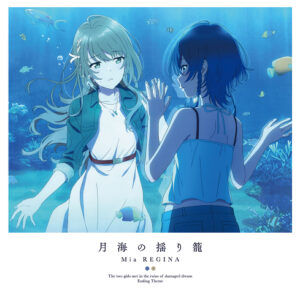 ■Anime version (CD)
Part number: LACM-24156
Price: 1,320 yen (10% tax included)
☆Click here to purchase the song
https://lnk.to/LACM-24155
【Event Summary】
Mia REGINA, who released the single "Tsukiumi no Yurikago" on July 28 (Wed), will be holding an event at Akihabara Dear Stage!
Meals, etc. inspired by the theme of Okinawa, the setting of the anime, will be prepared.
<Event details>
3rd floor only: Ticket system (raffle)
Admission: 3,000 yen including charge・1D
【Part 1】 15: 00~17: 00
【Part 2】 17: 30~19: 30
Reception date and time: July 27 (Tues) 21: 00~July 29 (Thurs) 21:00
Result announcement scheduled date: July 30 (Friday)
●Reception URL
https://t.livepocket.jp/e/ds0801
●Event details page
https://dearstage.com/event/29200/
【Live Festival Overview】
"Nagano Aniera Festa"
September 18th (Sat) and 19th (Sun)
【Nagano】 Komaba Park, Saku City
※Mia REGINA will appear on the 19th (Sun).
●Official website
https://aniera-festa.com/
【Anime Overview】
The Aquatope on White Sand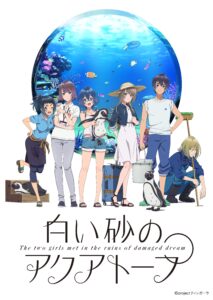 【introduction】
Director Toshiya Shinohara, Series Composition by Yuko Kakihara, and production by P.A.WORKS.
From creating the series "Iroduku: The World in Colors", which depicts the story of a girl's youth, they have come together to create a completely new original anime set in a small aquarium in Okinawa.
Kukuru Misakino is an 18 year-old high school girl who works in the aquarium, and one day she meets Fuuka Miyakawa, who lost her dream of becoming an idol in Tokyo and escaped to Okinawa. The two girls will spend their days in the aquarium while each carrying their own thoughts close to them.
However, the impending crisis of closure is fast approaching this special place of theirs.
The girls' dreams and their realities, their isolation and their close friends, their bonds and their conflicts…
A glistening new page will be opened this summer.
【story】
"… Did you see that?"
Kukuru gently teaches about the secrets of Gamagama Aquarium.
"Sometimes, I see strange things here."
The setting is Okinawa, where the summer sun shines bright.
The aquarium is located about an hour out of Naha city by bus.
The small, somewhat deserted Gamagama Aquarium is located on a beautiful beach in the southern part of the main island of Okinawa.
An 18-year old high school girl named Kukuru Misakino is dedicated to her work there.
Going as far as to refer to her own grandfather in charge of the aquarium as "director", she loves this place more than anybody else.
One day, Kukuru meets Fuuka Miyazawa, a girl who was standing in front of a water tank with flowing hair and tears rolling down her cheeks.
Fuuka gave up her dream of becoming an idol in Tokyo and desperately ran away to Okinawa.
Time passes gently by in the peaceful Gamagama Aquarium.
Fuuka, looking for a place to stay, asks "I want to work in this aquarium."
The day-to-day lives of these two girls began to move in this direction.
However, Gamagama Aquarium, in addition to its strange happenings, also faces a looming threat of closure.
Faced with an approaching time limit, the two girls begin their move toward revamping the place.
They move forward to protect their warm place of refuge for which there is no replacement.
【Broadcasting/Streaming Info】
Broadcasting begins Thursday, July 8.
・TV broadcasting
TOKYO MX  Beginning July 8th (Thursday)  Every Thursday from 24:00~
BSFuzi  Beginning July 8th (Thursday)  Every Thursday from 24:30~
MBS  Beginning July 13th (Tuesday)  Every Tuesday from 27:00~
Ryukyu Broadcasting  From July 8th (Thursday)  Every Thursday from 25:34~
Toyama TV Broadcasting   From July 15th (Thursday)  Every Thursday from 26:05~
AT-X From July 12th (Monday) Every Monday from 23:30~
(Repeat airings: Every Wednesday from 11:30am, every Friday from 17:30pm)
〈Rebroadcasting Info〉
TOKYO MX  Beginning July 9th  Every Friday from 19:30~
・Digital Distribution
Priority streaming on ABEMA
d Anime Store, Amazon Prime Video and others will release episodes sequentially.
【CAST】
Kukuru Misakino: Miku Ito
Fuuka Miyazawa: Rikako Aida
Tsukimi Teruya: Azumi Waki
Karin Kudaka: Lynn
Kai Nakamura: Shimba Tsuchiya
Kuya Yakamashi: Yohei Azakami
Kukuru's grandfather (Oji): Hiroshi Yanaka
【STAFF】
Original Creator: Project Tingara
Director: Toshiya Shinohara
Series Composition: Yuko Kakihara
Original Character Designer: U35
Character Designer・Chief Key Animation Supervisor: Yuki Akiyama
Art Director: Kurumi Suzuki
Art Supervisor: Junichi Higashi
Art setting: Yoshinori Shiozawa
Director of Photography: Satoshi Namiki
Color design: Naomi Nakano
3D Director: Haruki Suzuki
Editor: Ayumu Takahashi
Special effects: Masahiro Murakami
Music: Yoshiaki Dewa
Music Production: Lantis
Sound Director: Haru Yamada
Production: Infinite, P.A. WORKS
【Theme Song Info】
Opening Theme Music: ARCANA PROJECT "Tayutae, Nanairo"
Ending Theme Music: Mia REGINA "Tsukiumi no Yurikago"
■ Official Site https://aquatope-anime.com
■ Official Twitter aquatope_anime
(c)Project Tingara
【Present】 (※The application method has changed as of July 2021)
(Please note that applications from outside Japan are not available)
One person will be presented with a special colored paper card signed by the three members of the group!
If interested, please follow the Repotama! official Twitter @repotama (https://twitter.com/repotama/) and retweet the tweet of this article. The winner will be contacted via DM.
Application deadline: Until 23:59 JST on August 20, 2021 (Friday)