Youth charges onward in the second season! Let's Make a Mug Too Interview with Minami Tanaka (voice of Himeno Toyokawa) and Yuuki Wakai (Naoko Naruse)
---
(Repotama is an online magazine covering news on everything anime, and we have recently started trying out posting articles in English! If you enjoyed this article, we'd really appreciate it if you'd consider sharing it and following us on Twitter!)
The first season of the anime Let's Make a Mug Too was aired from April to June 2021 and is set in Tajimi City, located in Gifu Prefecture and known for its ceramic arts. This story of youth depicting high school girls getting to know the rokuro (potter's wheel) has had a second season confirmed! This time, two members of the main cast Minami Tanaka (voice of Himeno Toyokawa) and Yuuki Wakai (voice of Naoko Naruse) looked back over the first season and gave their thoughts on the upcoming second season!
―How was the general response around you when this series was aired?
Minami Tanaka:Occasionally fellow voice actors who saw the live action parts would tell me "Hey, you were on TV the other day," but I've been replying with "Actually, this series has both live action parts and anime parts…" and then I recommend it to them. (laughs)
Yuuki Wakai:I'm from Gifu prefecture, so my mom was like "My friend told me that she saw you in the newspaper," and a teacher from a school I attended also reached out to me. (laughs)
―How about we take a look at the story again?
Tanaka:The episodes are 15 minutes long, so it went by quickly. Even still, the story of Himeno's growth was outstandingly executed, and the show really makes you feel a sense of youth.
Wakai:30 minutes of my heart feeling warm and fuzzy.
I'm always laughing in the live action segments. Looking back on it again, it was a really fun location to shoot.
―It seems that the Blu-Ray BOX, scheduled for release on July 28th (Wednesday), will also include a long version of the location shoot.
Wakai:The cameras were always running, so I think the long version will be full of fun stuff you'll want to see.
Tanaka:It's filled with a lot of unreleased footage of pottery making and experiences from the town, so please check it out!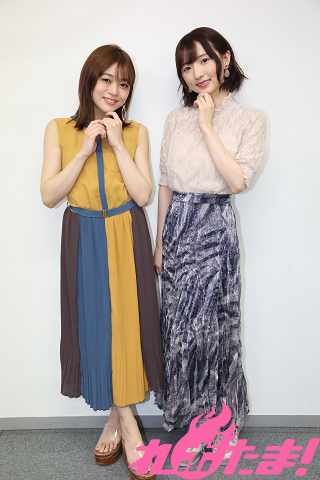 ―So, could you give a summary of the anime's story?
Wakai:Himeno's last line of "The next time we do this, maybe we should make a mug too?" really stuck with me. I wonder what'll be made next…? Just thinking about it makes me excited!
Tanaka:(Kukuri) Mika-chan received an award for her amazingly original work. Including Tooko (Aoki), I'm looking forward to seeing what kind of pottery is going to get made next!
―The story of Himeno and her friends joining an all-Japan pottery contest seems interesting.
Tanaka:Totally! It really gives off a feeling of being young.
Wakai:I especially want Tooko-san to win! By the way, if Naoko is allowed to do ceramics… even I don't know what'll happen. (laughs)
―The solo version of "Wonder by Wonder" sung by MUG-MO is now available, too.
Wakai:It was the first song in the series to be sung as a character, and initially it was difficult to sing as Naoko.
That said, being able to consult with the director and listening to everybody else's singing voice during recording made for a really nice end result. The solo version was also great because everybody's individuality was able to fully shine through!
Tanaka:Since the staff really praised me during recording, I became even more enthusiastic and thought "I just have to show off the character of Himeno in this!"
I'm often last to do the recording, but basically I refer to Yuuki-chan's performance.
Yuuki-chan often does her recording first, and she's really reliable because she's always really decisive with the direction she takes! I've got full confidence in her.
Wakai:It makes me really happy to hear that from you, Minami!
Tanaka:Thank you! It was also great singing as Himeno, and since the four voices fit the music perfectly, I'm really confident that everyone can listen and enjoy!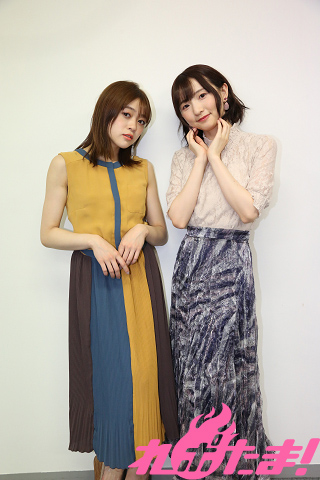 ―I heard that you went to the Tajimi location again after the first season was recorded.
Tanaka:That's correct! I actually got to go see the Let's Make a Mug Too design truck and the official "Itasha" car, which were posted on Tajimi City's social media. It was quite a powerful sight…!
Wakai:You can see Naoko and the others at typical cafes around the city. Our photos are also featured on the side of the design truck, and it seemed like it had become so well-known that we might get surrounded just walking around in Tajimi. (laughs)
Tanaka:If there was a questionnaire on famous people in Tajimi, I feel like the four of us might come out on top. (laughs)
―Are there any other places you would like to go and do a location shoot in the future?
Wakai:There's a place that appeared in the anime that I liked. I want to see the fireflies in Miyama Forest!
Tanaka:I want to visit nice cafes in the city some more, and I'd like to visit some pottery shops. Now that "the plan to turn all of my tableware into pottery" is in progress, I hope I can find something I'll really love!
―It seems that the radio program Let's Make a Mug Too~Oribe Gakuen Housoushitsu~ will continue to be on-air even after the end of the first season.
Wakai:It's gotten twice as fun now that everyone has their own special segment!
Tanaka:(Serizawa) Yuu-chan's dark history getting exposed was interesting.
Wakai:Maybe we should think about doing that as well? (laughs)
―Lastly, do you have a message for everyone looking forward to the second season?
Tanaka:The cast members are all excited about the second season being aired in the fall. We hope that everyone will give us their thoughts on the series while listening to the radio broadcast.
Wakai:I want to help really bring out the special atmosphere and world unique to Let's Make a Mug Too in the second season. In the live-action parts, you'll be able to feel the charm of Tajimi from a different angle than in the first season, so please look forward to that as well!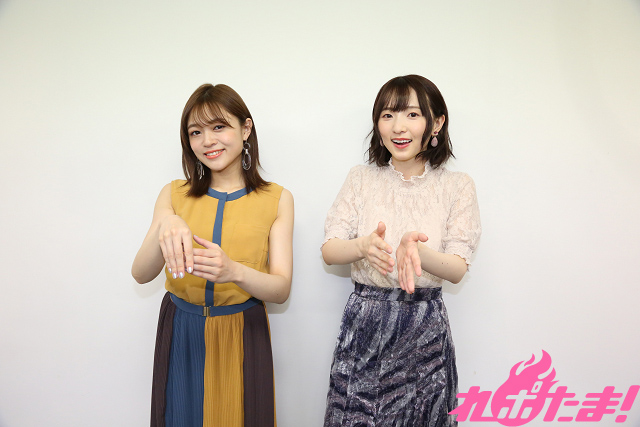 <Original Text and Photos by Dandy Saeki>
☆ Please see a list of more photos at the bottom of the page.
【Physical Release Info】
TV Anime & Live-action Let's Make a Mug Too Blu-ray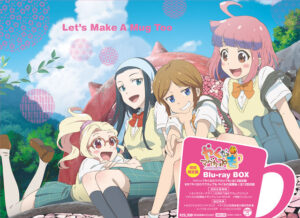 ■ Let's Make a Mug Too Blu-ray BOX 2-disc set + CD
Release date: Wednesday, July 28, 2021
Product number: COXC-1245/6
Price: 23,000 yen (tax excluded) 25,300 yen (tax included)
《Number of episodes》
・ TV anime Let's Make a Mug Too episodes 1-12
・ Live-action Let's Make a Mug Too-Yakumo no Houkago- episodes 1-12
《First-edition included bonuses》
・ Character design digipak by Ayano Yoshioka
・ Yakumo no Houkago commemorative photo BOOK
・ Special booklet
<<Bonuses for all editions>>
・ Original soundtrack
・ Yakumo no Houkago extra edition bonus footage
1 .Stick Close to the Key Visual! (Video: about 10 minutes)
2. First broccoli harvest in Tajimi (Video: about 12 minutes)
3. First Pottery Wheel Experience in Tajimi~Long Version~ (Video: about 15 minutes)
4. Forbidden Pajama Talk (Video: about 31 minutes) )
・ Textless Opening/Ending video
■ Let's Make a Mug Too Blu-ray Volume 1
Release Date: Wednesday, July 28, 2021
Product Number: COXC-1247
Price: 10,000 yen (tax excluded) 11,000 yen (tax included)
《Number of episodes》
・ TV anime Let's Make a Mug Too episodes 1-6
・ Live-action Let's Make a Mug Too-Yakumo no Houkago- episodes 1-6
■ Let's Make a Mug Too Blu-ray Volume 2
Release Date: Wednesday, July 28, 2021
Product Number: COXC-1248
Price: 10,000 yen (tax excluded) 11,000 yen (tax included)
《Number of episodes》
・TV anime Let's Make a Mug Too episodes 7-12
・ Live-action Let's Make a Mug Too-Yakumo no Houkago- episodes 7-12
■ Anime official website https://yakumo-project.com
■ Anime official Twitter @yakumo_project
(c)Planet・Nippon Animation / Yakunara Magukappu Mo Seisaku Iinkai
【Special Gift】 (※The application method has changed as of July 2021)
(Please note that applications from outside Japan are not available)
Two special autographed cards will be presented to one person!
If interested, please follow the Repotama! official Twitter @repotama (https://twitter.com/repotama/) and retweet the tweet of this article. The winner will be contacted via DM.
Application deadline: Until 23:59 JST on July 23, 2021 (Friday)