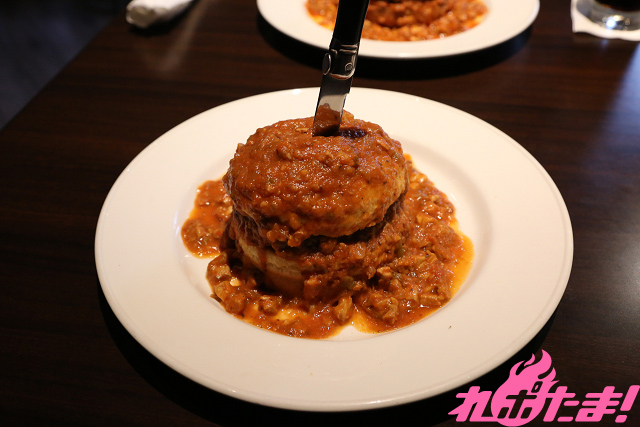 [Tasting Report] New burger made in collaboration with the popular hamburger-themed comic Today's Burger now on sale at Hard Rock Cafe until August 31st (Tues)
---
"Hard Rock Cafe" is an American restaurant chain with three stores in the Tokyo metropolitan area and one in Osaka where you can enjoy a meal while listening to various kinds of music. Hard Rock Cafe is collaborating with the gourmet manga Today's Burger, which is serialized in Weekly Manga Times and published by Houbunsha, and they are offering a special menu including the burger that appears in the series and is prepared in a Hard Rock Cafe style.
The second new item on the menu, called a "slopper" (a local special from Colorado, USA) will be on sale at Japanese locations from July 1st (Thursday) to August 31st (Tuesday). Prior to the "slopper" going on sale, we got to try it out for ourselves.
You can choose the spiciness of the sauce from 3 types, and the highest level "Very Hot" really starts to kick in as you dig into it!
The buns are soft, the beef is unseasoned to make the most of the natural taste, and the sweetness of the jalapeno just makes you even hungrier.
As the season gets hotter and hotter, we think a "slopper" with some alcohol would be good to try.
[Collaboration Overview]
Collaboration between American restaurant chain Hard Rock Cafe and gourmet manga Today's Burger
2nd menu item: "Slopper"
On sale: from July 1st (Thursday) until August 31st (Tuesday), 2021
Price: 2,480 Yen (tax included)
<Spiciness is available in 3 levels. Please choose your favorite spiciness. >
Normal (Level 0.5) / Hot (Level 2) / Very Hot (Level 3)
[Series Overview]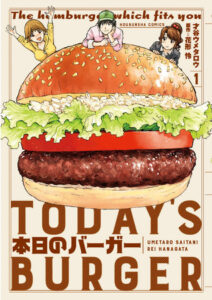 Today's Burger
– Synopsis –
As a man exposed to food from all over the world during his time as an employee at a food trading company, Satoshi Jinguuji quit his corporate job so that he could open his own hamburger shop.
"Hamburgers are the cuisine of the world."
Jinguuji, familiar with food from all over the world, makes different kinds of hamburgers from around the world that are unfamiliar in Japan, and mesmerizes his customers with them. He also treats visitors to his restaurant who are burdened by the worries of life to the perfect burger to help them solve their problems.
Written by Umetaro Saitani / Original: Rei Hanagata
Volumes 1 to 17 (ongoing) are on sale from Houbunsha Comics.
[Restaurant Information]
[Hard Rock Cafe Japanese locations]
・ Tokyo
Roppongi 5-4-20, Minato-ku, Tokyo
TEL.03-3408-7018
・ Ueno Station Tokyo
7-1-1 Ueno, Taito-ku, Tokyo Atre Ueno 1st floor
TEL.03-5826-5821
・ Yokohama
2-3-1 Minatomirai, Yokohama-shi, Kanagawa Queen's Tower A 1st floor
TEL.045-682-5626
・ Universal Citywalk Osaka ™
6-2-61 Shimaya, Konohana-ku, Osaka-shi, Universal Citywalk Osaka TM 3rd and 4th floors
TEL.06-4804-3870
● "Hard Rock Cafe" official website
http://hardrockjapan.com/