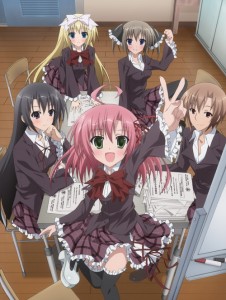 Web radio "Seito-Kai no Ichizon" start distributing from October 12th at every Friday!! Title is "Hekiyo Gakuen ☆Kounai Housou R-Returns-(Kari)"
---
U can`t talk about "Seitokai no Ichizon" without listening this radio!?
Please check both TV and radio. You could enjoy it!
Moreover, it starts accepting the question mail. Waiting for your mail!!

Radio Host
Mariko Honda: CV of Kurimu Sakurano, Mina:CV of Chiduru Kureha, Misuzu Togashi: CV of Minatsu Shina, and Iori Nomizu: CV of Mafuyu Shina.
Waiting for letter!
Seito-Kai Answering
Student council is going to solve your matter! Like love bla bla bla・・・
"Please visit and rely us. I gonna make it clear any problems! By Kurimu Sakurano"
Honor of council
Anything is ok! Let me know what ever you feels honor!
Friendship of council
"Supreme student council`s member don`t need words"
This is like drawing game that two people wrote the picture and other two people guess that.
White board of council
We would have argument which audience gave to us. Waiting for funny one guys!
Mail address: hekiyougakuen_radio@amgmusic.jp
(C)2012 Aoi Sekina・InugamiKIra/Fujimishobou/Shin Hekiyou Gakuen Seitokai