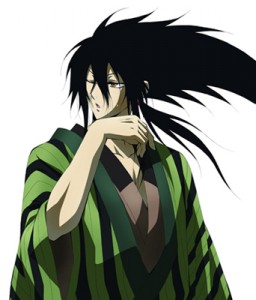 Nura:Rise of the Yokai Clan`s radio drama CD is now in under production! Episode of Nura Rihan and Kurotabo.
---
The radio drama CD has two versions that regular ver and Animate limit ver. Both versions will start selling from October 24.
This CD`s episode is about Kurodabo and Nura Rihan which is famous part at original comic. Koyasu Hideaki who works as story editor at 2nd season of "Nura:Rise of the Yokai Clan" worked at scenario.
Other information will coming up at official site of "Nura:Rise of the Yokai Clan" which is http://www.nuramago.jp/index2.html
Also check out the "Marine Entertainment" `s official twitter http://twitter.com/Marine_ENT
CD information
TV animation "Nura:Rise of the Yokai Clan" `s radio drama part2 "Edono Hana Kurodabou no Kai"
Date: schedule at 2012/10/24 (Wed)
Price: regular version \3150 (yen)
Animate version: \3500 (yen) (come with cast talk CD) ※sells at only animate.
Cast
Nura Rihan: voice by Keiji Fujiwara
Kurodabou: voice by Kousuke Toriumi
Kubinashi: voice by Takahiro Sakurai
Aotabou: voice by Hiroki Yasumoto
Nurarihyon: voice by Yusa Koji
Nura Rikuo: voice by Jun Fukuyama
And etc
Official site of "Nura:Rise of the Yokai Clan"
http://www.nuramago.jp/index2.html
"Marine Entertainment" `s official twitter (new informations)
© Shiibashi Hiroshi/Shueisha・NuraMakyou