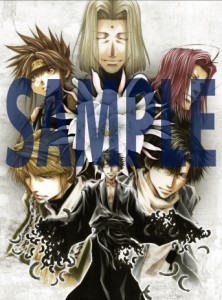 The Saiyuki RELOAD-burial-`s special DVD box`s illustration shows up!!Picture is designed by author Kazuya Minekura!!
---
Item Info
OVA Saiyuki RELOAD-burial- special price DVD box
Date: start selling from 2012/10/24 (Wed)
Price: \9975(yen)
Include 3 DVD
Total record time: 149 minutes (story+interview)
Manufactured by Frontier Works
Distributed by Geneon Universal Entertainment
<Description>
This OVA contains story of "Maisouhen" which is major episode in original comic.  Story is basically about first time contact between Sanzou, Goku, Hakkai, and Gojyou.
DVD box is settle to special price (cheap) due to 20 years anniversary of Minekura Kazuya`s debut and 10 years anniversary of Saiyuki Reload.
<Contains>
Full episode of OVA "Saiyuki RELOAD-burial-"`s and main cast`s interview video.
Episode1: Sanzou Houshi no Shou
<Extra Video>: Toshihiko Seki`s (Cast as Genjo Sanzou) interview.
Episode2: Son Goku no Shou
<Extra Video>: Souichirou Hoshi`s (cast as Son Goku) interview.
Episode3: Gojou & Hakkai no Shou
<Extra Video>: Hiroaki Hirata`s (cast as Sa Gojyou) and Akira Ishida`s (cast as Cho Hakkai) interview.
※This DVD record as same as SAIOVA-001~003 which was sold in past. Do not include the limited items which were attached at past one.
Main Staff
Director/ Kouichi Oohata  [known as (Bakuretu Tenshi) and (Hakaima Sadamitsu)]
Script/ Katsuyuki Sumisawa  [known as (Gensou Maden Saiyuki), (Naruto), and (Inuyasha)]
Character design/ YONZO
Main Cast
Genjyou Sanzou: Toshihiko Seki
Son Goku: Souichirou Hoshi
Sa Gojou: Hiroaki Hirata
Cho Hakkai: Akira Ishida
Official HP: http://saiyuki-ova.net/
© Minekura Kazuya・Ichijinsha/ OVA Saiyuki RELOAD Production Committee 2007