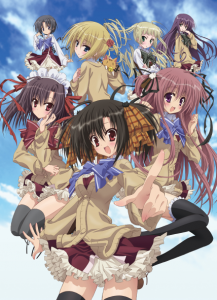 "Ebiten" the animation starts on 2012 October!
---
Surely better watch the "Ebiten" on this fall. Popular comedy anime become short web version to full scale version.
Anime description
Title: Ebiten Kouritsu Ebisugawa Koukou Tenmonbu
Start: Scheduled on 2012/10/03 (Wed)
TOKYO MX 10/3 (Wed) 1:00 at midnight
Tele Tama 10/7 (Sun) 0:30 at midnight
tvk 10/7 (Sun) 0:30 at midnight
BS11 10/5 (Fri) 3:00 at midnight
Chiba TV/ Gifu Housou/ Mie TV housou/ Sun TV/ TVQ Kyushu housou/ AT-X (has announcement of exact date to start)
※beginning date and broad cast station might be change.
Main Cast
Ituki Noya: CV Mariya Ise
Kyouko Todayama: CV Kana Asumi
Izumiko Todayama: CV Iori Nomizu
Hakata Kanamori: CV Asuka Nishi
Rikei Hiromatsu: CV Risako Murai
Hasumi Oba: CV Satomi Sato
Yuka Iseda: CV Midori Tukimiya
Shouko Omori: CV Kaori Naduka
And etc
Main Staff
Author and Script: Sukadi/ Drawing: Inugamikira (has serialization in monthly Comp Ace and Kadokawa Comic Ace)
Director: Hideki Okamoto
Story Editor: Yuko Kakihara
Character Design: Atsuko Watanabe
Director of Audiography: Jin Aketagawa
Music: Nonaka "Masa" Yuichi
Music Production: AMG MUSIC
Animation Production: AIC Classic
Anime Official site
Twitter
@Ebiten_Kyoko
©2012 Sukadi・ Inugamikira/ Kadokawa Shoten/ Ebisugawa Koukou Tenmonbu