Looking back on 30 exciting years of music! Megumi Ogata's 30th Anniversary LIVE "MISOGI 2022-NEXT STAGE!-" Report
---
(Repotama is an online magazine covering news on everything anime, and we have recently started trying out posting articles in English! If you enjoyed this article, we'd really appreciate it if you'd consider sharing it and following us on Twitter!)
Megumi Ogata's annual year-end live concert was held on December 17, 2022 (Sat) at the Kanda Myojin Hall in Tokyo. This year's event was held in commemoration of her 30th anniversary of activities, and many fans came running to celebrate.
After singing "Jikan Ryokou" on the wing of the stage, Ogata-san appeared wearing a muffler and a white costume made by her singer friend Yumi Kawamura, following after the band members. Taking center-stage, she performed "Far away~Mizuiro no Tori~". After pointing up and singing "HIKIGANE wo Hike", she then sped things up with "can't go back my mission"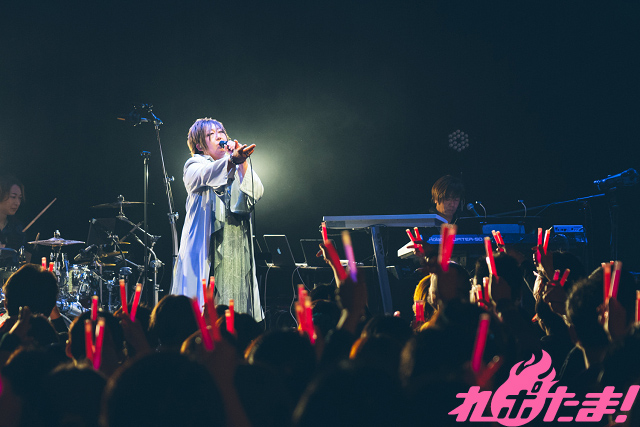 Speaking on the mic for the first time during the event, Ogata-san said with a smile, "We're still not supposed to shout too loudly in places like this, but I was able to hear all of your 'small screams (cheers) of the heart' either way". Making promises for the event, she said, "This will be a concert that both newcomers and fans since ancient times (laughs) will be able to enjoy. We'll be bringing out a lot of songs in the form of medleys, so we hope you'll love hearing them all!"
The theme for the event this time is "Looking back on the past 30 years with songs from the past and present."
"I think this next song is well-suited for time travel," she said, before singing "Time Leap". Next, with the overall theme of a "maturing love", she sang three songs in a row. Sitting in a chair and singing in a relaxed, boyish voice, she performed "Tanpopo", "Shoujikisa no Uchigawa", and "Aoi Houseki no Kimi".
Next up was the song "Coming Out". Breaking up the songs a bit, Mai Fuchigami, Shinya Takahashi, Ryota Osaka and Daichi Mizushima all talked with Ogata-san about "strange songs made in your early years." She blew a kiss at the end, which made the audience erupt into cheering.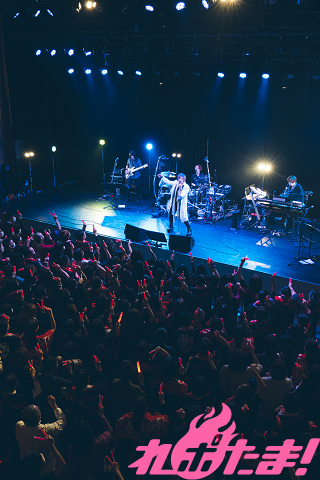 In connection with the previous song "Coming Out", things were talked about in the following member introductions that were never discussed before, relating to Ogata-san.
Hideki Aoyama on drums brought up a story involving Ogata-san and himself: "Ogata-san is really into alcohol, so one day when we were out, I offered her something strong to drink thinking that she would get messed up before anyone else. But I was shocked when she didn't get drunk at all."
Bassist TABOKUN told everyone "Actually, I don't have any hair below my neck (from shaving)," and Satoshi Iwase on the keyboard said "In the 26 years I've been working, I resolved to never receive an autograph from somebody I work with. But, when Aoyama-kun appeared on the cover of "Rhythm and Drum Magazine", I had him sign it (laughs).Finally, guitarist Toru Meki shared, "When Ogata-san invited me to her house, I ended up spilling soy sauce all over the nice carpet."
Giving a strained laugh to her visibly uncomfortable friends coming out with their stories, Ogata-san revealed, "I've kept it hidden until now, but I'm able to love people young and old, regardless of gender!" And her comment was met with great applause from the venue.
The commentary kept coming. Talking about one of her songs called "ENDLESS LOVE", Ogata-san said, "It's a sort of 'requiem' for me." Upon seeing the Kurama doll from YuYu Hakusho that was left in a house following the Great Hanshin-Awaji Earthquake of 1995, she thought to herself "We all have to say goodbye to each other eventually." Now, she hears her own song in a special way, thinking back to that experience.
Going further into this theme of "death", she mentioned the passing in July of her dear friend and colleague Kenichi Okuma, before performing "Kensetsu Tochuu no Biru no Ue kara", "sunrise,sunset" and "ENDLESS LOVE" all in succession. Even with her voice choking up at times, she sang with her heart for Okuma-san in heaven.
Receiving a warm applause, the commentary began again. "A lot of things happen in your 30's. So much so, that you end up making "cringe rock" songs," she said with a bitter laugh. Then, she showed off the best "cringe rock" performance with "Suna no Shiro", followed by the lights turning red before she sang "Akuma no kiss", "hit man", and "Kagami no Kuni no Alice".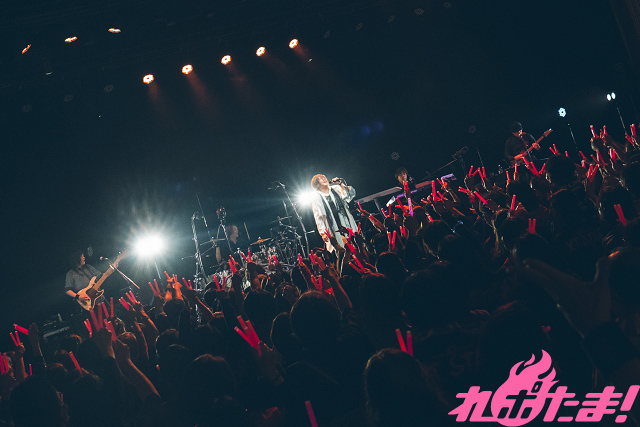 Before performing "Byo-do de ikimashou", Ogata-san bluntly told the audience, "This is a song that makes you wanna jump around, so get crazy!" Immediately, Iwase-san switched to playing a keytar, and made the sound of human voices come out of it whenever Aoyama-san hit the drums. The whole venue erupted into full-on revelry.
An important song was up next. Shunji Inoue, former president of Lantis, co-wrote "silver rain" with Ogata-san, and she said, "I don't know if I could have continued my career as a singer without him," before playing the piano version of that song. Amidst the applause, they moved on to perform "Hana", then "Happy no Tanjou" and finally "My dream=My will."
Even more lively an event than usual, they now reached the final block of the concert. They first performed "silent decade", which was made with a dear friend based on the desire to "make a theme song for a 2010 robot anime". Finally they gave enthusiastic performances of the Danganronpa songs "SAISEI rebuild" then "DANSA break", and the main part of the event drew to a close.
During the encore, Ogata-san and Meki-san took the stage. They performed "Santa Claus ni Naritai", the title song of their mini-album of the same name.
Bringing in the rest of the band members, Ogata-san talked about the performances from this event. Due to it being an anniversary concert a lot of songs were played, and she mentioned that during rehearsal she thought "I might not be able to sing all of these." But with a smile, she also said "But when I got to see everyone's faces like this, I was somehow able to pull it off!"
Next, she talked about the importance of being in the same place and spending time with everyone: "I think concerts are an 'exchange of energy'. It seems important that we share the same space together. I think that hasn't changed since before the pandemic!"
"We won't stop working hard to create performances that will fire you up!" She shouted to the audience, before grabbing a towel and performing "freedom", "Try Out, Go On" and "Boku wo Hanate", before the five of them left the stage. And with that, the event ended… but to everyone's surprise, a double encore was up next!
Ogata-san and the others took the stage one more time and were greeted with an outstanding applause. "Let's all raise our fists in the air and get so fired up that our muscles are sore tomorrow!" She said, before they gave a passionate performance of "NEXT STAGE". Finally, the nearly 3-hour concert drew to a close.
On the day of the concert, in addition to the previously announced "Anime Song Cover-Mini Album 'Animeg. 30th'" (on sale Wednesday, February 15, 2023), it was also announced that a "Solo Reading Project" will be held in Daikanyama, Tokyo at a venue called "Haretara Sora ni Mame Maite" from January to March. More are getting announced all the time so we hope you'll look forward to all of Megumi Ogata's 30th anniversary plans.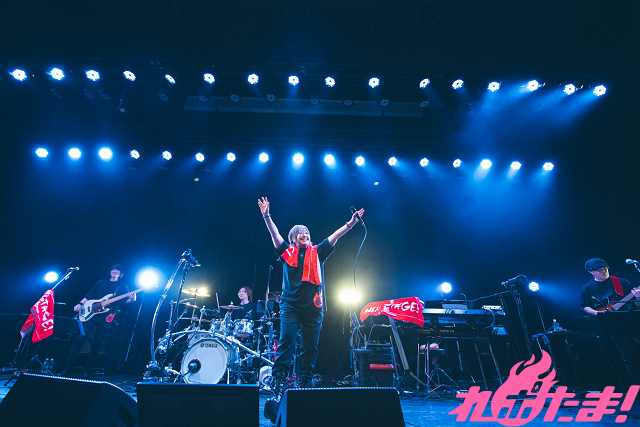 <Reporter / Dandy Saeki・Photos / Hajime Ohba・Article wording (editing) by Repotama! editorial department>
☆Please see below for a list of photos.
●Megumi Ogata Official Site
https://emou.net/
●Megumi Ogata Official Twitter
https://twitter.com/Megumi_Ogata
●Lantis Website
https://www.lantis.jp/artist/ogatamegumi/disco.html
●Lantis Twitter
https://twitter.com/lantis_staff