A duet with Takuma Terashima! Interview with Akane Kumada following the release of her single "VISIONS (feat. Takuma Terashima)"
---
(Repotama is an online magazine covering news on everything anime, and we have recently started trying out posting articles in English! If you enjoyed this article, we'd really appreciate it if you'd consider sharing it and following us on Twitter!)
Akane Kumada's single was released digitally on October 28 (Fri)! The single is the new theme song for the popular mobile game SLIME – ISEKAI Memories. Featuring Takuma Terashima, this catchy new theme captures the feeling of the series with two powerful singing voices.
This time, we asked Kumada-san, who finished her memorable first solo live concert in June, to look back on the summer event and the duet she performed.
―Your first solo live performance "When the World Clears Up Again" was held at the Science Hall in the Science Museum in Tokyo. I think it ended up being a milestone performance for you, but could you look back on this event for us?
Akane Kumada: I had waited a long time for my own solo concert, and I still remember what it looked like being up on that stage. I performed around 15 songs and I had sung some of them many times before, but they all felt different performing them on stage. I was really happy to be able to sing and pour my heart into the lyrics for everyone who came out to see me.
I wasn't able to sing all of my songs, so I hope the day will come when I can sing those too. It's also long been my dream to be able to stand on stage at Nippon Budokan, too!
―Next, I'd like to ask you how you felt when you first heard about performing the duet song.
Kumada: I was surprised because I didn't expect to get the chance to sing another song for That Time I Got Reincarnated as a Slime. Previously, Terashima-san (Takuma Terashima) wrote the lyrics for "Brand new diary" which was the OP theme for The Slime Diaries: That Time I Got Reincarnated as a Slime, but this time it's "feat. Takuma Terashima".
"What will the composition be like?" I wondered excitedly.
―How was it when you actually sang it?
Kumada: Since the time he wrote the lyrics for "Brand new diary", I've had an absolute sense of trust in him, so I was able to entrust him with everything during the recording. Terashima-san was the first up for recording, so I was able to record everything smoothly after referring carefully to the rhythm and English parts of the lyrics.
―How did you find the lyrics that Terashima-san worked on?
Kumada: "Brand new diary" was characterized overall by its glittering, bright lyrics, but in "VISIONS (feat. Takuma Terashima)" the word "melancholy" appears near the beginning as well as a number of other words throughout that give the song a slightly gloomier feeling. I struggled to get to this point as an artist, and since some of the lyrics link directly to my own experiences I was really able to sympathize with it.
―The rapid-fire questions posed in the second chorus is a really memorable part.
Kumada: I really like this part. In addition to the lyrics that pushed me on, I also really enjoyed the dialogue with Terashima-san.
―I can see you and Terashima-san doing a duet on stage together.
Kumada: Actually, Terashima-san and I filmed a live video of us singing on stage together the other day! I saw the edited video for the first time today, and I was so happy with how cool it ended up looking.
―Could you tell us about an experience you had while shooting?
Kumada: I had a certain idea of how things might turn out beforehand, but once Terashima-san was next to me I felt that I could sing in a totally different way. It was here that I once again felt "If Terashima-san weren't here, the song just wouldn't be complete."
The choreography wasn't totally set in stone beforehand, so we shot it a few times while posing however we wanted. I had so much fun that I thought to myself, "I want to go to a live venue and perform in front of everyone." (laughs)
I especially like the final pose we did, so I hope everyone will check it out!
―What kind of conversations did you have with Terashima-san on-site?
Kumada: I heard a lot about the thoughts he puts into lyrics. I was really happy when he told me that "I wanted to write lyrics that would reach the hearts of fans with you Kumada-san singing," while conveying the atmosphere of 'Tensura'. He also said that "I want to sing in front of an audience together someday," and I was so touched!
―I heard that the character you play in the anime, Eren, was implemented in SLIME – ISEKAI Memories recently.
Kumada: That's correct! I've been wishing for a long time "Please let her be in the game," and my wish finally came true! Eren-chan was my very first character I played in anime, so I was doubly happy to have her in the game now too.
The characters in this series generally refer to Rimuru (the main character) as "Rimuru-sama", but Eren-chan calls him "Rimuru-san". I wanted to convey the "closeness" between the two, so I performed with that in mind.
By the way, the amount of voice dialogue you can hear increases with your "bond level" (or level of friendship), so please play the game a lot!
―That Time I Got Reincarnated as a Slime The Movie: Scarlet Bond will be released on Friday, November 25.
Kumada: Actually, Eren-chan doesn't appear in the movie…… (bitter laugh)
So I went up there and asked "Please let me be an ambassador for the movie's promotion!" (laughs)
I'm probably going to be seeing the movie at the same time the fans do, but putting it a different way, that means I get to look forward to it just as much as everyone else. I feel like I've somehow gained something. (laughs)
―Please tell us about your upcoming plans.
Kumada: It's been decided that I'll be performing at "Kyo Premium Live 2022" at the ROHM Theatre Kyoto Main Hall on December 11 (Sun). I got to appear last year so I'm really happy to be able to do it again! I like matcha, but I've never gotten the opportunity to try authentic matcha sweets… They might be twice as cold in winter (laughs) but I really want to try them out. Additionally on December 24 (Sat) at the Tachikawa Stage Garden in Tokyo, I'll be appearing at Anime JAM 2022 where they feature the most talked about anime from TV Tokyo, so please look forward to it!
―Finally, please give us one more message.
Kumada: I really hope that our new song will bring excitement to everyone who plays the game. Also, if everyone who watches the live video says "I want to see Terashima-san and Kumada on stage together," and this support helped make such a live event actually happen, I would be so happy!
【Distribution Overview】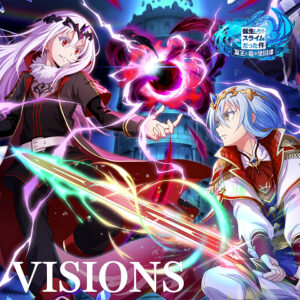 Smartphone game app "SLIME – ISEKAI Memories" Theme Song 2nd "VISIONS (feat. Takuma Terashima)"
Released on October 28, 2022 (Fri)
Lyrics: Takuma Terashima Composition・Arrangement: R・O・N
Song: Akane Kumada
【CD Overview】
『That Time I Got Reincarnated as a Slime The Movie: Scarlet Bond』Theme Song・Insert Song Album "Eien no Kizuna"
Release date: November 25 (Fri)
Artists: MindaRyn / TRUE / STEREO DIVE FOUNDATION / Akane Kumada / Rimuru (CV: Miho Okasaki), Satoru Mikami (CV: Takuma Terashima)
【Standard Edition】
Price: 2,420 yen (tax included)
【Limited Circulation Edition (drama CD included) 】
Price: 3,300 yen (tax included)
【Live Overview】
"Kyo Premium Live 2022"
December 9, 2022 (Fri) Open 18:15 / Start 19:00
December 10 (Sat) Open 14:15 / Start 15:00
December 11 (Sun) Open 14:15 / Start15:00
【Kyoto】ROHM Theatre Kyoto Main Hall
●Live Event Official Site
https://miyako-premiumlive.jp/
【Event Overview】
「Anime JAM 2022」
December 24, 2022 (Sat)
【Tokyo】Tachikawa Stage Garden
Open 13:30 / Start 14:30
Venue: Tachikawa Stage Garden
※Please note that the performance date and time are subject to change.
●Event Official Site
https://anime-jam.com/
●Akane Kumada Official Site
https://kumaka.jp
●Akane Kumada Official Twitter
https://twitter.com/official_kumaka
●Akane Kumada Official Instagram
https://www.instagram.com/kumadakane_official/
●Akane Kumada Official YouTube
https://www.youtube.com/channel/UCM_5BE5ckx_PQdYcBRkuMhg/featured
【Present】(please note: applications from outside Japan are not available)
Kumada-san's autograph on special coloured paper will be presented to one person!
Those who wish to apply are asked to please follow the Repotama! Official Twitter @repotama (https://twitter.com/repotama/) and retweet the tweet of this article. We will contact the winner via DM.
Application period: until November 25 (Fri) 2022 at 23:59 JST
(C)Taiki Kawakami・Fuse・KODANSHA/Tensura Production Committee
(C)Shiba・Fuse・KODANSHA/Tensura Nikki Production Committee
(C)Bandai Namco Entertainment Inc. Developed by WFS