Making a firm decision, Michio sets foot in the bandit stronghold! TV anime「Isekai Meikyuu de Harem wo」episode 3 synopsis, scene previews and video preview released! New character info has also been revealed!
---
(Repotama is an online magazine covering news on everything anime, and we have recently started trying out posting articles in English! If you enjoyed this article, we'd really appreciate it if you'd consider sharing it and following us on Twitter!)
This isekai harem fantasy written by Soganoshachi and manga by Issei Hyouju (Shonen Ace) receives a long-awaited anime adaptation!
The TV anime「Isekai Meikyuu de Harem wo」began airing on July 6 (Wed) 2022 via AT-X and others.
This time, the synopsis and scene previews for episode 3 have been released.
New character info has also been revealed.
Episode 3 "Acquisition"
Michio is hunting down bandits, and in order to receive his reward he searches for his mark in the city at night.
It isn't difficult to track down bandits with his skills, but either way bandits are still human beings. Michio feels conflicted over trading human life for money and fears the approaching reality of having to bring his target down.
However, with the deadline fast approaching, Michio makes a firm decision and sets foot into the bandit stronghold!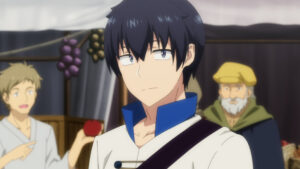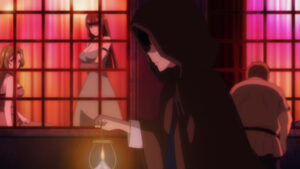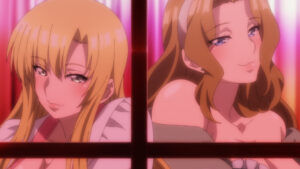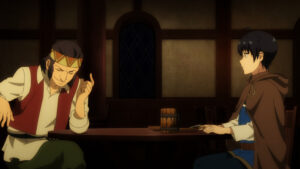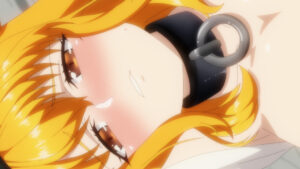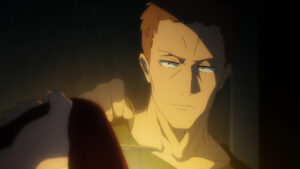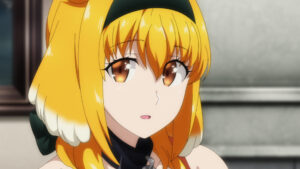 《Episode 3 Video Preview》
https://www.youtube.com/watch?v=nigc5f-spac
【New Character Info】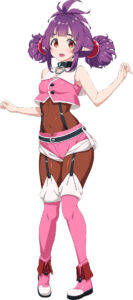 Sery (CV: Shiori Izawa)
A dwarven girl who was initially with Allan. Despite her small size, she is strong.
It is said that talented dwarves can become expert blacksmiths once they reach Level 10 in Explorer, but this girl can't do it…


Millia (CV: Honoka Kuroki)
A cat-girl with a distinct way of speaking, she was previously a merchant in the Imperial City.
She loves fish. Her job is "Ama", a type of diver.


Vesta (CV: Rina Honizumi)
A dragon-woman who was sold to Michio at an auction following a successful bid.
Excellent physical endurance and defense. Her job is "Dragoon".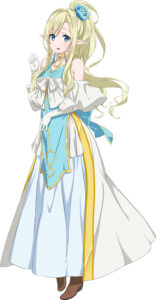 Rutina (CV: Mikako Izawa)
An elf and the eldest daughter of the Earl of Selmer, but was entrusted to Michio by the Duke of Harz after her father's downfall. Her job is "Sorcerer".
【Anime Overview】
New TV anime「Isekai Meikyuu de Harem wo」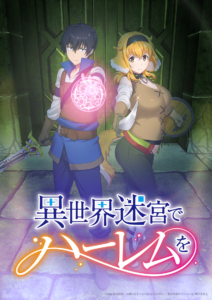 <STORY>
In this world, I'll live with you.
One day Michio Kaga, who was feeling despair for this world, discovered a strange online game.
Written on the game was an invitation, suggesting that if one had a hard time living in this world then they should be reborn in another one. What waited for him after character creation was an actual alternate world separate from reality.
Now in an alternate game-like world filled with a rich variety of skills and jobs, magic and dungeons, Michio begins his adventure with the power to freely reset his status in life.
<Broadcast/Streaming Info>
Broadcasting since July 6 (Wed) from AT-X and other stations!
【Broadcast Info】
AT-X (Very Harem ver.) : From July 6, airing every Wednesday from 23:30~ (JST)
(reruns: every Friday from 11:30~12:00, every Tuesday from 17:30~18:00)
TOKYO MX (TV Broadcast ver.) : airing every Wednesday from 25:35~ beginning July 6
BS11 (TV Broadcast ver.) : airing every Saturday from 27:00 beginning July 9
Nara Television (TV Broadcast ver.) : airing every Tuesday from 27:00 beginning July 12
Biwako Broadcasting (TV Broadcast ver.) : airing every Sunday from 26:30 beginning July 17 (episodes 1 and 2 will first be aired together)
【Streaming Info】
Now being distributed from d Anime Store and other services!
【Terrestrial Broadcasting・Fastest Delivery】
d Anime Store (TV Broadcast ver.) : Every Wednesday at 24:30 starting July 6, 2022
d Anime Store (Harem ver.) : Every Tuesday at 24:30 starting July 12, 2022
【General Distribution】(TV Broadcast ver.)
Airing sequentially every Wednesday at 24:30 beginning July 13, 2022!
Amazon Prime Video
FOD
Hulu
J:COM On-Demand Mega Pack
TELASA
U-NEXT
Animehoudai
Smart Pass Premium
Hikari TV
Bandai Channel
Milplus Mihoudai Pack Prime
ABEMA
GYAO!
Niconico
Amazon Video
GYAO! Store
HAPPY! Douga
music.jp
Rakuten TV
Crank In! Video
Video Market
Movie Full plus
※Broadcast Differences
(TV Broadcast ver.) …Video with restrictions on "visuals" and "dialogue"
(Harem ver.) … Video with some restrictions on "visuals" only
(Very Harem ver.) … Unedited video with no restrictions on "visuals" or "dialogue"
<STAFF>
Original Creator: Soganoshachi (Hero Bunko / Published by Shufunotomo Infos)
Character Draft: Shikidouji / Issei Hyouju
Director: Naoyuki Tatsuwa
Assistant Director: Hironori Aoyagi
Series Composition: Kurasumi Sunayama
Character Designer: Makoto Uno
Editor: Ayako Tan
Color Design: Mimiko Iyo
Art Setting: Junko Nagasawa
Art Director: Junko Nagasawa
Camera Director: Yoshihiro Sekiya
Music: Tomoki Kikuya
Music Production: KADOKAWA
Sound Director: Teruaki Sugawara
Sound Effects: Yasushi Inomata
Sound Production: Cloud22
Opening Theme: Shiori Mikami "Oath"
Ending Theme: Taku Yashiro / Kenta Miyake "Shinshi no Torihiki 60-Man Naal"
Animation Production: Passione
Production: 「Isekai Meikyuu de Harem wo」 Production Committee
<CAST>
Michio Kaga: Taku Yashiro
Roxanne: Shiori Mikami
Allan: Kenta Miyake
Sery: Shiori Izawa
Millia: Honoka Kuroki
Vesta: Rina Honizumi
Rutina: Mikako Izawa
<SITE>
The official site has been renewed and reopened!
New official information will be posted directly to the site at any time!
◆Official Site: https://isekai-harem.com
◆Official Twitter: @isekaiharem_ani  #IsekaiMeikyuu
(c)2022 Soganoshachi / Shufunotomo Infos・ KADOKAWA /「Isekai Meikyuu de Harem wo」Production Committee