TV anime『Onipan!』live event to be held on August 26 (Fri), and chant applications for a song by Noririn (CV. Miyu Tomita) are currently underway!
---
(Repotama is an online magazine covering news on everything anime, and we have recently started trying out posting articles in English! If you enjoyed this article, we'd really appreciate it if you'd consider sharing it and following us on Twitter!)
The original TV anime Onipan! is being broadcast daily via TV Tokyo's Oha Suta (Monday to Friday starting at 7:05am). Onipan! will be holding its first live event "Onipan! Fan Meeting & Live 2022 "Oni-san Kochira♪" and the part of the song "Tokimeki♡Wonderland" where the audience will chant along with Noririn (voiced by Miyu Tomita) will have its audio prepared in advance, and this will be accomplished with the help of a huge amount of fans ahead of time! Recordings sent by fans ahead of time with the chant will be used in the live event.
Additionally, the names (nicknames) of all applicants will be featured in the credits of the final video shown at the event. We hope you'll all apply!
【Application Info】
Noririn "Tokimeki♡Wonderland" Chant Applications
Reception Period: Until July 10 (Sun) at 23:59 JST
URL: https://form.run/@onipan-noririn
Chant section: Please pick one of the following four options for each application.
Dokkyun NoriNori NoririnPunch♪ Zukkyun KyuruKyuruKyuruKyururi-n
Dokkyun Perotto NoririnDesu♪ Zukkyun KyuruKyuruKyururinPappa
N.O.R.I.R.I.N Noririn! Ooo-Hai! Ooo-Hai! Love Get You!! ASo-re!
TehePero MeroMero Anata wo Bakkyun♪ SukiSuki Tokimeki High Tension♪ Love Love Love
【Points of Note】
・Please send the audio file with a size of 100MB or less and in mp3, m4a, or wav format.
・Please send only your own voice. If the audio received contains other sounds such as audio from "Tokimeki♡Wonderland" or mouse clicks please note that the audio may not be usable.
・Part of the audio may be edited without prior notice to the sender.
・Your cooperation in providing the audio free of charge is appreciated.
・Depending on the type of file and content included the file received may not be usable. Please also note that audio which contains content other than one of the specified options won't be able to be used.
・Please send the audio unedited.
・Please note that nicknames and the audio file itself cannot be changed or canceled after application.
・Please enter your nickname in 10 characters or less. Additionally, names which cannot be identified for containing corrupted characters (from emoji, kaomoji, special symbols, etc.) or names that are judged to be offensive to public decency may not be posted in the credits.
・It is recommended that applicants record their audio one person at a time.
・There is a possibility that the project may be canceled or have its contents changed.
・The audio file received by applicants may be used in articles or advertisements related to the event, on various social media, and products related to the event. Your understanding is appreciated.
【Event Overview】
"ONIPAN! Fan Meeting & Live 2022 『Oni-san Kochira♪』"
August 26th (Fri), 2022
【Tokyo】Ebisu The Garden Hall
Venue open: 17:00
Start time: 18:00
Performance: "ONIPANS!" (Yume Nozaki/Mika Negishi/Kokona Nonaka)・Kaori Maeda・Miyu Tomita
MC: Hayashi Mori
【Ticket Price】
【Reserved Seat】¥5,500 (tax included)
【Onigashima Seat】¥8,800 (tax included) ※With included extras ※Planned sales sold out
Ticket Release Date: July 16 (Sat)
【CD Overview】
"ONIPAPAPAN!PAN!"
Now on sale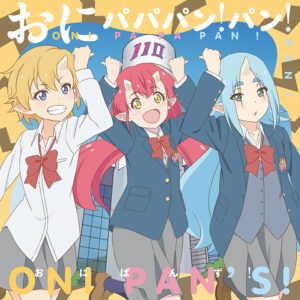 ▼ONIPANS! disc (CD+Booklet+"ONIPANS!"Cast Acrylic Stand)
Price: ¥4,200-(tax included)
Part number: ASCU-6116
※ASMART Limited Release
▼Standard disc (CD+Booklet)
Price: ¥1,800-(tax included)
Part number: ASCU-6115
【Contents of CD Recording】Included in the ONIPANS! disc and the standard disc
M-1: "ONIPAPAPAN!PAN!"/"ONIPANS!"(Anime『Onipan!』Theme Songs)
Lyrics: Yuki Tsujimura, Composition・Arrangement: Yuki Tsujimura/Ken Ito
M-2: Theme Songs②
M-3: Insert song from the story
Lyrics: RT2 / Composition・Arrangement: Akira Kabe
【Specifications】Included in both the ONIPANS! disc and the standard disc.
Booklet: Mini photo collection filled with the charm of the 3 cast members
Jacket: Anime『ONIPAN!』WIT STUDIO Specially Commissioned Illustration
【Anime Overview】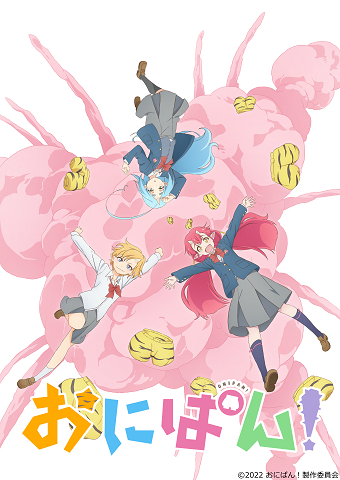 『Onipan!』
Broadcasts daily via the TV Tokyo series "Oha Suta" from Monday-Friday at 7:05!
<STAFF>
Original Creator★ONIPAN project
Original Concept・Original Work Supervision★Norihiro Naganuma
Onikko Character Design★Tomari
Director★Masahiko Ohta
Assistant Director★Junichiro Hashiguchi
Series Composition★Takashi Aoshima
Character Designer・Chief Key Animation Supervisor★Ryuta Yanagi
Art Director★Shunsuke Suzuki
3DCG Director★Shigenori Hirosumi
Color Design★Arisa Komatsu
Camera Director★Shinji Tonsho
Editor★Megumi Onodera
Music Director★Yasunori Ebina
Effects★Naoto Yamatani
Recording★Yoshinori Tsurumaki
Music★Yasuhiro Misawa
Animation Production★WIT STUDIO
Planning Cooperation★AAO Project
<CAST>
Tsutsuji★Yume Nozaki
Himawari★Mika Negishi
Tsuyukusa★Kokona Nonaka
Momo Momozono★Kaori Maeda
Noriko Issun★Miyu Tomita
Kuma★Kikuko Inoue
●『ONIPANS!』 Official Twitter
@ONIPANSofficial
●『ONIPANS!』 Official TikTok
@onipansofficial
●Anime 『ONIPAN!』 Official Site
https://onipan.com
●Anime 『ONIPAN!』 Official Twitter
@tv_anime_onipan
Recommended hashtags: #Onipan
(C)2022 ONIPAN! Production Committee