The three actors discuss the series in detail! Interview with Aoashi anime stars Wataru Kato (Jun Marchis Asari), Kentaro Kumagai (Ryuichi Takeshima) and Junya Enoki (Yuma Motoki)
---
(Repotama is an online magazine covering news on everything anime, and we have recently started trying out posting articles in English! If you enjoyed this article, we'd really appreciate it if you'd consider sharing it and following us on Twitter!)
The story is centered on a "J-League" youth team. AOASHI is a fully-fledged soccer anime that depicts the youthful struggle of high school students trying to go pro and began airing in April 2022! The main character, Ashito Aoi, struggles to earn his spot on the youth team Tokyo City Esperion FC. Aside from the matches, the series also delves into the characters' backgrounds and the greater story they all find themselves in.
This time, we got to interview three of the members of the Junior Youth Promotion Group Wataru Kato (Jun Marchis Asari), Kentaro Kumagai (Ryuichi Takeshima) and Junya Enoki (Yuma Motoki).
―Please tell us about how you felt when you got your role in the show.
Wataru Kato : I like the manga SHORT PEACE by this work's original author Yugo Kobayashi, and I was even involved in my own radio drama with my fellow voice actors a number of years ago. I thought "This has gotta be fate," and I was really happy.
Kentaro Kumagai : I played soccer in elementary and junior high school so I had thought to myself "I hope I can appear in a soccer anime someday," and I was also a defender just like Takeshima. I hoped to myself that I would be able to play my part passionately while remembering those days from my past.
Junya Enoki : When I was reading the original work I was really captivated by it, so I was really happy when I found out I got the part. There are a lot of players in soccer games, so I became curious how they would be drawn out in an anime.
―Please give us your impressions of the work.
Kato : I have an inward-looking personality and I like to stop and think about a lot of things by myself, but Kobayashi-sensei gives me inspiration in his series. I learned a lot from AOASHI!
Kumagai : There were some parts I could empathize with since I played soccer as a kid, but there are a lot of key differences between "soccer club in school" and "youth soccer". These players who were raised on youth soccer exhibit a sort of raw energy that was lacking in my time playing soccer as a club activity, and I was moved when I read the story.
Enoki : I found it really powerful how they dealt with life and problems that weren't limited to just soccer. Reading the original work was really intense.
―Please tell us about the characters you each played, as well as your impressions from playing your roles.
Kato : I think that Asari competes with Ashito over their differing outlooks on their sport, and is also a person who stirs up drama between the selection and promotion groups. He looks like someone who would be popular with women, but he doesn't react much to being cheered and also takes his game very seriously, so I'm intentionally being somewhat stoic in my performance.
Kumagai : Although it goes against his flashy, red-haired regal appearance, when my character explains something to Ashito his intelligent nature shines. There is a calm, careful attitude buried in his passionate heart and I think he has the skills necessary to be a "defense guy" so I play my role with that in mind.
Enoki : Unlike Ashito, Motoki is advancing in part of an elite course, so I think he has not only the skills but also a level of nobility. He speaks in an incomprehensible dialect when it comes to anything that doesn't have to do with soccer, and that really stands out for his character. I didn't receive any specific instruction on how to play this dialect, so I've been able to play him as I see fit.
―Aside from the ones you played, what are some other characters that have caught your attention?
Kumagai : Saying it from the standpoint of someone playing Takeshima, it would have to be Keiji Togashi (played by Taku Yashiro). The two of them are in the same position I think. Even if the two of them are incompatible as individuals they still need to cooperate as teammates, so I hope everyone pays attention to what sort of relationship they build with each other.
Enoki : It's Anri Kaido (played by Reina Ueda) for me. She's the daughter of the president of the company Kaido Denki, which is the parent company of Tokyo City Esperion FC that these players belong to. I hope everyone will check out the story for more details, but she plays quite an important role for Motoki.
Kato : I've gotta go with Ashito. I can't say it yet because it would be a spoiler, but the relationship between Asari and Ashito is really important for the story, so please pay close attention to see how their relationship develops.
―I hear that Koki Osuzu-san, the voice of Ashito, was in the leading role for the very first time with this series. What are your thoughts on that?
Kato : I was able to talk with him after the dubbing, but Ashito is friendly and easily excited and he was really noisy in his performance. (laughs)
Kumagai : I got to talk to him for the first time during dubbing the other day. We didn't have much time to talk, but I was happy when he rushed over and said "I finally got to meet you!"
Enoki : This is touching on what Kato-kun mentioned, but he has a friendly disposition like Ashito and doesn't hesitate to talk to people. I once had a meal with Chikahiro Kobayashi-san, the voice of the youth team director Tatsuya Fukuda, Kato-kun and also Osuzu-san, and I remember that we all got along well.
Kato : It's still hard to find many opportunities to go out to eat with people, but I'm glad that we were able to deepen our connection with each other that time. I'm thankful to him!
―This story is centered on the vitality of youth, but is there anything that you can relate to from the story in your current life and work?
Kato : The only thing that matters with soccer players is if they're able to cooperate closely with the other members on their team. I think that the work of voice actors is really similar, since it has to be carried out by matching your performance with the others you're working with.
Kumagai : There are only 22 players total on the pitch at one time, including the opposing team. I think that the audition process to be able to act as a voice actor is similar to what the players have to go through to be selected and then make the starting lineup before they can finally play in the game.
Enoki : The phrase "Man is no more than a reed, the weakest in nature. But he is a thinking reed," appears in this story, but I think in my work it's safe to say that "If I don't think things through properly, people will notice." I have to keep that in mind and not lose heart!
―Finally, please give us all a message.
Kato : The tempo and way the story is communicated is different from the original work, and I think that's one thing that makes it appealing. If you watch the anime and think "This is good!" I hope you'll check out the original story too. Thank you very much!
Kumagai : Again, as somebody who used to chase the ball around in the soccer club at school, I'm looking forward personally to seeing how the soccer match scenes are shown. I'll play my role with passion! I hope you all really enjoy the story.
Enoki : It's a work that's charged with energy, so I'm playing my part to the fullest every time so that nobody thinks my character is any different in the anime compared to the manga. Please enjoy the results of our serious efforts!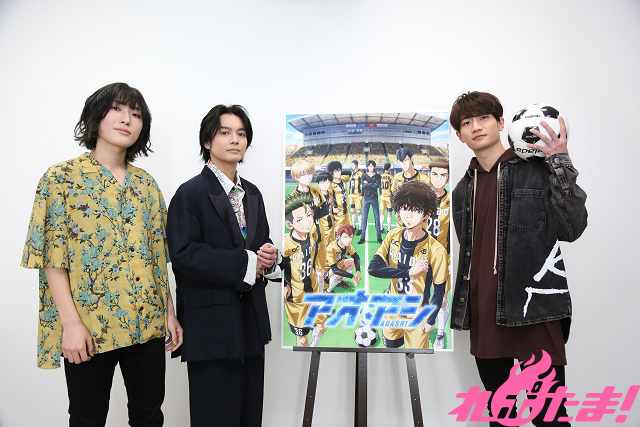 <Interviewer・Photos / Dandy Saeki・Article wording (editing) by Repotama! editorial department>
【Anime Overview】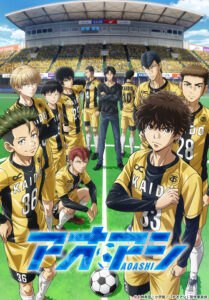 『AOASHI』
<Broadcast Information>
Every Saturday starting at 6:25pm via NHK E-Tele
<Streaming Information>
Episodes distributed sequentially every Sunday at midnight
Bandai Channel, Amazon Prime Video, U-NEXT, d Anime Store, dTV, Hulu, TELASA, J: COM On Demand Mega Pack, milplus, Smart Pass Premium, Disney Plus, NETFLIX, Hikari TV, Animehodai, FOD, Flat Douga, Google Play, Video Market, GYAO! Store, DMM.com, music.jp, RakutenTV, HAPPY! Video, Movie Full Plus
<Introduction>
"I'll take you to see the world."
Ashito Aoi is a junior high school student living in Ehime, and is an ace in his small soccer club.
On the day of the final tournament in junior high school that his team lost, Ashito goes out running at the beach to help dispel his feelings of regret, when he meets a man who was watching the game.
The man in question–Tatsuya Fukuda, director of the "Youth Team", an organization dedicated to helping aspiring athletes in high school, as part of the J-League's leading club called the Tokyo City Esperion FC.
Although unrefined, Fukuda sees unlimited potential in the especially talented Ashito, and talks to him about what he has in mind.
"I am a man of ambition. With this club, the world is in my hands. It is not a mere stepping stone into the world, my club is the world. And my ambition is held up solely by the strength of youth."
At the invitation of Fukuda, Ashito decides to go to Tokyo to take part in the selection process.
AOASHI, always front-and-center in the world of soccer manga, has finally received its TV anime adaptation!
Frustration, growth, friendship… Everything to do with youth is here!
<STAFF>
Original Creator: Yugo Kobayashi "AOASHI" (Serialized in Shogakukan "Big Comic spirits" )
Director: Akira Sato
Series Composition: Masahiro Yokotani
Assistant Director: Jun Soga
Soccer Editorial Supervision: Kenichi Takeshita, Jun Soga, Kenji Iizuka
Character Designers: Manabu Nakatake, Toshie Kawamura, Asuka Yamaguchi, Saki Hasegawa
Sub Character Designers: Naho Seike, Yukiko Watabe, Miho Daidouji, Eisuke Shirai, Masayuki Honda
Chief Key Animation Supervisors: Manabu Nakatake, Asuka Yamaguchi
Prop Design: Arisa Ito, Miori Tsuzaka
Color Design: Emiko Ueno
Art Directors: Tsukasa Kakizakai, Yusuke Takeda
Art Setting: Kazushige Kanehira, Osamu Ii
2D works: Akiko Hamanaka
Previsualization: Atsunori Maeshima
3D: Shiguma Morimoto
Camera Director: Maiko Imazeki
Editor: Yoshinori Murakami
Sound Director: Shoji Hata
Music: Masaru Yokoyama
Animation Production: Production I.G
<CAST>
Ashito Aoi:Koki Osuzu
Eisaku Otomo:Tatsumaru Tachibana
Soichiro Tachibana:Seiichirou Yamashita
Keiji Togashi:Taku Yashiro
Kanpei Kuroda:Shun Horie
Jun Marchis Asari:Wataru Kato
Yuma Motoki:Junya Enoki
Ryuichi Takeshima:Kentaro Kumagai
Nagisa Akutsu:Shunsuke Takeuchi
Haruhisa Kuribayashi:Yuichiro Umehara
Taira Nakamura:Kensho Ono
Yoichi Kiriki:Koki Uchiyama
Eita Takasugi:Makoto Furukawa
Kenta Yoshitsune:Kazuyuki Okitsu
Hana Ichijo:Maki Kawase
Anri Kaido:Reina Ueda
Aoi Kaneko:Mikako Komatsu
Tatsuya Fukuda:Chikahiro Kobayashi
Nozomi Date:Hiroki Yasumoto
Noriko Aoi:Mie Sonozaki
Shun Aoi:Yoshiki Nakajima
Others
<Theme song>
Opening Theme: [Alexandros] "Mushinpakusu"
Ending Theme: RinNE "Blue Diary"
Official Site: https://aoashi-pr.com
Official Twitter: https://aoashi-pr.com
(C) Yugo Kobayashi・Shougakukan/ "AOASHI" Production Committee
【Present】(please note: applications from outside Japan are not available)
Autographs from the 3 voice actors on special coloured paper will be presented to one person!
Those who wish to apply are asked to please follow the Repotama! Official Twitter @repotama(https://twitter.com/repotama/)and retweet the tweet of this article. We will contact the winner via DM.
Application period: until June 24 (Fri) 2022 at 23:59 JST