Aguri Ohnishi and Chiharu talk about their time at a training school! "Anata ni Agree presents Aguri Ohnishi's Birthday Event" (Part 2) Report
---
(Repotama is an online magazine covering news on everything anime, and we have recently started trying out posting articles in English! If you enjoyed this article, we'd really appreciate it if you'd consider sharing it and following us on Twitter!)
Variety show "Anata ni Agree" where voice actress Aguri Ohnishi visits various spots with guests is currently being distributed via voice talent label "PHONON". The stream of this event was held on May 22 (Sun). Celebrating Ohnishi-san's May 2nd birthday, guests with a connection to Ohnishi-san appeared at the event during Parts 1 and 2. Lots of activities were prepared for the event, and it was full of energy.
Chiharu-san, who studied acting at the same training school, appears in Part 2.
Ohnishi-san mentioned that "I was surprised in the past when I invited my voice actress friend over because of how many sausages she made," (lol) but at the event this time, the two of them enjoyed prepared hors d'oeuvres while they chatted as old friends.
They talked about various topics centered around their time in training school, including stories from the beginning such as "The manager who showed up got angry at us on the first day of lessons for how much we were chatting," or "I was jealous of Chiharu-san for how good she was at doing a boy's voice." Chiharu-san explained that "The instructor would assign roles to us based on the qualities of each student's voice."
Also, since Ohnishi-san was commuting to the school via Shinkansen from Nagoya where her parents' place was, it seems that the two of them didn't have many opportunities to eat together.
For Ohnishi-san, her favorite memory with Chiharu-san was at the Keyaki Hiroba Stage during 『Animelo Summer Live 2018 "OK!"』. She said that she was happy to "co-star" with her, despite being in different groups, and she said with a smile, "I'm really happy to co-star with her again!"
When talking about 3 shots taken with a mutual friend, Hina Sugata, they ended their free talk with a fun (?) "insider talk". Ohnishi-san said "There was a rumor at the training school that Chiharu-chan was the sister of (voice actress artist) Aimi-san, but I was too nervous to actually ask for myself." Chiharu-san brought up a story of her own: "When I first met Agupon  (Ohnishi-san), she started playing "Agupon rock-paper-scissors" with me out of nowhere, and I thought "Does she work at a maid cafe or something…?" and it really took me off guard." (laughs)
Next was the segment where they answered questions from the listeners. They were asked, "Has anything changed since training school finished? What hasn't changed?" and Ohnishi-san responded with "I usually feel very mature now, but whenever Chiharu-chan starts talking about something that I like I get all charged up, so that really hasn't changed." Chiharu-san responded with "Agupon's cute sides don't ever change!"
"What would you do if the two of you went out somewhere together?" was then asked, and Chiharu-san replied with great enthusiasm "Going to an arcade to play a dance game!" as well as "Arcade date."
The next segment featured a game where the two actresses' similarities were put to the test: "Check the bond between the two! Mind-to-Mind Game".
With the possible ranks being given at the end ranging from such as "strangers", "friends", and "best friends", the two were asked questions that began with the prompt "What comes to mind when you think of 'x'…?"
When asked "What's your favorite cut of meat?" Ohnishi-san answered "Beef tongue," and Chiharu-san answered "fatty pork". Of all things, the difference between them was first shown by the animals they picked (lol), but they both answered "Saizeriya" to "What do you think of when you hear 'family restaurant?" and also "small bean" to "favorite natto size?"
Also, to the question "If you could go to the future or the past, which would it be?" it seemed that they would give the same answer, and they did: the past.
Finally, they were asked to pick the highest quality kind of meat out of three possible options, with the two of them both enjoying meat seasoned simply with salt. Ohnishi-san guesses the answer perfectly! At the end of the game, the two of them had three matching answers, and were given the rank of "friends".
The event began to draw to a close at this point. Here, the staff gifted Ohnishi-san with a makeup set and a handwritten birthday card. From Chiharu-san, a "room fragrance" gift was presented. Ohnishi was delighted, saying with a smile "I like how fancy this looks! I want to relax at home with this!"
Finally, Ohnishi-san read out a letter filled with thankful feelings: Chiharu-san "I hope that everyone was able to see how close we are to each other at today's event. Please come to the next one, too, and I'll make sure we both have a great time! Let's go hang out in our free time as well!" and Chiharu smiled back at her friend in response.
【Comments from Ohnishi-san and Chiharu-san】
―Please give us your overall impressions of today's event.
Aguri Ohnishi : It took us back to the past and it was relaxing to look back on everything together.
Chiharu : It's like a dream to be able to appear at an event with Agupon like this, since I've known her well before I started my career!
―You talked about your time at training school without any filters, huh.
Ohnishi : I really remember people getting angry at me when I was there… but I really don't care about that anymore. (bitter laugh)
I don't usually get a lot of opportunities to just ramble about random topics, and I get the feeling that Chiharu-chan was also able to talk without interruption.
Chiharu : I was able to chat like I was just hanging out at a friend's house!
―There's a tent set up on stage, but do either of you have experience camping?
Ohnishi : I've only ever done camping as part of a school thing, so… so I can't say that I've ever put up a tent by myself.
Chiharu : I don't have much experience with that either. But at my outdoor school I went to, I remember being in charge of cutting vegetables for the curry we made.
Ohnishi : I was good at preparing rice!
Chiharu : I see! Let's try and make something together next time then!
―By the way, Chiharu-san mentioned during the program that she wanted to play a dance game together at an arcade.
Chiharu : I've brought it up but I've never actually played one… (bitter laugh)
Ohnishi : Wait, really? (laughs)
Chiharu : I wanted to see what it would look like watching you dance from the side… (laughs)
Ohnishi : What does that even mean? (laughs)
―Ohnishi-san guessed perfectly with the question about the finest cut of meat.
Ohnishi : I'm a woman who understands taste! (laughs)
Chiharu : The correct answer was Kobe beef, yeah. I wish I got that right, since that's where I'm from… The next time I go back home I'll go order some and practice my sense of refined taste.
―Chiharu-san gave you a "room fragrance" gift as a birthday present.
Chiharu : I've just been addicted to using it, so I thought "I need to get one for Agupon too!" before buying one for her.
Ohnishi : I'm so happy! Are you also someone who really considers the layout of their room? I want to go visit your place soon.
Chiharu : Of course! I've just recently cleaned up enough to have people over. (laughs)
We should get Hina-chan (Hina Suguta) to come too and we'll have a little party!
Ohnishi : I'm looking forward to that!
―And Ohnishi-san expressed her gratitude with a letter.
Ohnishi : I just wrote down my honest feelings. I'd like to go visit Chiharu-chan's place, but I'd also like to go somewhere else together too.
Chiharu : Yeah! And I'll also do my best to appear alongside Agupon at other events in the future!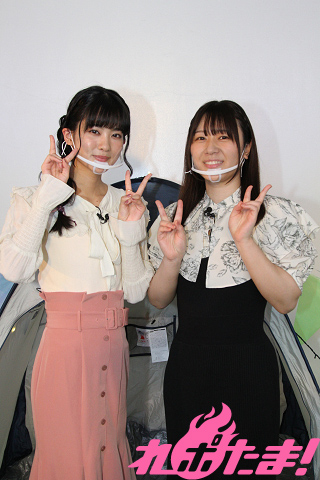 <Reporter・Photos / Dandy Saeki・Article wording (editing) by Repotama! editorial department>
【Program Overview】
「Aguri Ohnishi's 『Anata ni Agree』」
Now being distributed via voice talent label Phonon's channel!
【Present】(please note: applications from outside Japan are not available)
Autographs from both actresses on special coloured paper will be presented to one person!
Those who wish to apply are asked to please follow the Repotama! Official Twitter @repotama(https://twitter.com/repotama/)and retweet the tweet of this article. We will contact the winner via DM.
Application period: until June 10 (Fri) 2022 at 23:59 JST