Aguri Ohnishi takes over Kaori Ishihara's fan event!? "Anata ni Agree presents Aguri Ohnishi's Birthday Event" (Part 1) Report
---
(Repotama is an online magazine covering news on everything anime, and we have recently started trying out posting articles in English! If you enjoyed this article, we'd really appreciate it if you'd consider sharing it and following us on Twitter!)
Variety show "Anata ni Agree" where voice actress Aguri Ohnishi visits various spots with guests is currently being distributed via voice talent label "PHONON". The stream of this event was held on May 22 (Sun). Celebrating Ohnishi-san's May 2nd birthday, guests with a connection to Ohnishi-san appeared at the event during Parts 1 and 2. Lots of activities were prepared for the event, and it was full of energy.
Kaori Ishihara appeared as a guest during Part 1. Showing great admiration for Ishihara-san, Ohnishi-san said "I used to sing and dance the songs of YuiKaori (a unit composed of Yui Ogura and Kaori Ishihara) when I was a student, and watched all of the anime that you appeared in!"
Misuzu Yamada, a colleague working alongside Ohnishi-san, was the voice of the heavens (the moderator) at the event, and introduced the "Agupon-only Special Fan Event" which is currently being planned. The event will be held in such a way that Ohnishi-san will be able to enjoy it as a "Fan of Kaori Ishihara".
First of all, Ishihara-san introduced the OP theme "Cherish" of the anime Miss Shachiku and the Little Baby Ghost. She focused on its theme: "If you want to be able to care for someone, you have to take care of yourself first!"
Next, a segment where Ishihara-san is asked questions begins. Ohnishi-san took center-stage asking the questions here as well!
When she was asked "What do you pay attention to when singing?" she said "Being able to emphasize the feeling and meaning of the lyrics. Also, my tone of voice and the way I'm singing."
When she was next asked "You're always smiling, but what gives you such joy all the time?" She replied with "Probably getting to play with Mu-chan, my dog. I also get a lot of happiness from Japanese sweets, particularly daifuku!"
Ohnishi responded happily, saying "I also love strawberry daifuku! I'm glad we're the same there!"
Next, being asked the more girlish question "What do you pay attention to when you put on makeup?" she said "I like using a powder that gives my skin a certain shine, but I try to be careful with how much of it I use. I like reddening the area around my eyes!"
Immediately after she was asked "What are you going to eat for dinner?" and she replied to Ohnishi-san with "I want spicy curry! I'll tell you about a secret favorite place of mine later!"
Ohnishi looked overjoyed.
Next, Ishihara disappeared to "change clothes", and emerged again wearing something Ohnishi-san had prepared (a costume that matched with her own)!
During the "Exclusive Shooting Time", photos were taken on a Cheki instant camera using poses that Ohnishi-san came up with. She also begged Ishihara "Let me take a picture of it with my phone!"
Ishihara-san signed the Cheki photograph and handed it to Ohnishi. Ohnishi-san seemed to think "I feel bad for everyone tuning in…" while happily receiving it.
The photo session didn't end here, with the "Two-shot Cheki Photo Session" coming next and concluding with Ishihara-san giving her friend a hug. A perfect end to the segment!
Next, the photobook "Terminal" and "Cherish" CD "Handover Party" began. Every ten seconds or so when the conversation between fans would really spike, the staff had to come in and keep the line moving. (lol)
"I understand how everyone feels participating in the event…" Ohnishi-san said, after repeatedly making no attempt to keep things moving and just engage with those visiting.
A free talk segment that followed also went really well, and Ishihara-san presented a "very fashionable comb" as a birthday present. "I'll use this forever!" Ohnishi-san said, combing her hair.
Next, messages from the listeners were read out while eating birthday cake that the staff prepared. Ohnishi-san echoed Ishihara-san's "This is delicious!" and said that she liked hearing the high and low-pitched differences between the two of them saying the same thing, with zero hesitation in her comment.
Next, the listeners asked "Ishihara-san, could you say a line that you like?" and eventually they settled on asking her to say "Do your best at work!" Ohnishi-san appeared quite visibly impacted by Ishihara-san speaking such a love-filled line to her.
Sadly, the fun eventually had to come to an end. Finally, Ohnishi-san read aloud her letter that was addressed to Ishihara-san. "Finally… Could I call you Carrie-san (Ishihara-san's nickname) from now on?" Ohnishi asked, to which Ishihara-san said "Of course!" and Part 1 of the event drew to a close.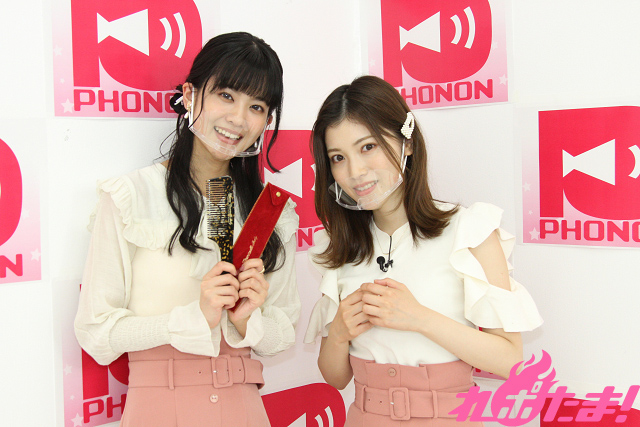 【Comments from Ohnishi-san and Ishikawa-san】
―Please tell us your impressions of the event.
Kaori Ishihara : I was happy to get invited to such a lovely birthday event for Aguri-chan! That alone was awesome, but getting to participate in fan events like the question segment and the "Handover Party" was also wonderful!
Aguri Ohnishi : I usually feel self-conscious participating in fan events so I don't get to do it very often, so I had fun and kind of misused my authority this time around. (laughs)
―I hear that your costumes were produced by Ohnishi-san.
Ohnishi : I went with something that Carrie-san wouldn't normally wear. I wanted to take clothes with the same color scheme from home and make the two sets look like a proper pair!
Ishihara : I was happy to have her make the decision for me, and it was a great opportunity for me to take on a new challenge!
―During the "Handover Party" there was a point where the staff had to intervene because Ohnishi-san was using too much time talking with the fans.
Ohnishi : When I thought "I'm finally getting close to the fans!" I was instantly returned to reality by the staff… 10 seconds is just short. (bitter laugh)
I was so absorbed in the conversations that I didn't even notice the staff. I've never felt like that before.
Ishihara : Yeah… This info might be helpful for any future "Handover Parties"! I sometimes interrupted people when they were speaking, so I've gotta reflect on that a bit. (bitter laugh)
―Ishihara-san gave you a "comb" as a present.
Ishihara : Apparently these are made by hand, one at a time by craftsmen in Switzerland, and no comb is the same as another. I chose a color that Aguri-chan can use even as she grows into adulthood!
Ohnishi : Thank you for thinking so carefully about it!
Ishihara : I remember so clearly when I responded to the clerk asking me for the recipient's name: "It's Aguri." It was so fun picking this out.
―Ohnishi-san gave you a heartfelt letter in return.
Ohnishi : I'm not good at writing out sentences, so I'm worried about whether my feelings were conveyed properly…
Ishihara : Of course I understood you, don't worry! When you said at the end "I have one last request," I got really excited and thought "I wonder what's coming next…?" (laughs)
Ohnishi : I'm sorry to have surprised you like that…! (laughs) But I'm really happy now to have official permission to call you "Carrie-san"!
Ishihara : I look forward to everything we'll do together in the future!
―THe program is centered on "Going to special places with guests", but is there a place you two would like to try going together?
Ishihara : First of all, I'd like to go to a cafe because our tastes in sweets and drinks are really similar. A cafe doesn't take any effort to go to either.
Ohnishi : I want to go to Sanrio Puroland. Actually, I've still never been there. I'm not good with rides that make you scream when you get on them, so if I go to a theme park I like to go on calm and fun rides.
Ishihara : I'm not so good with screaming rides either, so that's perfect. I want to have fun on a relaxing ride!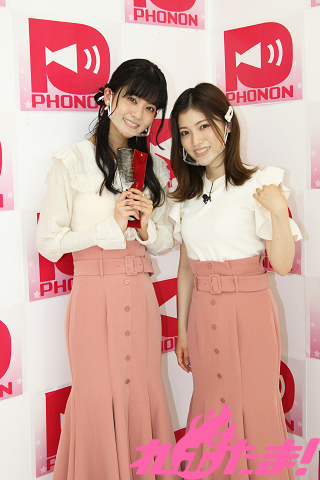 <Reporter・Photos / Dandy Saeki・Article wording (editing) by Repotama! editorial department>
【Program Overview】
「Aguri Ohnishi's 『Anata ni Agree』」
Now being distributed via voice talent label Phonon's channel!
【Present】(please note: applications from outside Japan are not available)
Autographs from both actresses on special coloured paper will be presented to one person!
Those who wish to apply are asked to please follow the Repotama! Official Twitter @repotama(https://twitter.com/repotama/)and retweet the tweet of this article. We will contact the winner via DM.
Application period: until June 10 (Fri) 2022 at 23:59 JST