TV Anime Yatogame-chan Kansatsu Nikki Season 4 Interview with General Director Hisayoshi Hirasawa
---
(Repotama is an online magazine covering news on everything anime, and we have recently started trying out posting articles in English! If you enjoyed this article, we'd really appreciate it if you'd consider sharing it and following us on Twitter!)
Yatogame-chan Kansatsu Nikki Season 4 is a TV anime set in the Tokai region and particularly Nagoya, and begins broadcasting in April 2022.
It's a slapstick comedy filled with love for Nagoya and featuring the heroine Yatogame-chan alongside various other unique characters. Our expectations for this series powering up in the 4th season are rising, and we interviewed Mr. Hisayoshi Hirasawa, the general director.
This interview was held as a joint project between Akiba Research Institute and the Repotama Editorial Department!
Both groups asked Director Hirasawa a lot of questions about his thoughts on this season, behind-the-scenes stories from production, and his future prospects for the series.
【Interview with General Director Hirasawa】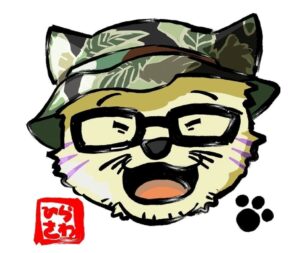 【From Akiba Research Institute】
―What sorts of reactions have there been for this work which is now kicking off a new season?
General Director Hirasawa : A lot of surprised reactions and congratulations were given to us for a "local work" to make it to a fourth season.
―This show has often brought up local stories by using real photos and video, but what kind of reaction have you received from the viewers?
Hirasawa : Hmm, yeah… "Isn't this just a photo!?" is something we've gotten a lot of, but generally I think the reception to it has been positive. It's a fictional world within an anime, but I'm really happy how Yatogame-chan and her friends are able to get closer to the audience by linking their world to ours with actual backgrounds and photos.
―I think the cast has gotten pretty used to using the Ngoya dialect and a general knowledge of the local culture. Please tell us about any memorable stories made during the recording process that were unique to the 4th season, including acting directions.

Hirasawa : The recording was all carried out smoothly and concluded without any significant issues. This has been true since the first season, but I get the feeling that our voice talents have been preparing themselves in advance for recording despite the short overall length of the anime itself. I'm grateful how everyone came prepared to speak the dialect of their character.
Also, this time, the mother of junior high school student Serura Dobe will make an appearance, but she'll be performed in a way different from the original work. I talked to Ando-sensei about it before adopting it, but I think she'll be a very good character unique to the anime.
I don't know if the cast will have been revealed by the time this interview is posted, but I hope everyone will look forward to the airing!
―I think that participating in a Yatogame-chan event would be a lot of fun, but it's pretty difficult to hold an in-person event right now. What is the current situation for activities aside from the anime itself?
Hirasawa : There are a lot of things outside of events and anime that I don't know about, but it's fun and encouraging to meet the fans and viewers whenever I can appear at an event. So, I hope that there will be more and more opportunities for this in the future. The number of characters who come from outside the Tokai region is becoming greater, and it would be great if we could have fan meetup-like events for each area even on a smaller scale.
Additionally, in this season, we're trying out things we haven't before such as promo-oriented auditions using SHOWROOM as well as crowdfunding. It would be wonderful if lots of people could find Yatogame-chan through one of these kinds of projects.
―Please tell us about any future aspirations for Yatogame-chan.
Hirasawa : Aspirations, huh…? Well, it's not something we can achieve just by hoping for it, but I want us to bring to life more scenes from the original work that haven't been animated yet due to the scale of our production. There are lots of great stories in there. I think fans of the original work could think of plenty right off the bat.
Also, of course, I want to have a Season 5, and more beyond that for the series to continue. We need help from all the fans to make this a reality, so we hope you'll keep supporting us long into the future!
【From the Repotama Editorial Department】
―What sorts of things did you keep in mind during production as the general director of the Yatogame-chan series?
Hirasawa : This is true for everything I've worked on, but I always make it a point to keep the series as close in line with the original work as possible, and not deviate from the soul of the original work. I also strive to be able to add drama to the story using the expressive medium of animation, though there are constraints on budget and scale. The original works are full of various charms and ideas, so I'm always trying to determine what parts I should divert resources toward in order to bring them to life, and to be able to execute that process well.
―What things did you keep in mind with this work specifically?
Hirasawa : First off, regarding direction in production, all of that was already completed because this is the fourth season of this series. So I talked to chief director Higashi (Ryosuke)-kun and decided to keep the same overall method of production as in previous seasons. I also was very intentional about introducing as many characters as possible. This was made possible by consulting with Masaki Ando-sensei.
―I get the feeling that you visited Nagoya and the Tokai region in general both privately and during production, but what is your impression of the area? Did you get a different feel for the place every time you went?
Hirasawa : Yes, well… I've been visiting Aichi and especially Nagoya an awful lot, so my impression of the place doesn't change too much when I go. (laughs) I'm always enjoying myself there.
Also, I got to visit Gifu on a trip, and I'm hoping to visit Mie and Shizuoka as well and discover all kinds of great things in those places. I'd love to go as part of an event!
―Have you received any feedback on production after visiting the real-life locations for this work?
Hirasawa : Not just for this work, but of course we've had this as well. One easy to understand thing here is the art we've used for the backgrounds. Besides that, it's the general sense of how people are in the place you visit. For a specific example, take the anime Haitai Nanafa that I was the producer of. The stage is set in Okinawa, but the "sunshine" of the place really helped me understand how to build the world in the story. I think it's great to get a sense of the atmosphere of the place by actually going there in person.
For Yatogame-chan, the original work gives us a great atmosphere to work with already, and most of all Ando-sensei and the Aichi Television staff are all in Nagoya, so I've felt that getting information from the local people has been more than enough. We've also received help with location hunting.
―Please give us some highlights from this work.
Hirasawa : First of all, please pay close attention to the three student council members that will appear this season!
Also, in this season, we are packing a lot of stories and lines into each episode. I want everyone to enjoy the production behind all this and the wonderful performances of the voice talent team. We look forward to your attention and viewing!
【Anime Overview】
『Yatogame-chan Kansatsu Nikki』 Season 4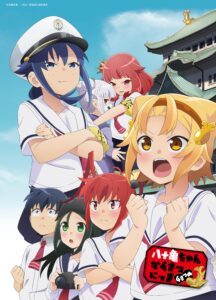 A high school girl who spends a lot of time with her grandmother and has an unvarnished Nagoya dialect named Monaka Yatogame (voiced by Haruka Tomatsu), a boy from Tokyo named Kaito Jin (voiced by Mitsuhiro Ichiki), a girl from Gifu prefecture who attends the same school as Monaka named Mai Tadakusa (voiced by Yuki Wakai) and finally a girl from Mie prefecture named Yanna Sasatsu (voiced by Mikako Komatsu). Through these four highly distinct characters, this is a comedy where you can experience the dialect, culture and unique traits of Nagoya and the Chuukyo area!
Also, in seasons 2 and 3, Shizuoka prefecture native Lala Shonai (voiced by Yoshino Nanjo), Shiharu Itemae from Osaka prefecture (voiced by Honoka Kuroki), and Kyoto native Nanaho Koshiyasu (voiced by Ayasa Ito) all joined the cast of characters! Starting in the Chuukyo area, the backgrounds of the characters have expanded to include the Kinki region as well.
Finally, in season 4 of Yatogame-chan Kansatsu Nikki, the charm and unique culture of Nagoya city, the Tokai region and other areas will all continue to be conveyed through various "loving insults".
【Broadcast information】
Broadcasting begins April 2nd (Sat)
TV Aichi from April 2nd, every Saturday from 20:54-21:00
BS11 from April 3rd, every Sunday from 21:55-22:00
AT-X from April 7th, every Thursday from 22:00-22:05
(Repeat Broadcasts: every Monday from 10:00-10:05/ every Wednesday from 16:00-16:05)
※Please note that the first airing will be a special announcement broadcast. The anime's first episode will air in the 2nd week.
【Staff】
Original: "Yatogame-chan Kansatsu Nikki" (serialized in "Monthly Comic REX" / Ichijinsha)
Original author: Masaki Ando
General Director: Hisayoshi Hirasawa
Character design: Satsuki Hayasaka
Art Director: Mame
Color Coordination: Ami Hayashi
Director of Photography: Natsumi Hori
Editor: Yuuzi Oka
Sound Director: Hisayoshi Hirasawa
Music Production: LEVELS
Music: Ryuudai Abe
Series composition: WORDS in STEREO
Animation production: Hayabusa film
Animation production cooperation: Creators in Pack
【Cast】
Monaka Yatogame:Haruka Tomatsu
Kaito Jin:Mitsuhiro Ichiki
Mai Tadakusa:Yuki Wakai
Yanna Sasatsu:Mikako Komatsu
Tosika Jin:Hisako Tojo
Lala Syonai:Yoshino Nanjo
Rin Jandara:Eriko Matsui
Teppei:Kenji Akabane
Shiharu Itemae:Honoka Kuroki
Nanaho Koshiyasu:Ayasa Ito
Serura Dobe:Maria Naganawa
Masahide Tsuji:Junji Majima
Sho Kochikashi:Sumire Uesaka
Kei Aonaji:Sora Tokui
Kiiina Asaka:Reo Kurachi
Recchiri-sensei:Tetsu Inada
Rika-sensei:Haruna Terada
■Official Website https://yatogame.nagoya/
■Twitter @yatogame_chan/Hashtag: #Yatogamechan
【Original Work Information】
Yatogame-chan Kansatsu Nikki (Currently being published via Monthly Comic Rex)
Yatogame-chan Kansatsu Nikki (Published via Rex Comics) Volumes 1-11
Volume 12 on sale April 27, 2022 (Wed)!
(c)Masaki Ando・Ichijinsha/Aichi Dagane High School