The Yuru△Camping Car featuring Yuru△Camp illustrations has been revealed. Its debut begins on April 2~3 (Sat~Sun)!
---
(Repotama is an online magazine covering news on everything anime, and we have recently started trying out posting articles in English! If you enjoyed this article, we'd really appreciate it if you'd consider sharing it and following us on Twitter!)
The Yuru△Camp movie will be released on July 1, 2022 (Fri), but before that and in time for camping season, the Yuru△Camping Car which has been in the works for several years is now making its debut! It is on its way to appear at the venue of "Ohanami x Campus Camp 2022" from April 2 (Sat) to April 3 (Sun), and located at the campus of a former elementary and junior high school in Yamanashi Prefecture. It will then make its way to the Mt. Fuji Radar Dome Hall building for this year's Golden Week holidays.
The illustration featured on the Yuru△Camping Car was designed originally for this vehicle, and wraps all the way around it. Mt. Fuji is also featured on the movable roof of the vehicle.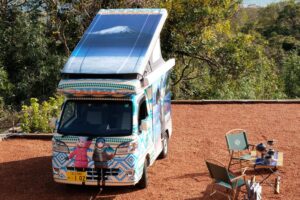 On the day of its debut at the venue, the first edition of Yuru△Camping Car original goods will be on sale. The items to be sold include a retro keychain, a double-sided print T-shirt featuring an illustration from the vehicle, and also an assemblable miniature pullback car, based off of the Yuru△Camping Car. Customers purchasing goods totaling 3000 yen or more will aos receive a Yuru△Camping Car sticker as a bonus! The second edition of the goods will be on sale during Golden Week at the Mt. Fuji Radar Dome Hall building.
There are plans currently being considered that would allow for an overnight stay in the camper, so please look forward to any future news!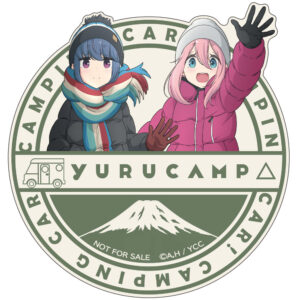 【Event Summary】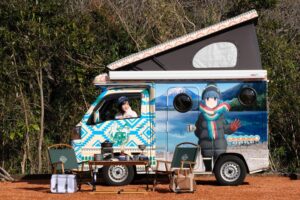 ■「Ohanami x Campus Camp 2022」
・Time: April 2, 2022 (Sat) from 10am and finishing April 3 (Sun) at 10am
【Yamanashi】Former Elementary and Junior High School Grounds (1495 Tokiwa, Minobu, Minamikoma, Yamanashi Prefecture
・Organized by the Jogaoka Revitalization and Promotion Committee
●Entry
https://passmarket.yahoo.co.jp/event/show/detail/0106g2scck821.html
・Capacity: 100 people ※First-come first-served basis
・Registration period: Until 6:00pm Wednesday, March 30
・Participation: 2,000 yen per person
※Minors enter for free, but please apply as a minor
※Includes the day camp
・Target age: None ※If only a minor applies, they must be accompanied by a guardian
・Application conditions: Please bring a mask. Please understand the rules for the event including corona measures and precautions before registering. Participation cannot be accepted for those whose temperature is over 37.5℃ at reception
●Inquiries:
5jogaoka@gmail.com
【Goods Overview】
■ Yuru△Camping Car Original Goods Product Lineup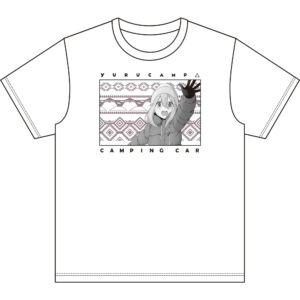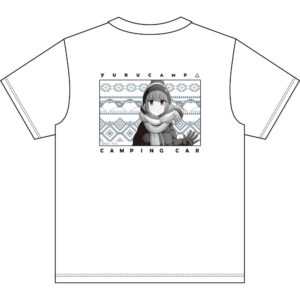 ●Product Name:「Yuru△Camping Car Double-Sided Print T-Shirt」
Price:5,280 yen (tax included)
《Specifications》
Size
M: Length 69cm, width 52cm, Sleeve Length 22cm
L: Length 73cm, width 55cm, Sleeve Length 23cm
XL: Length 77cm, width 58cm, Sleeve Length 25cm
Material: 100% Cotton
A special graphic T-shirt using an illustration featuring Nadeshiko and Rin that was designed for the Yuru△Camping Car. An illustration of each character waving at you is featured on both the front and the back. The color scheme is calm, and can be worn anywhere from actual camping to everyday life. The pattern in the background was inspired by Lake Motosu and Mt. Fuji. The material used is a light cotton that is comfortable to wear and utilizes "coma yarn" which is soft to the touch.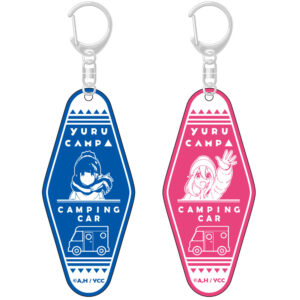 ●Product Name:「Yuru△Camping Car Retro Keychain (Rin and Nadeshiko, 2 versions total)」
Price: 880 yen (tax included)
《Specifications》
Size: (approx.) Body 8x4cm, not counting the metal
Material: Acrylic
A motel key chain with a retro feel to it, using illustrations of Nadeshiko and Rin that were designed for the Yuru△Camping Car. A limited run original design including a camper and the characters with colors chosen to suit them. Could be used on your motorcycle, bike, house keys or anything else!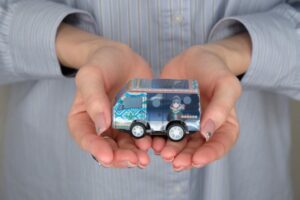 ●Product Name:「Yuru△Camping Car Assemblable Pullback Car」
Price: 1,100 yen (tax included)
《Specifications》
Size: 210x148mm (Body after assembly: 65x30x40mm; Stand: 60x43mm)
Material: Polypropylene, Chassis
The Yuru△Camp camping car has been made into a palm-sized polypropylene body pullback car! Character stand also included. The camper has been remade in a miniature form featuring illustrations from the original full-sized vehicle. Easy assembly and a perfect gift! On all sides, Nadeshiko, Rin, the other members and even Mt. Fuji on the pop-up roof have all been finely reproduced onto the small body of the car.
(c) Afro / Houbunsha / Yagai Katsudou Iinkai