The official report from the ASMR Series "Nihonshu no Otomo" (starring Kaori Maeda and Yurie Funado as the lead characters) has been released!
---
(Repotama is an online magazine covering news on everything anime, and we have recently started trying out posting articles in English! If you enjoyed this article, we'd really appreciate it if you'd consider sharing it and following us on Twitter!)
A new "sake appetizer" to be enjoyed with your ears has been released for all lovers of Japanese sake. A new ASMR series called "Nihonshu no Otomo" has begun, focusing on the scenario of drinking sake with characters! Beginning at midnight on February 25 (Fri) 2022, the "Drinking Cozily at Home with the Kitsune Sisters" began distribution via DLsite, a site featuring download sales.
Two girls (spirits of sake) appear before you when drinking sake at home to tell you in depth about sake and how to enjoy it. The more you relax and feel at home, the more the distance between you shrinks…
Well-known illustrator Yomu is behind the character design of the first series' Japanese sake spirits known as the "Kitsune Sisters Sui and Sasara". Also, the voice actresses Kaori Maeda and Yurie Funado play the characters. Everything including the sounds of alcohol pouring and drinking was recorded for this series. Whether you are a fan of sake or can't drink it, you'll certainly feel like you're drinking with the kitsune sisters.
Sui and Sasara were based off of the real sake brand "Kyuubi" (Tentaka Sake Brewery Co., Ltd.) and the aroma, flavor and spirit of Kyuubi are reflected in the characters.
The limited-quantity CD was released on March 11, 2022, and comes with a 300ml bottle of the sake featuring an original label of the set. Surely it would make a great accompaniment to the audio of the work itself.
Also, there are plans to continue the series with later installments for a relaxing drink-at-home setting, featuring characters (Japanese sake spirits) created in collaboration with real sake.
This time, we'll introduce a report on the content of "Drink-at-Home ASMR" which gives the listener the feeling that they're drinking at home with Japanese sake spirits.
ーーーーーーーーーーーーーーーーーーーーーーーーーーーーーーーーーーーーー
In this work, the Japanese sake spirits make a sudden appearance to a particular person that loves sake (you, the listener) and they decide to drink at home together in a warm and cozy setting in this ASMR work.
While all kinds of ASMR productions have been circulating in recent years, perhaps there have been a lot of people waiting for ASMR that focuses on the theme of drinking at home and drinking alone due to the fallout of the coronavirus disaster.
For the recording, the high-quality binaural microphone "NEUMANN/KU100" was used, as it often is in ASMR works. The exceptional sound comes not just from the pouring of alcohol, but also the sighs and whispers of Kaori Maeda and Yurie Funado, the sounds of drinking alcohol, and the sounds of eating sake appetizers like iburigakko and grilled fish. Everything has been recorded for the first time for this work only. After giving it a listen, one can't help but feel incredibly relaxed. The sincere desire of the producers to convey the feeling of drinking with Japanese sake spirits comes across perfectly clearly.
The enthusiastic performances of the kitsune sisters by Maeda-san and Funado-san are worth listening to even on their own, of course. Both voice actresses are known for liking sake, and in more recent years they have been active in different ways including events and media oriented around sake.
Hearing the voices of the two actresses that love sake and brought these two characters to life, we can't help but feel the spirit of Japanese sake even apart from the characters.
Also, Yomu-san, well-known for such works as "Yomu Tights" and "Ganbare Douki-chan", did the character design this time. The two girls in kimono depicted in the illustration have an inviting and playful aura about them, and with their casual dress and relaxed poses, the illustration gives off the feeling that the ASMR here would be very calming and fun to listen to.
The older sister Sui, played by Maeda-san, is a Japanese sake spirit that comfortably gets close to you with a calm and natural demeanor and brings you a sense of relief and warmth. She does her best to act like a responsible older sister and lead the way in her neighborhood, but the reaction she gives off when her tail is touched shows off a far more innocent and youthful side.
On the other hand we have Sasara, the younger sister played by Funado-san. It's only natural to get charged up by listening to her innocent tone of voice and observing her youthful, energetic behavior. She is cute for trying to stretch herself out for attention, and makes you want to drink with her again.
The two sisters with different personalities talk to the listener while everyone drinks. The whispers and sighs in your ears are captivating and spread throughout. Towards the end the listener drifts off to sleep using a lap for a pillow, and is sure to fully immerse the listener in a comforting and cozy world.
Also, this ASMR is not just a drink-at-home ASMR. The reason for this is that these Japanese sake spirits are based off of real, existing brands. This time, the "Kyuubi" brand from Tentaka Store Brewery in Tochigi prefecture was chosen. The work is closely connected to the real world, and the two characters from this series, Sui and Sasara, were even named after the types of sake rice used in the Kyuubi brand (Suisei and Yume Sasara).
Additionally, the mail order site Meishu Center has opened up reservations for the purchase of a special edition bottle of the sake including the physical CD (limited quantity). This is a limited-edition bottle of "【Kyuubi】Suisei junmaidaiginjo funeshibori murokanamagenshu 300ml" featuring an original label designed by Yomu-sensei and comes packaged with the CD. (Please note that shipping outside of Japan is currently unavailable)
This is a special brand of sake modeled after Sui (who was played by Maeda-san in the story) and is even the same brand that they drink in this story. If you drink it while listening to the CD, your home will immediately turn into a place to drink with two Kitsune sisters.
If you feel lonely drinking alcohol alone, please try giving this ASMR a download and a listen.
Since this is a "sake appetizer" you can taste it as many times as you'd like.
【Overview of this Work】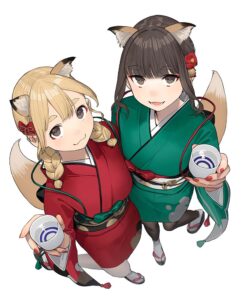 【Drink-at-Home ASMR】『Nihonshu no Otomo – "Drinking Cozily at Home with the Kitsune Sisters" -』
■Cast: Sui (CV. Kaori Maeda) Sasara (CV. Yurie Funado)
■Recording
tr1. Drinking at home with Sui
tr2. Drinking at home with Sasara
tr3. Sharing an evening meal and drinking at home with the Kitsune sisters
tr4. Resting your head peacefully in Sui's lap
tr5. Feeling a bit tipsy in Sasara's lap
tr6. Drifting off to sleep with the Kitsune Sisters
■DLsite Download now on sale
・Price: 1,980 yen (tax included)
・Sales site: https://www.dlsite.com/home/work/=/product_id/RJ376417.html
■CD Sales (Limited Quantity; please note that international shipping is not available; please see the download link above for purchases outside Japan)
・Japanese sake「【Kyuubi】Suisei junmaidaiginjo funeshibori murokanamagenshu 300ml」Original Label included
・On sale beginning: March 11, 2022 (Fri)
・Product number: NSTM-1001
・Price: 3,500 yen (tax included)※Shipping not included
・Sales Site: https://store.nihonshu.com/products/nihonshunootomo
【What is "Nihonshu no Otomo"?】
This is a true story not yet known to most people, a truth much like a lie.
Japanese sake containing the passion of the one who made it will naturally carry the spirit of sake within it.
All of the Japanese sake spirits reflect each individual brand, feature a wide array of personalities, and take various actions on their own independent from their makers.
"Then, a once-in-a-lifetime meeting… Cheers"♪
Yes, sometimes they choose to reveal themselves to those who love sake.
Why don't you take some time off at home to relax and drink with Japanese sake spirits?
Please listen and enjoy a drink. A whisper in your ear will bring you peace of mind.
■ Planning and Production
Nihonshu no Otomo https://twitter.com/nihonsyunootomo
#Saketomo
■ Cast
Sui: Kaori Maeda https://twitter.com/kaor1n_n
Sasara: Yurie Funado https://twitter.com/Yurie_Funato
■ Illustration
Yomu https://twitter.com/y_o_m_y_o_m
■ Scenario
Yuki Ichinose
☆Warning
This work is for all ages, but alcohol is for over-20's (depending on your region).
For those not yet of age, please wait and just use juice or tea instead!
● Official Twitter
https://twitter.com/nihonsyunootomo
● Official YouTube channel
https://www.youtube.com/channel/UCT7BpBP4aUHYbcwPXsn-UMw/featured
(C) Nihonshu no Otomo