TV anime "Love of Kill" official relay interview #8 released, along with the Episode 8 Case File
---
(Repotama is an online magazine covering news on everything anime, and we have recently started trying out posting articles in English! If you enjoyed this article, we'd really appreciate it if you'd consider sharing it and following us on Twitter!)
The popular manga "Love of Kill" (author: Fe) is a warped and suspenseful story interwoven with the lives of professional hitmen.
This series is being serialized in Monthly Comic Gene, has published up to 11 volumes to date and has exceeded 750,000 copies sold in total (as of December 2021, including electronic sales). Also, after the release of the drama CD, an anime adaptation began broadcasting on TV and has quickly garnered attention.
This time, the Official Interview #8 as well as the episode 8 case file have been released.
【Official Interview #8 "The Cold Melancholy of a Man Spending his Life in Darkness"】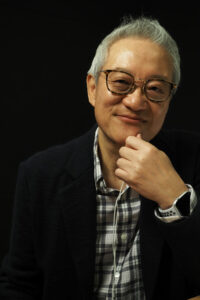 Voice of Donny: Hochu Otsuka


――What was your initial impression upon viewing the original work and materials for this series?
Hochu Otsuka: I did not read the original and only read through the basic materials provided before recording, but my first impression was that the title "Love of Kill" seemed fresh and attractive.
――Please tell us about your impression of Donny as well as any charming points about him.
Otsuka: My impression is that he is a man born into darkness and spends his life in it. He has a sort of coldness and melancholy about him. Getting too close to him would leave you gravely injured… It would seem.
――What kind of role are you performing in dubbing?
Otsuka: First of all, he's both cold and quiet. He does not show his emotions. I played him while imagining he was a sort of "inorganic, metal-like object with no changes in his attitude or demeanor".
――What is your impression of the main character and heroine Chateau and Ryang-ha?
Otsuka: My impression of the two of them is that they are both shrouded in secrets and mystery. Two people who have no choice but to live that way. It seemed to me quite sad and beautiful how this is something that draws them to each other.
――Taking a word from the title "Love of Kill" , is there anything recently that you've been in love with?
Otsuka: My car, I'd say. On my way back home from work, thinking or not thinking about all kinds of things. I think it's the best private space for me to balance out my feelings at the end of the day.
――Please tell us about something in this series that you'd like us to pay attention to and look forward to seeing.
Otsuka: There is something known as "Film Noir" popularized 50 or 60 years ago in movies, and I as an individual feel like this work is an anime representation of that genre. This work is full of these elements, and I think you can certainly feel that when you watch it.
【FILE 08 "CONFUSION" Case File Update】
Info on each case from the story is summarized here.
Please take a look after watching.
(Note: Website in Japanese)
Case File #08
https://love-of-kill.com/special-inc-files.html?file=8
【Anime Overview】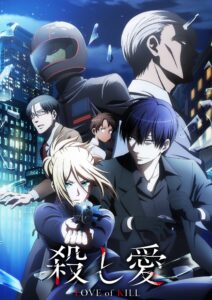 【Broadcasting/Streaming Info】
TV anime broadcasting begins Wednesday, January 12th, 2022
Advanced terrestrial broadcasting and fastest distribution of individual episodes via d Anime Store
<Broadcast information>
TOKYO MX From January 12th, every Wednesday from 24:00
Sun TV From January 13th, every Thursday from 24:00
KBS Kyoto From January 13th, every Thursday from 25:00
BS Nippon Television From January 12th, every Wednesday from 24:00
AT-X From January 13th, every Thursday from 22:30
(Repeat broadcast weekly (Monday) 10: 30- / weekly (Wednesday) 16: 30-)
<Streaming information>
d Anime Store From January 12th, every Wednesday from 23:30
Other sites will release episodes sequentially.
※Note that broadcasting dates and times are subject to change due to broadcasting circumstances.
【INTRODUCTION】
Two hitmen face off against each other at a certain "workplace".
A calm and cool bounty hunter named Chateau meets the mysterious and deadly Ryang-ha.
Chateau and Ryang-ha are supposed to be enemies… but somehow, Ryang-ha takes a liking to Chateau after their encounter and begins to follow her around.
She eventually relents and starts cooperating with Ryang-ha, but is then caught up in a conflict with an organization that's targeting him. This conflict also bears a connection to Chateau's past.
What does Ryang-ha have to gain in approaching Chateau? What is hidden in Chateau's past?
This is a story of twisted suspense around two hitmen that couldn't be a worse match.
A strange and fateful gear is about to turn.
【CAST】
Chateau Dankworth: Saori Onishi
Ryang-ha Song: Hiro Shimono
Euripedes Ritzland: Kenyu Horiuchi
Jim: Kohei Amasaki
Hou: Tomoaki Maeno
Jinon: Ayumu Murase
Nikka: Masakazu Morita
Mifa: Yoko Hikasa
Donny: Hochu Otsuka
【STAFF】
Original: Fe(serialized in "Monthly Comic GENE/KADOKAWA)
Director: Hideaki Oba
Series Composition/Screenplay: Hisao Ayumu
Character Designer: Yoko Sato
Sub Character Designer: Toshimitsu Kobayashi
Chief Animation Director: Yoko Sato/Toshimitsu Kobayashi
Action Animation Director:Yasunori Saiki
3D Prop Design:Tomokazu Sugimura
Art Director:Masaki Mayuzumi
Color Coordination:Aiko Yamagami
Director of Photography:Akane Fushihara
Editing: Kashiko Kimura
Sound Director: Hajime Takakuwa
Sound Effects: Toshiya Wada
Sound Production: Bit grooove promotion Inc.
Music: Kei Yoshikawa
Music Production: TOY'S FACTORY
Music Production in Cooperation with: Miracle Bus Corporation
Opening Theme: Toshiki Masuda "Midnight Dancer"
Ending Theme: Aika Kobayashi "Makoto Period"
Animation Production: Platinumvision
Production: Love of Kill Project
TV Anime Official Site https://love-of-kill.com
Official Twitter @LoveofKill_info(https://twitter.com/LoveofKill_info)/ #LoveofKill
Official TikTok loveofkill_info(https://www.tiktok.com/@loveofkill_info)
(c)2022 Fe/KADOKAWA/LOVE of KILL Production Committee