The very best casino show is delivered by nine young voice actors! "BAD TOWN REVERSAL 00 ~ reception party~" Report
---
(Repotama is an online magazine covering news on everything anime, and we have recently started trying out posting articles in English! If you enjoyed this article, we'd really appreciate it if you'd consider sharing it and following us on Twitter!)
A new style of live content, "BAD TOWN REVERSAL" (also known as BTR) is a project where fans can enjoy the extraordinary performances of multiple male characters who perform with song and dance in a casino-inspired setting. Nine young men were selected by winning the public audition, and they all gathered on January 16 (Sun) for a live event at the Asakusa Flower Theater in Tokyo. Their names and roles are as follows: Ryusei Ishida (voice of Kyo Itsukushima), Gaiha Shimakura (voice of Kazusa Isshiki), Masahiro Kawai (voice of Misaki Ohgawara), Arimaro Mukaino (voice of Shogo Morozumi), Toman (voice of Tomoya Kibachi), Nanamu Komizo (voice of Tatsuru Hagakure), Shun Abe (voice of Itsuki Koga), Koki Oguro (voice of Reito Iwaduka) and Keito Okuyama (voice of Hiroya Inagaki).
On the day of the event, the project's theme song "Theme of B.T.R." (produced by musician m.c.A・T) was unveiled for the first time, the characters were introduced, they looked back on the auditions and used a casino-like roulette during the show to amp the crowd up.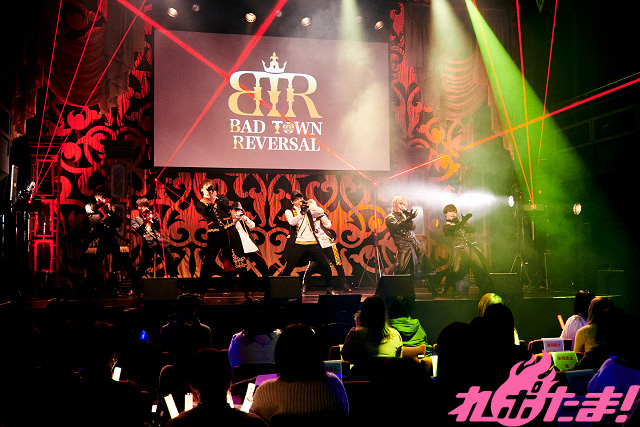 At the beginning of the event, each person performed "Theme of B.T.R." at their absolute best, and the "World building" segment began shortly after. Everyone expressed their enthusiasm at passing the audition.
The 9 performers belong to three different casinos: "Bear Castle", "KRT CLUB" and "Magnolia".
Ishida-san of "Bear Castle" said "I used to really be into martial arts and I did boxing, so I think my character Kyo is perfect for me!
Shimakura-san said "Kazusa likes curry but hates fried tofu," and shortly after followed this up by asking the other members on a whim "doesn't everyone put fried tofu in curry…?"
Next, Kawai commented "Misaki looks really cool with his glasses, so I thought he'd be perfect for me," before saying "Although I'm really the exact opposite?" (laughs)
Next from "KRT CLUB" Mukaino-san still seemed to be in shock, saying "I wondered if it was really possible for me to play such a cool role."
Komizo-san said "I really want to do well with Tatsuru from here on out," and Toman-san commented on his character with "I never thought I'd actually get the chance to play him. I'll do my best!"
Next, Abe-san from "Magnolia" said "Itsuki is a pretty guy, so I thought 'Am I really going to be a good fit?' But now that I actually got the role, I'm going to do my absolute best in my performances as him!"
Oguro-san talked about his character as well, saying "I'm worried about whether I'll be able to really show off the coldness of Reito, but I want to get closer and closer to his character as time goes on."
Finally, Okuyama-san said with a laugh "I was thinking to myself 'If I get a chance to play Hiroya, I'm probably going to wear a hat," referring to the costume.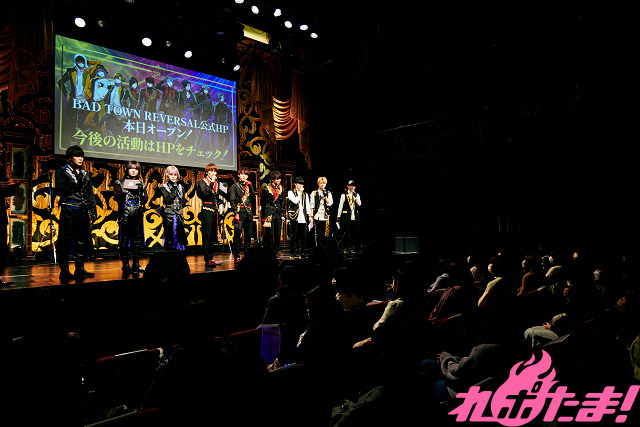 During the "Talk segment", they first looked back on the "2nd audition" along with a video.
Komizo-san's hand was trembling from nervousness, Oguro-san performed "Death Voice" to great reception, and Mukai-san had an especially outstanding impact during the audition, and all of their stories were introduced.
Next, the background of the recording of "Theme of B.T.R." was discussed while watching the VTR.
Ishida-san said about the song, "I thought that m.C.A・T-san's tune was amazing. I thought it would be awesome if I could really channel my character in the performance of this great song so I worked really hard during the recording!"
m.c.A・T also made a comment, encouraging the members with "I was concerned because there were members who had no experience in rap, but I was happy how they practiced in advance and overcame the challenge. They improved their level of skill by practicing it over and over again, and I really want to hear more of their singing now. Everyone please do your best."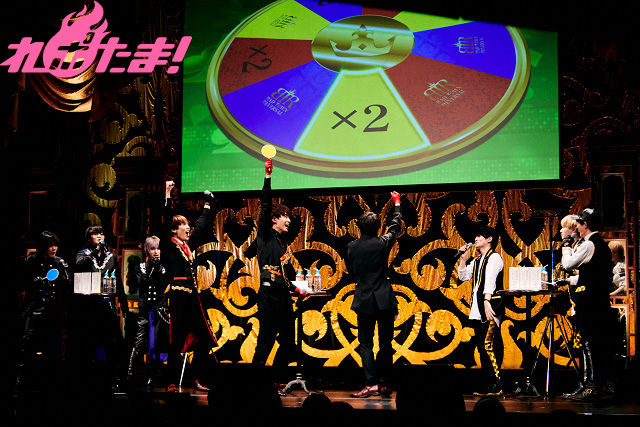 Next was the "Roulette game" segment, where the three teams faced off against each other using a roulette. Casino-inspired, each team competed with increasing dividends in the roulette game, and the group who earned the most at the end would be the MCs for the next event as a reward.
"Magnolia" started off strong, but "Bear Castle" made a big bet part way through and turned the whole game around at once! They fought hard to the end and took a fantastic victory.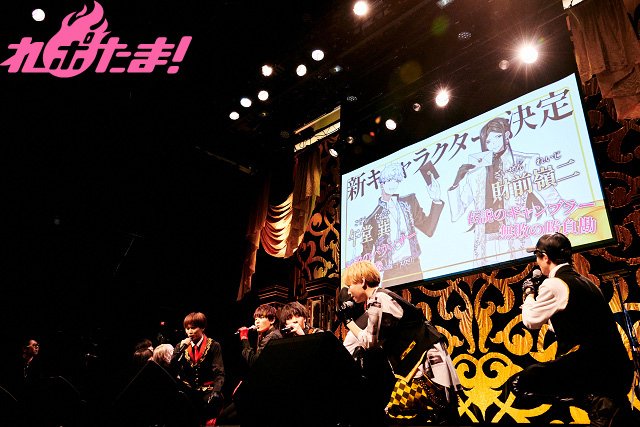 Next was the announcement segment. It was announced that a CD including the theme song "Theme of B.T.R." along with other songs would be released early in the summer of 2022. Additionally, it was decided that two new characters will be added and played by legendary performers from Kusanagi City. It was also announced that, separately, two more members would be added from the pool of those narrowly eliminated from the previous auditions, namely Michio Shimura and Riki Shimada, which drew massive applause from the audience.
Around here, the event was drawing to a close. After giving a warm farewell to the fans together, they sang "Theme of B.T.R." one last time and with that, the event concluded.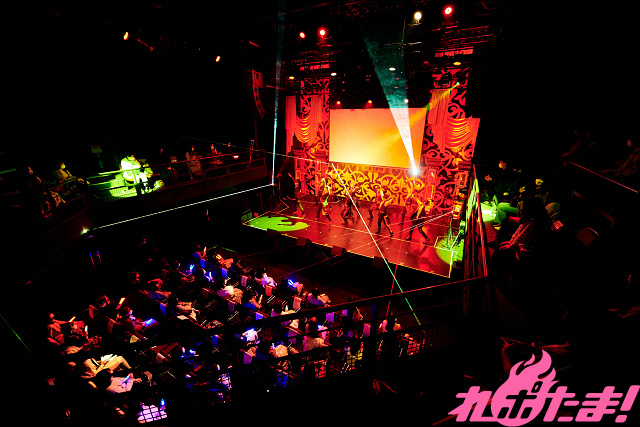 ☆Comments from the members after the event
Ryusei Ishida (voice of Kyo Itsukushima): I'm really happy that a lot of people came to the event since there was not much time since the event itself was announced. A lot of staff are supporting us, though we will all continue to move forward with the firm conviction that 'The only ones who can make "BTR" bigger as time goes on are ourselves!'"
Gaiha Shimakura (voice of Kazusa Isshiki): It's the first time I've been involved in something with other members. I'm still nervous when I get interviewed like this (bitter laugh), but I'm impressed with how many people showed up to congratulate us on succeeding in the auditions! I'd like to continue to grow with Kazusa, so please cheer me on!
Masahiro Kawai (voice of Misaki Ohgawara): It was a performance where the fans filled us with energy even though the intention was for us to charge up the fans. I'll do my best to show everyone my powered-up state every time!
Arimaro Mukaino (voice of Shogo Morozumi): I'm glad that so many people came. I wonder if I was able to shine… Please keep a close eye on the further development of "BTR"!"
Toman (voice of Tomoya Kibachi): Despite the audience not being able to shout, they still applauded to cheer us on, and I thought once again that I want to give it my best effort to liven up this project for everyone. New characters and cast members have also been announced, and I want us to aim high, with the feeling of "Let's perform at the Tokyo Dome!"
Nanamu Komizo (voice of Tatsuru Hagakure): I think it was good that everyone practiced so much before the event began, and I think we were able to give our best possible effort with where we're all at right now. I'll continue to do my best to make a sincere and wonderful performer!
Shun Abe (voice of Itsuki Koga): I've been involved in almost no entertainment activities up to his point, so I was worried about whether everyone would accept me or not. However, beginning with auditions, I received some encouraging messages on social media as well as warm applause today, so my anxiety blew away. I'll do my best to keep growing from here on out!
Koki Oguro (voice of Reito Iwaduka): It's been about half a year since the auditions, and I think I was able to express all of the passion I have for "BTR". Those of us who passed the auditions would like to carry the torch on from the other applicants who worked so hard together with us to make this work a success, so please cheer us on!
Keito Okuyama (voice of Hiroya Inagaki): I'm the oldest member of "BTR", so I was concerned about whether I'd be able to get along well with the other members, but they all ended up being really nice guys and they helped me perform at my best. I want to keep doing my best so that the name "BTR" will be known all over the world!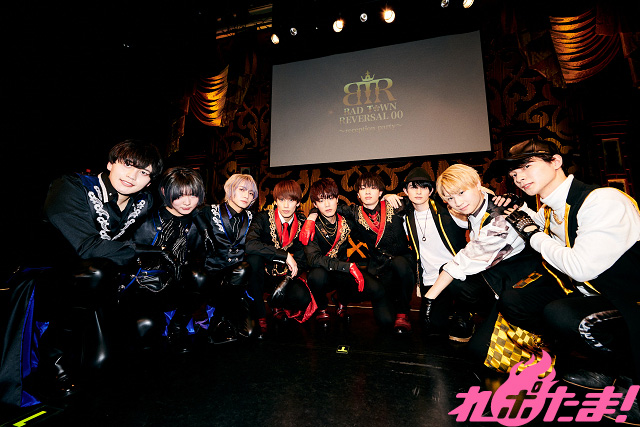 <Reporter / Dandy Saeki・Article wording (editing) by Repotama! editorial department>
● 『BAD TOWN REVERSAL』 Official Site
https://badtownreversal.com/
● 『BAD TOWN REVERSAL』 Official Twitter
@BTR_information