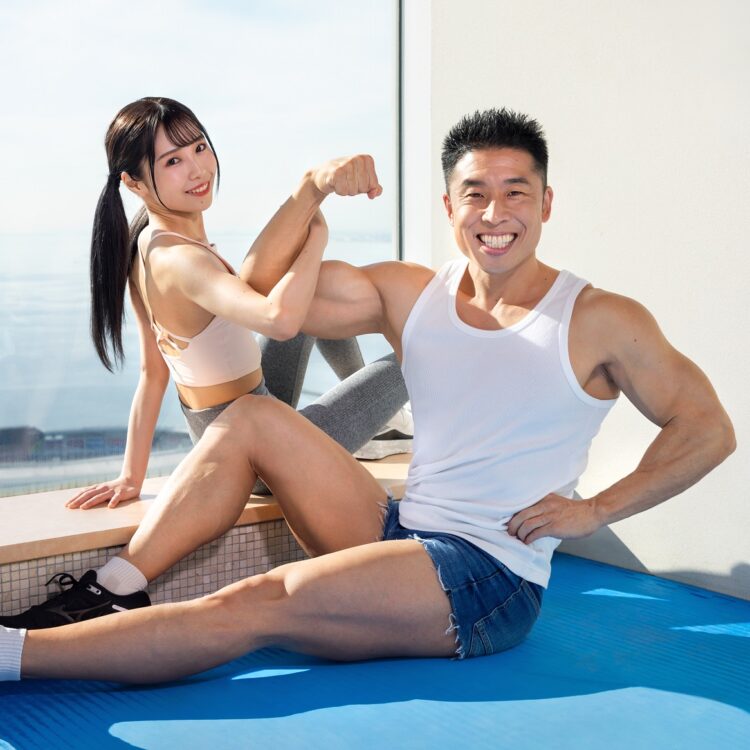 Nakayama Kinnikun & Singing Cosplayer Hikari "Onegai Muscle" cover MV released on YouTube!
---
(Repotama is an online magazine covering news on everything anime, and we have recently started trying out posting articles in English! If you enjoyed this article, we'd really appreciate it if you'd consider sharing it and following us on Twitter!)
Nakayama Kinnikun is a popular entertainer and bodybuilder, and Singing Cosplayer Hikari is an international singer. This time, a cover MV of "Onegai Muscle" which is the opening theme of TV anime "Dumbbell Nan Kilo Moteru?", has been released worldwide.
●Music streaming link
https://lnk.to/musclesplease_cover
Nakayama Kinnikun is also well known for being a popular YouTuber with the channel name "The Muscle TV" (with over 1.4 million subscribers). Singing Cosplayer Hikari is also a well-known YouTuber with international reach. She's received a total of over 8.1 million views on her 25 songs, and among these her cover of "Yume to Hazakura" hit No. 1 on the J-POP charts of 14 different countries.
This time's cover of "Onegai Muscle" has been released worldwide as a comedic music video filled with muscle training and dances, and released on both YouTube channels.
▶Singing Cosplayer Hikari
https://youtu.be/DSvA8_VExU0
Premiered at midnight on January 26 (Wed)

Nakayama Kinnikun
https://youtu.be/VCWcDtdKuyQ
Released January 26 (Wed) at 19:00

The collaborative song is being played as the ending theme until the end of March to the program "Doyou wa Nani Suru!?" airing every Saturday from 8:30am to 9:55am via Kansai TV/Fuji TV Network. Until the end of January, songs were also played in FamilyMart's in-store program "Mix Fam with your voice" from 11:00pm to 4:59am.
Also, the choreography was put together by Singing Cosplayer Hikari herself. The funny dance is hard to look away from.
【Nakayama Kinnikun Profile】
Born in 1978 in Fukuoka Prefecture. A comedian and entertainer as well as a bodybuilder. In 2006, he went to Los Angeles in the United States to study muscles abroad, and graduated from the Department of Kinesiology & Athletics at Santa Monica College in 2011. He has remained active, winning the 29th Tokyo Novice Bodybuilder Championship in May 2021 for the 75kg division. Currently, the number of subscribers to his YouTube Channel "The Muscle TV" has exceeded 1.39 million and continues to gain popularity.
https://www.youtube.com/channel/UCOUu8YlbaPz0W2TyFTZHvjA
【Singing Cosplayer Hikari Profile】
A YouTuber, TikToker and international singer, who began her presence on social media on New Year's Day 2021. So far, her 25 uploaded cover song videos of both anime and Vocaloid songs have been viewed more than 8.1 million times in total, with 97.4% of her views coming from outside Japan. The cover of the Vocaloid song "Yume to Hazakura" which was uploaded in April, has been viewed more than 2.46 million times on YouTube and won the number 1 spot on the J-POP charts of 14 different countries around the world. Also, in July, she appeared as a singer and cosplay model for HYPER JAPAN ONLINE 2021, the largest Japanese culture festival in the UK.
●Singing Cosplayer Hikari TikTok
https://www.tiktok.com/@singingcosplayerhikari
●Singing Cosplayer Hikari YouTube Channel
https://www.youtube.com/c/SingingCosplayerHikari/
●Singing Cosplayer Hikari Facebook
https://www.facebook.com/SingingCosplayerHikari/
●Singing Cosplayer Hikari Instagram
https://www.instagram.com/singingcosplayerhikari/
●Singing Cosplayer Hikari Twitter
https://twitter.com/SingCosHikari
【Original TV Anime "Dumbbell Nan Kilo Moteru?" OP Theme "Onegai Muscle" MV】
https://www.youtube.com/watch?v=2pECnr5MNuU

【Photography Cooperation: Gold's Gym Makuhari Chiba】
https://www.goldsgym.jp/