The New Year celebrated with delicious sake and a variety of projects! "Sake Brewery Support! #Seiyu 's Sake New Year Party Report
---
(Repotama is an online magazine covering news on everything anime, and we have recently started trying out posting articles in English! If you enjoyed this article, we'd really appreciate it if you'd consider sharing it and following us on Twitter!)
An online event "Sake Brewery Support! #Seiyu's Sake New Year Party was held with a number of voice actresses that like alcohol and gave a toast to the new year. Wakana Maruoka, Kotomi Aihara, Ryoko Maekawa and Shiori Mikami were on stage for , the event being streamed live on January 7, 2022 (Fri). It was full of various, fun projects.
When the event began, Maruoka and Maekawa broke open a ceremonial sake barrel for the New Year, and was met with applause from Aihara and Mikami.
Next, we'll talk about all of the sake that was specially produced for each member.
Referring to "Sakura Uguisu" (Nara/ Kitaoka Honten) Mikami said "I couldn't get over how much I loved the taste, because of how much I love sweetness! I also recommend it to sake beginners."
Talking about "Single Origine Sake Tsunan" (Niigata / NAEBA Shuzo), Aihara said "I normally like drier drinks, but I really ended up liking the taste of this!"
In response to "KONAN FAMILY" (Aichi/ Kumpeki Shuzo), Maekawa said "I like the taste, but it's got a pretty sharp aftertaste."
Finally, talking about "DOG SELL SAKE CAT MAKE SAKE" (Niigata/ Takarayama Shuzo) Maruoka said "It's neither too light nor too heavy, it's just right."
Next, a talk segment began alongside drinking sake. They also enjoyed snacks that each of them prepared. As they became somewhat tipsy, the "Improvised Sake Song Battle" segment began. Each voice actress had to sing a song praising their specially produced sake alongside a randomly selected BGM.
Maekawa made her appeal with a piano performance, Aihara with a "Metal-esque BGM", and Mikami with something like a rap BGM. Based on a questionnaire for viewers, Maruoka appealed with a festival-esque song" and won the competition! Mikami came last, since she had to "talk about the sake in a very cute voice"… (lol)
Next was the "Online Sake Brewery Tour" segment, where the chief brewer Keita Watanabe from "DOG SELL SAKE CAT MAKE SAKE" took them on a remote tour of the brewery.
The four voice actresses were guided along by Shubo, Moromi and Shikomigura at the brewery, and they were impressed by how much time went into manufacturing the sake! Comments like "I'm not going to drink in desperation anymore!" and "I want to be one of the success stories with sake drinkers, and not a story of failure!" were also made.
Finally they had the "Rating Check" segment, which was an homage to a particular popular variety show.
Two types of sake, A and B, were presented, and then they took on two-choice questions like "Which one is drier?" or "Which one has a higher degree of rice-polishing (high-quality)?" Everybody started out with the rank of "First-class voice actress", and if they got a wrong answer, they'd be demoted to "second-rate voice actress". Another incorrect answer would give the rank of "non-celebrity", and then finally "someone not worth talking about", before disappearing from the stream… The rules were pretty unforgiving.
In the end, only Maruoka was able to win with two right answers! While she couldn't keep hold of "First-class voice actress" she showed that she had the ability to proclaim herself as a "sake lover".
However, Maekawa ended up as "someone not worth talking about" and tried her best to make a cute appeal when her face had already been removed from the stream. She made the other three laugh with her re-entry, but maybe it's just because they'd had a little too much at that point…?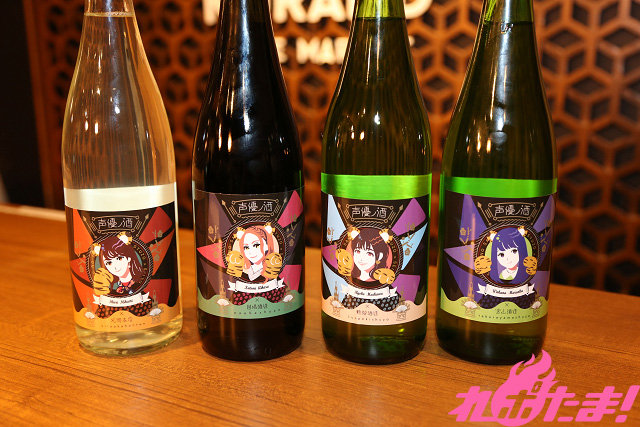 We got to hear from the four of them after the event.
―Please give us your thoughts on today.
Wakana Maruoka: I was pretty shy initially, and nervous about drinking with three other people. But the more we had, the more I thought "Aren't these long time friends?" (laughs) I was able to get better as we went along.
Kotomi Aihara: I was glad to have the opportunity to show off the specially produced sake. And I'm also grateful for the opportunity for all of us to drink together!
Ryoko Maekawa: I was really looking forward to today because of it being a "New Year's party". I think everyone could get a good sense of how we really are. (laughs)
Shiori Mikami: I was worried about how well I'd do since I was a moderator, but I ended up having a great time. Alcohol is amazingly powerful. (laughs)
I want to continue to get along responsibly with alcohol!
―Could you look back on the project segments?
Maruoka: In the "Improvised Sake Song Battle" I was able to get 1st place thanks to everyone's support. Thank you! This segment made the venue feel like a great feast, and after this I was able to relax and really enjoy the event.
Aihara: The rating check results were a little disappointing. I do like sake, I just don't know very much about it… I started thinking that I need to study more.
Maekawa: I learned a lot about sake during the "Online Sake Brewery Tour". The comments from Watanabe-san were easy to follow, and I think that the viewers probably enjoyed that too!
Mikami: It was great that Watanabe-san made a live appearance, but I think the comments from the other brewers were also interesting. I'd like to go to a sake brewery someday to listen to the people talk about their work in person.
―Finally, please tell us your aspirations for 2022.
Maruoka: For as long as I'm pursuing voice work, I'd like to keep improving my skills as an actor. And when I need to take it easy, I'll do my best with a little help from sake.
Aihara: In order to have more delicious sake, I think I need to go and have a proper health checkup this year. I haven't gone and had one for a really long time, and people around me are starting to worry… So I'll keep in mind that "health is wealth" first and foremost.
Maekawa: I'm not still stuck on the "rating check" (laughs) but I want to make an effort this year to become a first-class voice actress!
Mikami: Actually, I got a boating license in 2021! In my private life I'd like to go fishing in the ocean to catch some delicious fish (appetizers to go with drinks).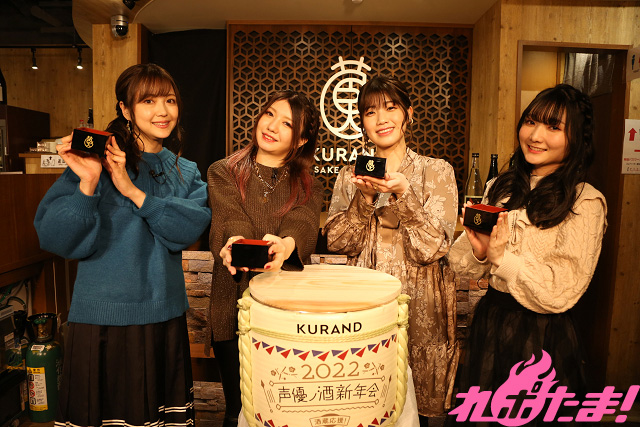 【Event Overview】
"Sake Brewery Support! #Seiyu's Sake New Year Party Date: January 7, 2022 (Fri) 19:30 Start
◯Streaming Location: SPWN https://spwn.jp/
◯Organizer: KURAND
◯Planning / Production: hokahoka Inc.
◯Cooperation: TRYLIMITED
●Project Details: https://kurand.jp/blogs/news/557293109303